I thought that would be a good title to the blog, because you could see how Mother Nature is trying to throw a Hail Mary to the snow lovers in the area that have been exasperated by the lack of decent snows.
We're still under 9″ and I'm not so sure that will change a lot from this next powerful system coming into the region tonight and tomorrow.
It snowed in southern CA again Wednesday. It was that graupel (dippin' dots) type snow, but still. It was really snowing in the higher elevations around Phoenix last night, and in Tucson, AZ, too, and not just a little snow there either.
The snow situation is so bad in the Sierras of California that some communities are getting cut off from needed supplies including fuel, especially diesel, and are running out. Tahoe, CA has seen 12 FEET of snow… this week! Oh, and more is coming.
Maybe an alternative blog title would've been good, too: "If ifs and buts were candy and nuts".
The atmosphere here keeps trying but for one reason or another we just can't get over the finish line for a significant snowstorm in KC.
+++++++++++++++++++++++++++++++++++++++++++++++++++++++
Forecast
Today: Increasing clouds with some showers possible later this afternoon and evening from south to north. Highs 45-50°. Breezier as well, especially this evening
Tonight: Rains moving through. Temperatures remain in the mid-to-upper 30s. Increasing winds.
Tomorrow: There may be a rain/snow mix in the morning for several hours. It's still possible some areas may see a switchover to a heavy wet snow with some accumulations, but it's not the strongest chance right now. Then clearing in the afternoon, and assuming there is no snow on the ground, we should see highs well into the 40s, if not 50s in some areas NW of the Metro
Saturday: Not too bad with highs in the 50s
Sunday: Warmer with highs well into the 60s, breezy as well.
++++++++++++++++++++++++++++++++++++++++++++++++++++++++
Discussion
It really is phenomenal to see all the weird weather happening out west with these storms. Weird places are getting frozen precipitation this season, some of the videos and pictures from Arizona are pretty incredible. Rare snows are falling there because of the intense cold nature of this particular system that is going to affect us tonight and tomorrow.
We've been focusing hard on the storm track for the last several days. Earlier in the week, Monday, it appeared to be going to far south for us to have significant snows locally, then on Tuesday a jog north came into play putting the Metro in play for something more noteworthy, then yesterday a jog back south… in many models but for a couple.
It's not rare to see these jogs back and forth. One particular model, the NAM was really nailing us. It has backed off to some extent today, although still pushing that snow button harder on the MO side towards the east of KC. A few other models were trying as well, but most others were not in that camp.
Smaller intense systems can do this to model equations as they try to "create" conditions that are either conducive for snow or not.
So, playing through all that on the news has been somewhat adventurous. With a general feeling that we would be either on the edge of something from a location stand point or on the edge of something from a temperature standpoint, a few degrees here or there above us (where we have little true information on a consistent basis) is not for the faint of heart.
Alex and I were talking yesterday about the fact that it seemed we were working wayyyyy too hard for what simply might be a cold rain with some flakes mixed in tomorrow.
So it goes in this weird winter.
Can there still be a Hail Mary tomorrow morning? Sure… but that chance is dwindling to less that 20%. Odds favor mostly liquid from this event on the new data this morning at least with a possible switch to some snow towards the east into Central MO.
The funny thing is that IF it does pour down snow there (or anywhere really) like several weeks ago (that surprise snow (I wasn't surprised)) you can get some fast accumulations… so it's not totally out of my thought process.
So let's dive in, starting with the storm itself. It's impressive in a winter of numerous impressive storms in the western USA
This has created tons of snow out there. Here is a view of the Red Rocks of Sedona… and they're covered in snow this morning.
Downtown Flagstaff has seen over 12″"of snow. Some areas of Flagstaff are over 24″… in a winter that just has been unrelenting for snows out there in northern AZ as well
In the last 72 hours…
Things are so bad out there for snow that communities are cut off. No supplies are making it in anymore and they're running out of fuel, food etc.
There is so much water in the snow pack that will be released (later in the Spring) into reservoirs that are already getting to their historical averages (which hasn't happened in years out there for some of them)
So there is good news for them in this weather weirdness happening with this storms.
For us this storm will be moving toward the region tonight and tomorrow. Tracking the storm is somewhat easier to see by going up into the atmosphere were we could track the core of the storm. This is off the newest NAM model this morning
For KC to get significant snow from this we would need one of two things to happen.
First, we would have to be colder tonight, with colder air at the surface and aloft to wrap into the storm tomorrow morning to change things to snow.
The second chance is for the storm to chill the atmosphere down (mainly north and west of the storms center) to create snow. This is called "dynamic cooling" and wild things can happen IF that occurs. Things like thundersnows and pouring down snows that overcome the warm ground conditions.
Odds are the first option won't be there and IF the second option can happen it might be too far east of the Metro to impact KC significantly.
Why? Because the storm track is still a bit to far south and east of the area to my liking. ONe-hundred miles north or northwest and that could change, and change fast.
That is the Hail Mary. That though will likely not happen at this point.
For a snow lover, we'd need to get that track closer to the Lakes region; more north of I-44 to put the State Line and east area more into the "comma head" part of the storm. Again, the chances appear lower for the KC Metro that can happen based on the overnight and early morning data.
For a non-snow lover, you'd want an even farther south and east track to make sure that the atmosphere can't chill down on it's own. It's doubtful now for KC but farther south and east track would totally remove all doubt.
And in a strange twist of the knife for a snow lover: If the storm moves away fast enough and assuming the rain clears out before lunch, and assuming we rapidly clear out, we could make an honest run to 50° tomorrow afternoon.
Heck, there is some data that shows low-to-mid 50s from KC northwestwards is on the table for tomorrow.
Incredibly, this will be another potent surface storm storm on the heels of one of the stronger storms in recent memory this past weekend when the pressure bottomed out at 29.01″ up at KCI. That is another rarity, to get two back-to-back.
Severe weather will be a big issue today and tonight in the deep south.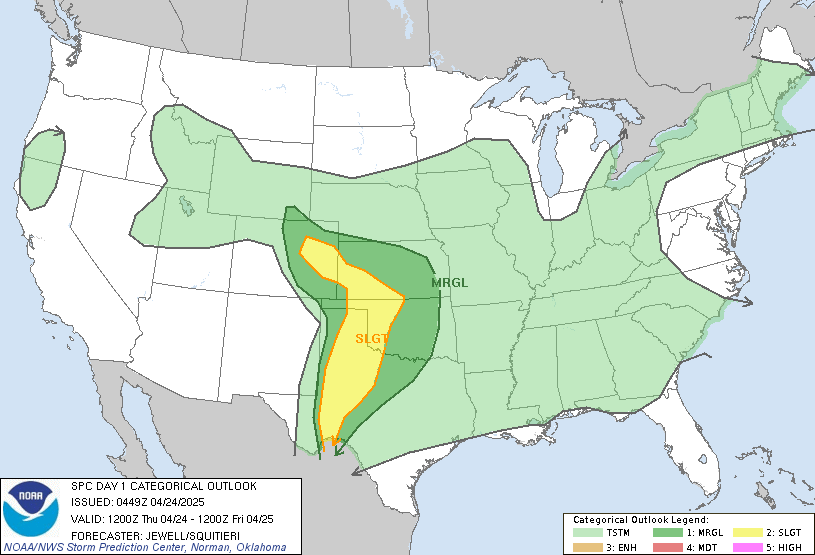 and the risk of tornadoes is very much in play down there…
It's been a weird winter…check out the snow stats from the Weather Predication Center…lots of haves and have nots.
The major metropolitan areas of the northeast are in the "have not" category. The western mountains and areas north of I-80 towards I-90 are in the "haves" category
The browns below show below average snow totals through the last day of February. There isn't enough blue for the above average snows in the western mountains compared to the average of the last 14 years.
Oh and finally there's this…
OK that's it for today.
IF there are any track changes and and I need to make an evening adjustment(s) to the snow thinking that will be on the news tonight at 9/10.
IF that were to happen, my thought is it would be to add potential accumulations for areas toward the east of KC into central MO and perhaps NE MO.
The feature photo is from Kevin E Lewis south of Warrensburg yesterday.
Joe