It's a good soaking rain and it's been with us off and on for almost 24 hours now (as of mid-morning) and (un)fortunately (depending on your perspective) it has about another 12 hours to go.
So far rain amounts have been in the 1/2″ to 8/10″ range in the region. Some less, others more.
So, from that standpoint that's great news. The unfortunate part is with this slow-moving system wrapping moisture up and around into the I-70 corridor region. This rain with continue at times through the day into the mid evening hours.
That's not the greatest news for Monday Night Football at Arrowhead Stadium. Damp conditions are expected for tailgating through the game. At times the rain may be down to a drizzle or a mist.
---
One sentence forecast: Today is likely the worst day of weather for the week with more seasonable conditions expected for Wednesday and Thursday.
---
Forecast
Today: Cloudy with showers/mist/drizzle through the evening. Temperatures steady in the low to mid-40s
Tonight: Cloudy and chilly with lows in the upper 30s
Tomorrow: Mostly cloudy with a few light showers or perhaps even a few flakes mixed in during the morning…with some clearing later in the day. Chilly with highs in the mid-40s. very windy too with gusts 30+ MPH possible
Wednesday: Nicer with highs in the 50° range
+++++++++++++++++++++++++++++++++++++++++++++++++++++++++++
Discussion
Well about 10 days ago I started talking about this storm and how it was going to give us our best chance of rain in weeks. After a dry start to the month, we broke the stretch of non-measurable days of no moisture yesterday.
That ended a stretch of 21 straight days with no moisture, the second-longest stretch this year. Twenty-two was the longest.
The rain is welcome by almost all, especially for those with agricultural interests.
Totals through Monday 8AM… via CoCoRaHS:
The above two are via Stormwatch
It hasn't been that heavy so it's been a good soaking in rain. I got one of my winterizer treatments down before the rain came into the region, so that is a good rain for that.
The whole system is spinning around and there are other disturbances caught that are rotating around the whole thing. That, combined with the slow movement of things means the rain is going to take a while to push away from the region.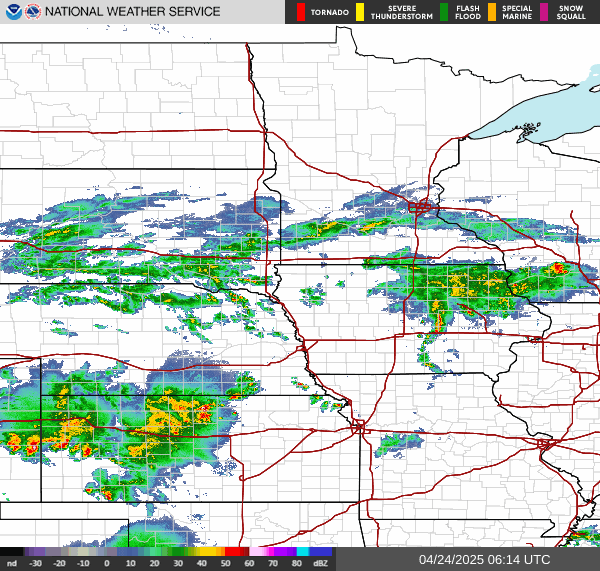 At times it may stop, or be reduced to drizzle or mist, and times it may be just a bit more of a nuisance.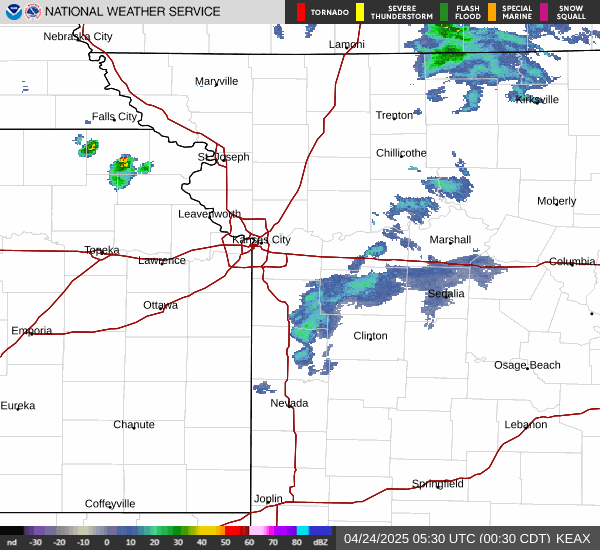 Just overall a damp day.
The surface map this morning shows a storm down towards the Red River of Texas/OK.
That surface low will move towards Memphis and as it does so will wrap the rain away from the region later this evening.
Different set-up during the middle of winter with enough cold air around and this would've been a good rain to snow changeover event with at least 4-8″ of snow around the region.
Down in the southern US this storm may create some nasty weather today, including the risk of tornadoes. It's been a quiet "second" season of severe weather down there… today though may be bumpy.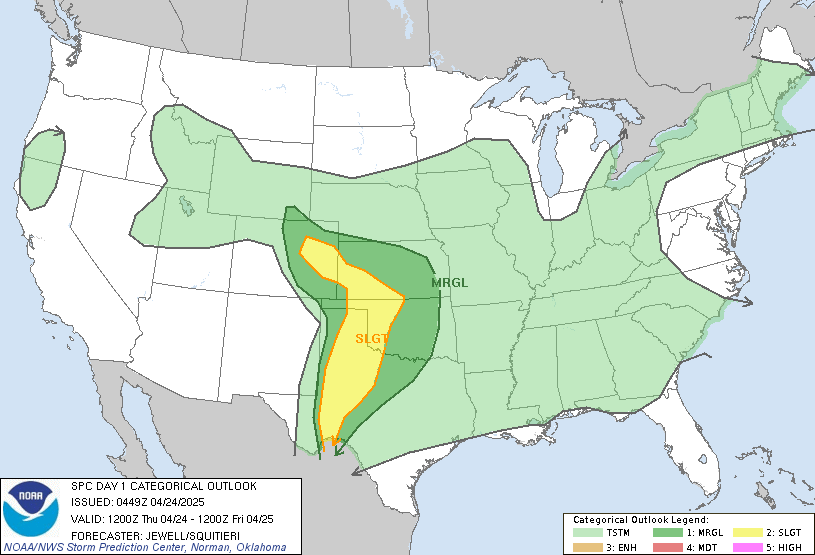 The main tornado risk is narrower…
Once this storm exits, the week as a whole doesn't look to bad. There will be issues tomorrow with the leftover clouds behind the system, however, and that will likely create a pretty gray sky.
Also of note tomorrow: It will be the gusty, with strong winds around the backside of the storm.
These stronger winds will dump a bit more cold air into the region, but since this storm is of Pacific origin, it's not really connected to the really cold air up north.
So aside from a return to more seasonal conditions this week, temperatures won't be overly cold during the day after Tuesday's blustery conditions.
This means good weather for Wednesday and Thursday, so if you're traveling you should be in good shape here in the Plains and also through the country as well.
As we head toward the weekend we may be watching another system that will be coming through the Rockies. There will be some chillier air around the region and with an incoming system perhaps later Saturday or this coming Sunday.
We'll watch for the potential for some rain or snow or both. Model data has fluctuated wildly over the last five days with the Friday through Sunday window being open for something wintry.
The ensembles continue to show "something", likely minor, in there for later Saturday or Sunday. It's just something to watch at this point. It may be a big "nothing burger," but we should have the cold air in the region ahead of the feature.
Finally, check this out! A rare tornado in Arizona… in November no less. This was rated as an EF1 tornado…
Winds were estimated at close to 105 MPH and this occurred near Payson…towards the NE of the Phoenix region.
We're also winding down the tropical season…
Then there's this…Ft Lauderdale rain this year….what a year it's been.
Meanwhile on the western coast of Florida…there's this.
The feature photo is from Danny Mcnair
Joe