KANSAS CITY, Mo. — We're starting the day with clouds again in the region, although they may be more common during the morning compared to the afternoon. Overall though by January standards, we're doing pretty good.
Yesterday we topped off at 46 degrees, warmer than I thought and just shows that with even a low sun angle in almost the coldest time of the year on average, you can still be OK for temperatures.
Overall the pattern isn't a cold one. Long range data shows mild weather overall (with a couple of cold fronts coming) that may last into the third week of January. That doesn't mean there won't be some chilly/cold days. There will be. It just means that overall the averages aren't chilly in the big picture, and it may remain that way for awhile.
There are storms though that are lurking and what's happening in the western U.S. is fascinating We dove in on that yesterday and are still going to be tracking a breakaway piece of the storm that has been giving California lots of rain and heavy mountain snows over the past day.
+++++++++++++++++++++++++++++++++++++++++++++++++++
Kansas City Forecast
Today: Clouds this morning with more sunshine in the afternoon. Highs 40-45 degrees. Breezy but not overly windy.
Tonight: Fair and chillier with lows into the mid-20s.
Tomorrow: Pretty nice, highs in the upper 40s to maybe lower 50s depending on how quickly clouds start filtering out the sunshine.
Saturday: Cloudy with some light rain or mix possible during the day and maybe some flakes into the evening. At this point, no accumulations are expected. Temperatures during the day may only be in the mid-30s though.
Sunday: Nicer with highs in the low to mid-40s.
++++++++++++++++++++++++++++++++++++++++++++++++++++
Discussion
So a little perspective to start this off: Our average high is 38 degrees and we've done pretty good regarding that since the pre-Christmas cold outbreak. We've had nine straight days (not including today) with above-average high temperatures.
That's pretty good for this time of the year and we're certainly saving some money on heating with the milder days.
As I mentioned, the longer term forecast is overall mild. The 8-14 day forecast shows milder-than-average probabilities across most of the country.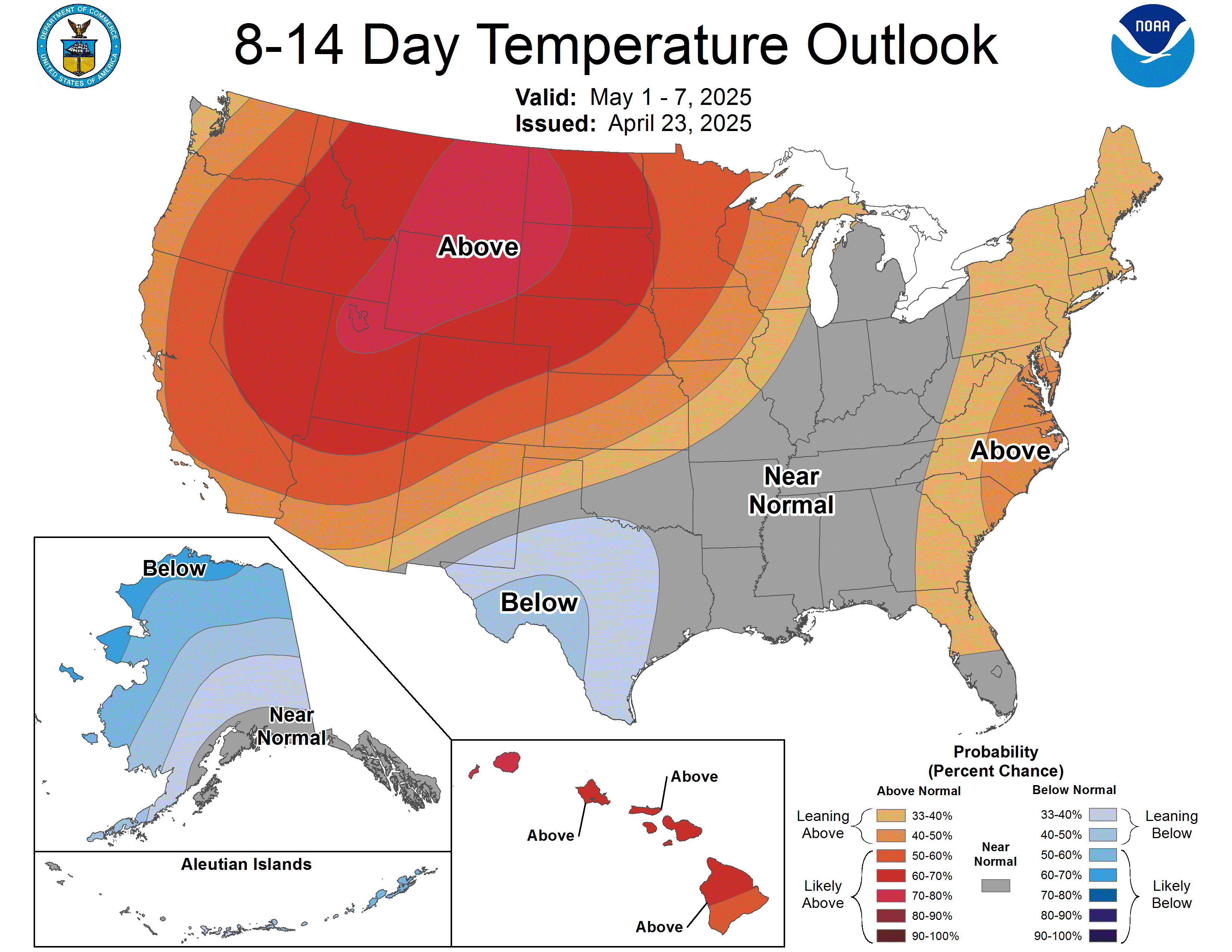 Now again, this doesn't mean every single day will be warm or above average, but the general trends are milder. We just don't have a strong signal of unusual cold air building in the northern latitudes and moving southwards into the Plains with any vigor.
Part of the reason is that the Pacific has screaming jet stream winds and has been in that scenario for awhile. These screaming winds are fueling the onslaught of storms racing across the Pacific and slamming into the western U.S. California is taking the hit from this and it's both good and bad.
Strong winds and flooding rains are creating some real issues out there. But on the other hand, a tremendous amount of runoff is helping to refill and aid in the buildup of water in the reservoirs in central and northern California.
Take a look at the forecast jet stream this weekend and you can still see the screaming winds aloft moving through the Pacific as we go up to about 30-35,000 feet:
This bottles up and prevents bitterly cold air from building up in Canada. It's still cold up there, but it's warmer than their averages as well. You can see this as well when looking at the 5,000 feet temperature anomalies.
Look at what's happening in Canada:
Now at times some chilly air will drop into the pattern and we'll have a day here or there of cold weather, but sustained cold with this fast flow coming through the Pacific is tough to achieve.
For the western U.S., more storms are coming. They had a big rain/wind event last night with numerous trees down.
One way of seeing this persistent onslaught of moisture coming into the western U.S. is by looking at the precipitable water anomalies, showing the extra moisture in the atmosphere compared to average.
You can see repeated waves of moisture streaming into the state.
These "rivers" of air hit the coastal areas then run up the coastal mountains. That process of lifting the warm, super moist air up the mountain slopes helps to create these heavy rain scenarios.
What's interesting as well is on the eastern side of the mountains and the Central Valley region the air comes down the slope and dries out. So you get a phenomenon (common) called a rain shadow, where amounts are much lower than what happens to the west closer to the coastline.
You can see that in the total precipitation being cranked out over the next 10 days, and more is likely beyond this.
Heck the GFS is showing close to 36 inches of moisture in parts of the Sierras over the next 15 days that would then be converted to snow in many cases. That would be insane amounts of snow: 20 to 40 feet worth! Perhaps overdone, but jeez.
So back to the title of the blog.
Can it snow in a warm pattern overall? Yes it can, but it takes more effort than normal.
There is a piece of the big storm that is breaking off and will cross the Rockies later tomorrow and come into the Plains. Ahead of that piece, we should warm up nicely tomorrow, well into the 40s.
By early Saturday morning, that piece will be rotating through the region, and as it does, it will also be getting stretched out and breaking up into pieces. It's not an overly exciting setup for wintry weather, but it may still generate some sort of mix of rain, snow, or pellets in the area.
Surface temperatures during the day on Saturday may be in the low to mid-30s, so what falls (assuming it's light and not overly heavy) would have a tough time sticking to much.
But yes, you can get some wintry weather in an overall mild pattern.
Behind this system, not a cold connection. So we should see highs rebound into the lower 40s on Sunday. Not bad at all.
Can we get a bigger storm from this active Pacific pattern? The answer is yes, but (and this is a big one) we really need to have a LOT of things come together almost perfectly.
With a lack of cold air in the pattern overall, we'll need any potential storm(s) to take near perfect tracks to help chill the atmosphere down enough to support the wet-type snows that can happen. Both models are suggesting something along that line during the middle of next week.
I'll remain skeptical for snow on this potential for now. The GFS is trying to create a somewhat small pocket of cold air in southern Canada that then descends into the Plains and supports its potential of some sort of rain-to-snow event locally. It's a week out, and I'll remain skeptical about these prospects into the weekend at least.
The feature photo comes from Brooke Kunkel out in Leavenworth, Kansas. We had another great sunrise this morning.
Joe