It's a frosty start to our Friday in KC as temperatures dropped into the mid-20s this morning. A sort of "rare" (not really) start to the day. We've had so many clouds over the past few mornings that temperatures haven't really been dropping off all that much. Overall nice weather (with lighter winds) expected today with clouds increasing.
The two main themes in the forecast are overall above average temperatures for the next week or longer and one speed bump for tomorrow as a system slides south of KC. That speed bump may create some glazing in some areas…perhaps a light wintry mix and or snow flakes for others.
It doesn't look overly significant but it's worth watching just in case. Temperatures will be cold…roads may have some impact, especially tomorrow evening but it shouldn't be too widespread and perhaps more confined to areas south and east of KC.
+++++++++++++++++++++++++++++++++++++++++++++++++++++++++
Forecast:
Today: Partly cloudy and mild by January standards…some 10° above average. Highs approaching 50°
Tonight: Fair with increasing and lowering clouds. There may be some freezing mist/drizzle developing in patches tomorrow morning. Lows near 32°
Tomorrow: Whatever we are near 12AM may be the high for the day. Temperatures tomorrow will just sort of go nowhere, if not fall a bit. Probably in the 32-35° range. Any area of freezing mist/drizzle may glaze some areas/things up, especially in the late morning/afternoon/early evening.
Then as temperatures drop a bit more later in the day…some freezing drizzle/snow is possible. I'm just not sold on how much of an accumulating snow aspect will play out with this yet but it bears watching from KC southwards for some light accumulations of "something"
Sunday: Nicer with highs back into the lower to perhaps mid 40s
++++++++++++++++++++++++++++++++++++++++++++++++++++++++++
Discussion:
So let's start with this…snow across the region so far this season.
Then there was this…my top 4 weather events for 2022. Here is the twitter thread from last night that I sent out.
Looking back at 2022…biggest weather events of the year…for the KC Metro area.
#4…the winds that never seemed to relent. It was our windiest year in 8 years in KC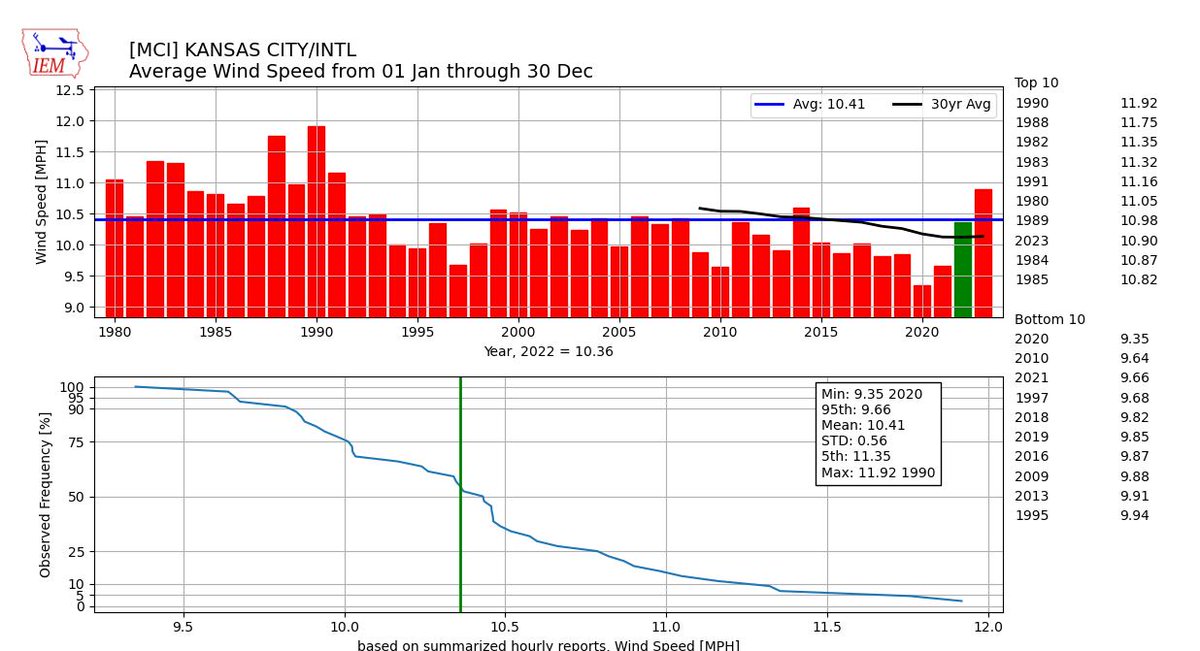 #3…the temperature extremes…we hit 101° for the 1st time in 10 years…and then we also had that oh so cold Christmas lead-up with numerous broken water pipes…our 3rd coldest 12/23-26
#2…the drought…so bad for so long…easing though now.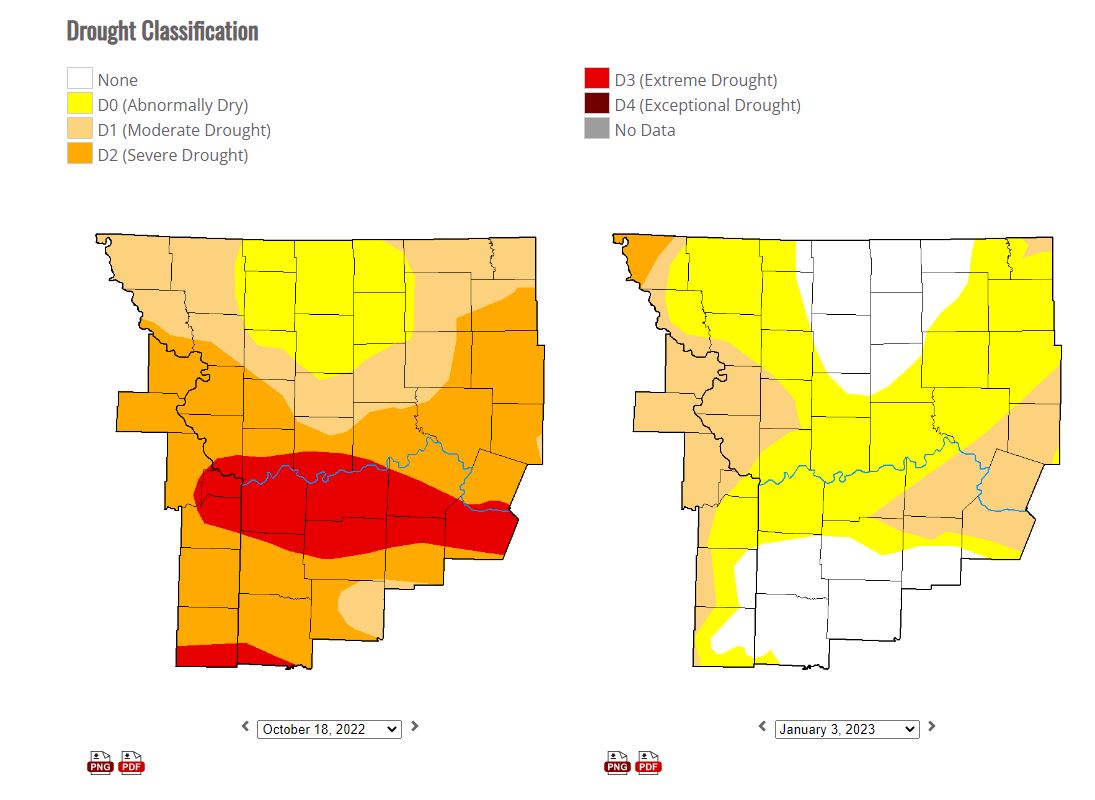 Finally…#1. The late night surprise tornadoes on June 8th…especially the Lenexa/Prairie Village (EF1) to western JACO tornado that was going down 95th street or so. Other tornados were in Buckner (EF2) and down towards Louisburg (EF0s) as well.
Originally tweeted by Fox 4 Weather KC (@fox4wx) on January 6, 2023.
So there's that…
Weekend snow chances
Onwards to the weekend.
Clouds will gradually lower and thicken overnight but this system, which is a break away piece of the former bomb cyclone that gave California round 2 of heavy rains and decent mountain snows…will be moving towards the region tomorrow.
As it comes to the region it sort of looks discombobulated. There is a decent looking surface storm…that will be moving through central and northern Arkansas.
The disturbance in the mid levels will be moving along the I-70 corridor tomorrow afternoon. The moisture in the atmosphere will be discombobulated as well. Perhaps a bit more supportive of snow production north of KC…where the "lift" to the atmosphere is looking rather anemic.
The lift looks a bit better south of KC…but down there there may not be decent enough moisture to generate snow flakes in the clouds to reach the ground. Then for the Metro the surface temperatures may be closer to 32° which means that any snow/mix that falls still could have impacts on roads, especially at night.
So there are complications to tomorrow.
One thing that I'm sort of keyed on is how cold it is in the Plains this morning where there is snow on the ground. Take a look at the snow cover in the middle of the country…
Where that snow is present northwest of KC…it's very cold…take a look at these 9AM temperatures (in red)
Some of that cold air will start draining southwards into the developing surface storm tomorrow. That is a complication because there should be areas of freezing drizzle developing and as temperatures trend slowly down…exposed surfaces may start getting a glaze in the morning.
This process will gradually evolve as the morning and early afternoon comes into play. While the overall totals don't look too impressive with this…again any glazing will create some issues perhaps on bridges and overpasses. Things will wind down quickly in the early evening I think from west to east.
One of the things that will be key and is the struggle is just how much moisture will there be in the atmosphere where snow flakes like to form…around 10,000 feet up. The NAM isn't so great with that…the morning run of the HRRR though shows a bit more moisture available to turn into snow flakes at that level.
It's worth watching tomorrow for this potential because I think by tomorrow afternoon the atmosphere will be pretty conducive so that if snow CAN form…it would make it to the ground at least.
My guess is that the worst case on this would be 1″ or so, especially for areas SE of the Metro…but I think it's on the table as a possibility.
So there's that.
Next system, which may be more on the rain side is possible next Thursday. It's sort of similar to this one…perhaps more potent though which means it will drag up more moisture and warmth ahead of it…meaning a tougher transition to wintry weather. Long ways out though.
This is all part of the parade/onslaught of storms affecting the western US…as that train of storms continues for the next 10 days or so…we'll have these systems coming through the Plains.
Our feature photo comes from Bruce Fischbach with a gorgeous sunrise!