It's a beautiful start to the day around these parts with clear weather again locally as clouds are around toward the northeast of the metro. Today overall will be very similar to yesterday with more weather near perfection as we head into, what I feel, is the best time of the year for pleasant weather conditions around these parts.
I've always felt that from roughly 9/10 or so through 10/15 was about as good as we could do for weather.
Often, like today, we have mild afternoons and cool mornings, and that seems to have described the weather here for the most part for the last couple of weeks or so.
The problem is things can dry out very fast during this time of the year as well, and that's what's been happening around most of the region. The last decent rain we had was a month ago, and while we did get some rain on Monday, it really wasn't a lot in most places.
While there is another system due in tomorrow night and Saturday… that too may be lacking.
++++++++++++++++++++++++++++++++++++++++++++++++++++++++
One sentence forecast: A carbon copy today of Wednesday with sunshine locally and near seasonable temperatures with highs in the lower 80s
++++++++++++++++++++++++++++++++++++++++++++++++++++++++
Forecast
Today: Light winds with more sunshine. Highs near 82°
Tonight: Clear and cool with lows back down into the upper 50s
Tomorrow: Increasing clouds with a few showers possible later tomorrow night into Saturday morning. Highs in the 80° range
Saturday: Morning showers then partly cloudy with a few afternoon showers possible and mild with highs near 80°, although if the clouds hang around long enough it may be in the 70s
Sunday: Great with highs near 80°
++++++++++++++++++++++++++++++++++++++++++++++++++++++++
Discussion
Well after today we're going to be running some 1.75″ below average for the month. It's certainly dry out there and for many areas, especially on the south side, things are really dry.
It's one reason why the south side has been a couple of degrees warmer lately. That baked out soil allows temperatures to get a bit warmer, even in the middle of September.
The rains we've seen for the last month or so have been underperformers really. Some areas have gotten some OK moisture, but many are lacking. Here is a rough estimate of our deficits over the last 30 days. We average about .13″ of rain per day, which should be more looked as about .9″ of rain/week. So the below map isn't really a great look.
Doppler estimates are along these lines over the last 30 days. That's a lot of blue along the I-70 corridor
So obviously we need rain.
There is a cold front coming into the region to start the weekend. There is also a dip in the jet stream coming as well. A weak system with an ill-timed cold front coming during a time when there won't be much instability to create convection.
So it's a double whammy of reasons why we wont be getting a big rain from this next system.
There is a path where a few hundredths to perhaps a third-of-an-inch is possible. A look at the ensemble runs of the two main models aren't the greatest for totals from this one system.
Let's start with the EURO…
Now the typically wet GFS…
So whatever we get may be the "drought" rains that we've been seeing for most of the last few months except for that wet 4-6 week period in July into early August.
On that note… a look at the latest drought monitor now reflecting worsening conditions. The first stop in on the Missouri side.
Now the Kansas side…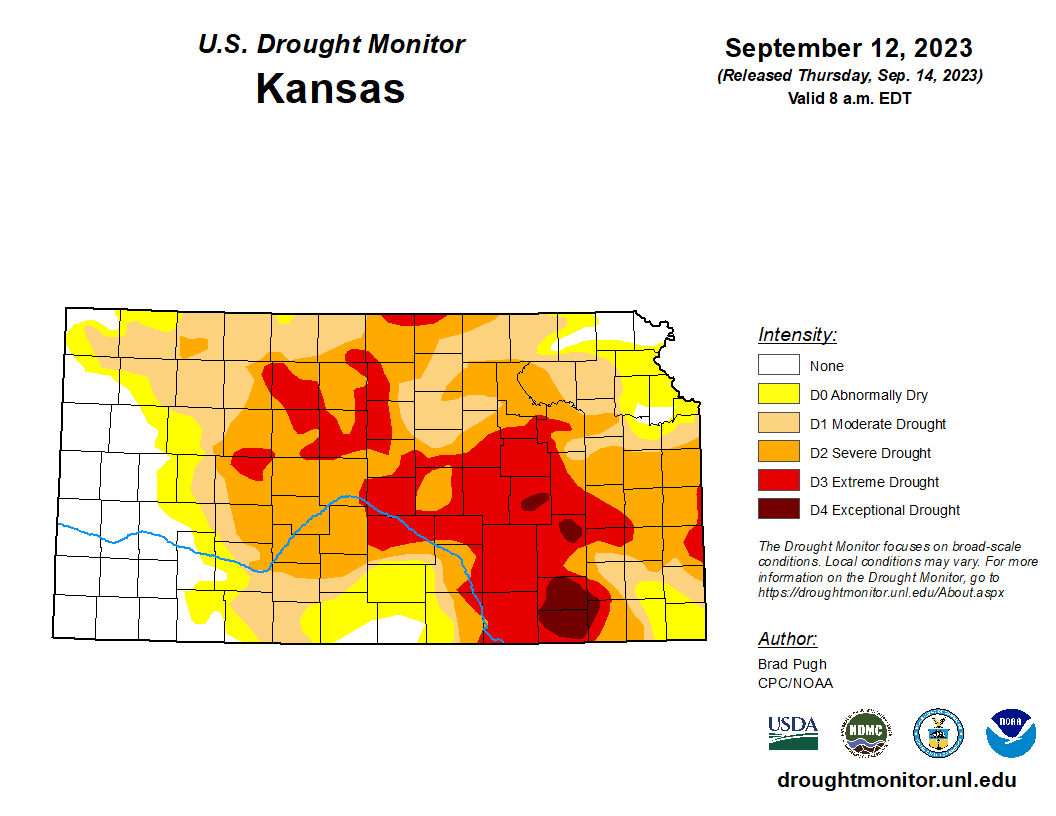 Sometimes though it's just easier to look at how things have changed from week-to-week. In that case you can see how things have worsened by looking for the areas in yellow.
So regardless of what happens on Saturday…we're still going to need more rain.
There is some hope that perhaps as we head towards last 7-10 days of the month maybe we can start to see some changes to more favorable rainy conditions as a broader trof or dip is likely to develop in the western US.
This could lead to some better chances of disturbances coming towards the region. Of note as well: Perhaps we could see some severe weather chances in the Plains again as our second severe weather season gets going.
It seems that hasn't been a thing around here for a few years.
Finally Hurricane Lee is still out there.
Lee will likely NOT be a hurricane when it finally makes landfall in SW Canada east of Maine.
In many regards it will resemble a strong nor'easter BUT with the huge expanse of gusty winds, and tremendous waves slamming into the coastal areas of the NE and New England.
A significant amount of coastal erosion and flooding is likely. The Cape Cod region is vulnerable to the storm surge from the winds piling water from north to south into the Bay around the circulation of the system hundreds of miles away.
The waves though crashing ashore will be the bigger issue for those coastal areas. Look at how the EURO depicts the potential max wave heights.
That will be an amazing thing to see. Winds along the Maine coastline may be in excess of 60 MPH in gusts.
It's been a VERY wet summer up there to begin with… so the risk of power outages and toppled trees is extremely high to begin with and this obviously won't help.
More on that tomorrow.
The feature photo comes from @KansasHoops
Joe