It's a stormy morning for parts of the region to start out this work week. As I start typing this blog it's bright and sunny where I am…but on the northside…it's raining and there are some thunderstorms mixed in as well.
In a way it reminds me of what happened last spring and summer when the northside was getting all the rain and the south side was missing out…creating a nasty drought that was significant on the southside of KC for awhile till the north side started to get into it as well. My lawn took a bad hit from this.
The rain chances will be around this morning…even for the south side but the higher chances are this morning and if you don't get into the rain this morning the activity this afternoon may be more scattered at best. So for many it's this morning or bust when it comes to the rain.
+++++++++++++++++++++++++++++++++++++++++++++++++++++++++
Forecast:
Today: Partly cloudy with showers/storms on the north side especially with perhaps some isolated activity this afternoon. Highs in the lower 70s
Tonight: Fair and pleasant with lows in the low 50s
Tomorrow: Nice with highs in the mid to upper 70s
Wednesday: Same with highs into the upper 70s
+++++++++++++++++++++++++++++++++++++++++++++++++++++++++
Discussion:
During this time of they year as the grass is growing and the land is transforming from brown and dormant to green and thriving…the water needs of that vegetation seems to go up by the day. This is typical for early Spring.
The rain needs also increase and typically into April, May and June we get our largest precipitation, mostly in the form of rain. In April we average 4.05″ of moisture. In May it's 5.32″ and in June it's 5.27″. July is actually wetter on average than April is with 4.58″ of rain.
So in a year when 39.3″ is the overall average…a lot of that comes in the next few months. These months can make or break a wet or dry year in these parts. If we go into the summer dry…it can be tough to turn that ship around because in the summer, many of the rains become more feast or famine because usually their connected to summer time storms. They type when one part of the area can get 2 or 3″ while the other part gets nothing but clouds.
Today we're starting the day with storms, especially on the north side of the Metro.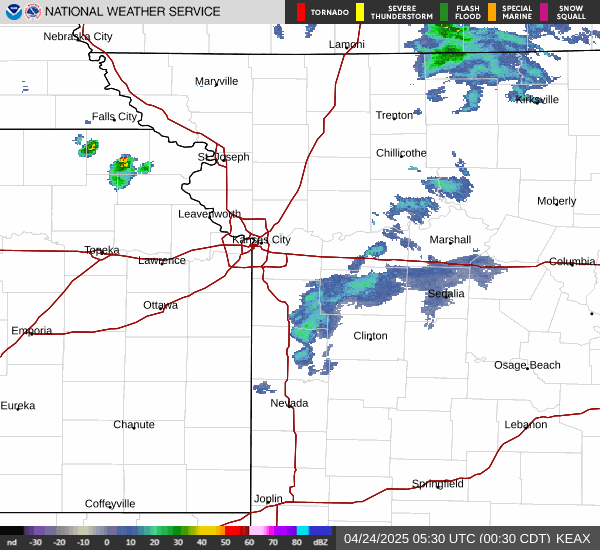 Areas south if I-70 may be missing out today if there is no development in the next couple of hours on the southside of the Metro.
That's a bummer because the beautiful weather of the past several days plus the nice weather coming…with dry air, stronger winds and warm temperatures will continue to dry out the top soil.
The next more widespread chance of rain will be on Friday it appears. That has potential to be something more for the region as a wave comes up from the southwest part of the country. Moisture will be returning from the south as this happens so hopefully that works out otherwise we may be waiting for awhile again after Friday.
This next storm later in the week will usher in a quick hitting chunk of colder air as well and there may be some near freezing air or some frost perhaps with this next Monday or Tuesday morning depending on how much of the colder air we get into.
Aside from the next storm on Friday into Friday night…all else is quiet for us.
Let's do some tidbits…
So impressive out there…melting has started. There is a lot to melt!
Meanwhile in UT…
This was from yesterday but you can add another day to this streak…
There is still a lot of snow up there…
There's more than 5″ of moisture locked into the snow that needs to melt off…so it's likely to be soggy for awhile up there with delayed planting conditions.
We've talked about the active start to the severe weather season around the USA…so far though the Plains of mostly lucked out.
MO has recorded only 3 tornadoes and KS has had two.. This week should be tornado free as well…especially on the KS side. Nebraska hasn't had any…which seems to be happening more and more in the early season. IA meanwhile has had 19 reports.
OK that's it for today…infrequent blogs this week with the quiet weather…
Our feature photo comes from Becky Johnson in NW Linn County, KS
Joe