This is an archived article and the information in the article may be outdated. Please look at the time stamp on the story to see when it was last updated.
Good morning…as promised a blustery day out there with temperatures in the 30s…plenty of clouds and NW inds of 15+ mph creating wind chills closer to the 20s. Our "official" high up at KCI though was 47° at 12AM…so the day will end up being about average in the end…this will more or less break the run of incredible almost daily double digit above average temperatures going back to the 8th of the month. It's been an incredible run…but now things return back to more seasonable conditions around these parts with hard morning freezes and perhaps a few snowflakes mixed in.
Forecast:
Today: Mainly cloudy and colder. Highs in the 30s. Wind chills in the 20s. There may be a few snow flurries every so often, especially up towards N MO where a light dusting is possible.
Tonight: Cloudy with some near daybreak clearing. Lows 20-25°
Saturday: Sunny and seasonable with highs 40-45°
Sunday: Variable clouds with a chance of some morning scattered snow showers. Then some PM sunshine possible with highs into the 40s.
Discussion:
The title of the blog refers to the total and complete lack of snow in the KC area this month. The only other FEB in our books with NO measurable snow is back in 1892. There have been about 7 other FEBs with a TRACE of snow including as recently as last FEB.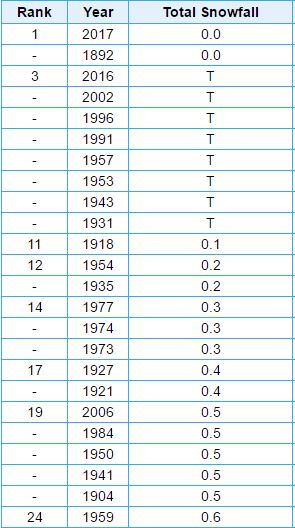 So the question is can we get through the next 5 days (including today) with no measurable snow. There will be a couple of chances, mainly today (very iffy to measure) and Sunday morning (our only real hope?).
Today's chances aren't that great in terms of measurable snowfall. I'll put radar in the blog because there may be a few flakes out there showing up as I type this.
It certainly won't be tomorrow…as bright and sunny conditions are expected.
So about Sunday…
Yesterday the GFS was creating a significant snow storm around the area…that wasn't going to play out. The NAM model had a little something and the EURO and Canadian had nothing…
Today it seems to appear that at least there may be a few snow showers out there in the morning…but getting much more than that isn't likely and I certainly can't promise that KC will get those showers at this point…they could develop anywhere and seem more connected to the potential of some sort of low level jet stream creating some "lift" than some sort of bigger storm system. The window is small…perhaps from daybreak through lunch or so…but the chance is there. Again worth monitoring…but this looks to be our best chance of seeing something measurable that could keep us from matching something that happened in 1892! The accumulations look to be minimal or nothing at this point…temperatures should be in the 32-35° range till 11AM or so before getting warmer afterwards.
Again this is NOT a slam dunk scenario…the snow showers could be anywhere in eastern KS or western MO…and IF they form farther southwards…odds favor and ENE movement to the activity so they could pass us by to the south as well. The area that will be watched is from Topeka towards Emporia early Sunday…IF something develops in that area…the chances of us getting at least something would increase I think.
Meanwhile the theme of dryness continues overall. The EURO model has this for total precipitation from this coming later SUN>March 5th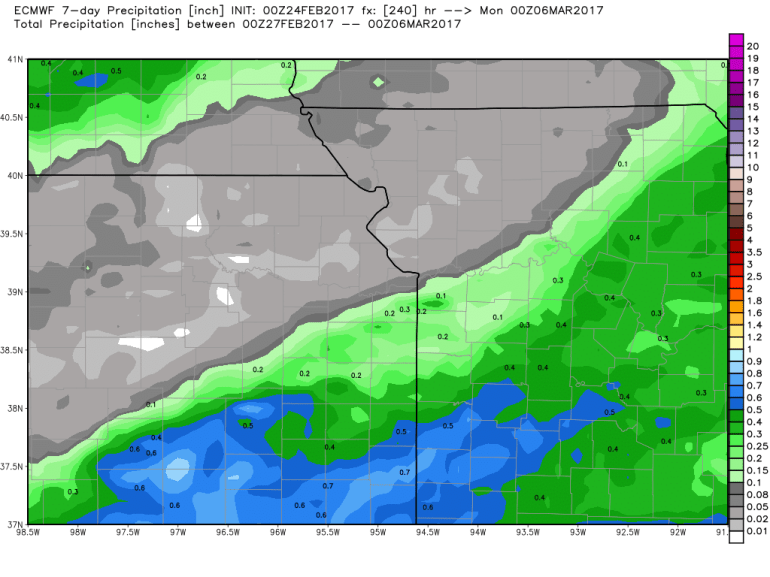 The GFS model…going out through 16 days has this much moisture…this goes through 12AM on the 11th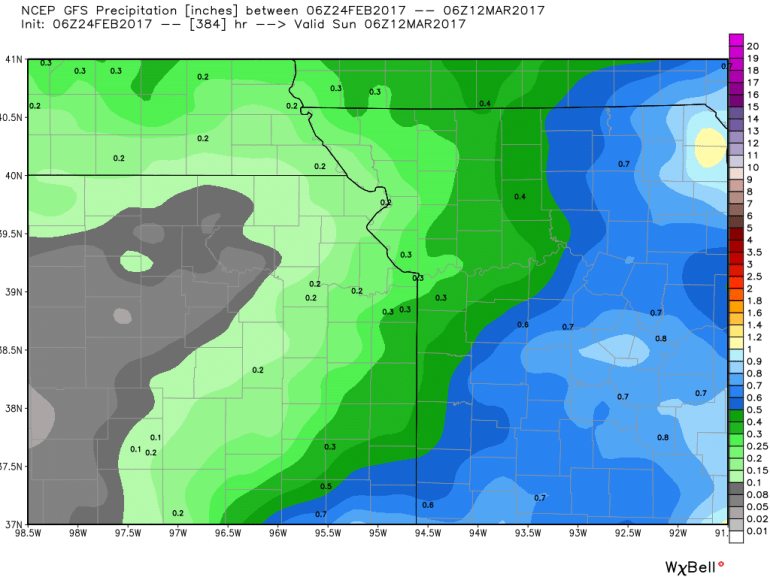 Again this is typically  dry time of the year…but as we ease into March things do start to change. We start seeing more of a battle of air masses and that can lead to bigger surface storms.
Regardless of how we do it…we really could use a good drink of water because some of the early spring plants are coming out of dormancy. (source: USA National Phenology Network, www.usanpn.org)
This won't shock the #KC area…but the early spring plants "think" it's spring. Season running 20+ days ahead of schedule pic.twitter.com/fVcG7pGgdh

— Fox 4 Weather KC (@fox4wx) February 24, 2017
They may slow down a bit though over the next few days…especially with temperatures like this (via the OK Mesonet)
My goodness though…look at that warmth back east. There may be some severe weather there as well.
Finally I saw this tweet from the NWS in the San Francisco area yesterday…it is amazing what you can see from space. This from a satellite that orbits some 438 miles or so above the land.
Visible satellite images reveal how much the landscape of the #BayArea has changed since last autumn. #cawx #satellite #caflood pic.twitter.com/iWXjEpCFhb

— NWS Bay Area (@NWSBayArea) February 24, 2017
I just think that stuff is fascinating!
Our feature photo comes from the @PeopleOfCowtown of a nice sunrise at Peculiar Lake from yesterday morning.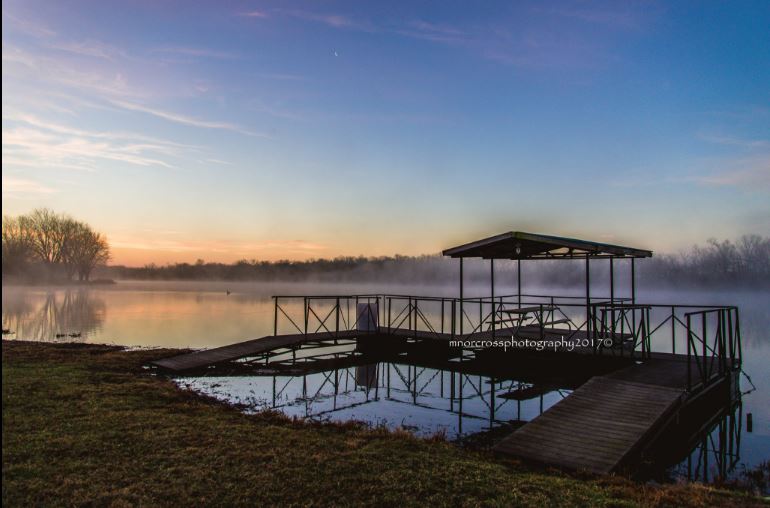 Joe