This is an archived article and the information in the article may be outdated. Please look at the time stamp on the story to see when it was last updated.
Good afternoon…strange one out there today as an upper level storm is spinning by to the south of KC. Sometimes when this occurs and there are showers in the area (like today) there can be funnel clouds with the clouds. This happens even though temperatures are in the 40s to around 50°. It has happened in the past…typically in March and April in this part of the country. Sometimes when it's even warmer outside these funnels can be more visual. There were definitely some out there though since I saw a couple of twitter and FB this afternoon.
---
Forecast:
Tonight: Cloudy and cool with lows around 40-45°
Friday: Mainly clouds…perhaps a few thin spots and highs should be in the 50s
Saturday: A few more breaks in the clouds but still near or even below average temperatures with highs around 60°
Sunday: Rain chances increase again…cooler with highs in the 50s
---
Discussion:
I wanted to start the discussion with a look at some of the satellite pictures taken by our new satellite up in space. It's called GOES 16 and it's providing images every 30(!) seconds in some cases. The data below I think is every few minutes. There are some 70 images loading up for you…but the resolution and the various small scale features are pretty cool to look at.
A large scale feature is the upper level storm spinning through SW MO down the state line south of KC in the images above. Notice the darker areas, representing breaks in the clouds. This upper level storm represents a pocket of colder air aloft. When the sun comes out and heats the terrain even a couple of degrees the air rises in the instability and the clouds thicken vertically. From there you can get showers. Interestingly because of the shear between the near surface rising air and the winds circulating around the storm…you can get small funnel clouds. More often than not…they don't touch down but there have been a couple out there. Jessica saw one earlier this afternoon. There is a more complex learning lesson about this situation here.
These things can form when there is a wrapped up upper level low near…like today. @NWSKansasCity #fox4kc They're called cold air funnels https://t.co/ZTedGRNMgg

— Fox 4 Weather KC (@fox4wx) March 30, 2017
This picture was sent in by Sonja…tough to make out if that's a smokestack effect or a funnel…but given the reports today so far it might've been the latter.
Anyway…it's interesting for sure.
Meanwhile the gray drabs are getting a bit old. It's been about a week of this now and while there will be some thin spots in the clouds over the next few days…plenty of gray weather is expected. Refer again to the satellite images that I started this discussion with…note the moisture that really is all over the place just spinning around the storm towards the south of here…that moisture is going to have a tough time eroding…and to complicate the issue…there is another upper level push of energy heading this way on Sunday that should give us some additional rains in off and on fashion. The rain amounts look to be mostly under 1/2″ at this point.
Speaking of which…yesterday KCI set a daily record with 1.44″ of rain so now we're just about caught up for moisture…still below average going back to last October…but we're in a position that a few days of dry weather would be helpful. Concordia, KS also set a daily record with 1.53″. Topeka had 2.04″ for a record too!
Another storm is due sometime Tuesday…timing of that has sped up a bit today in the data…may need to watch for some stronger storm potential with that situation but it's a long ways off to get to specific. After that there could be a light freeze for a night later in the week to pay attention too.
OK that's it for today…our feature photo comes from Melissa Bishop up at KCI yesterday…great rainbow shot!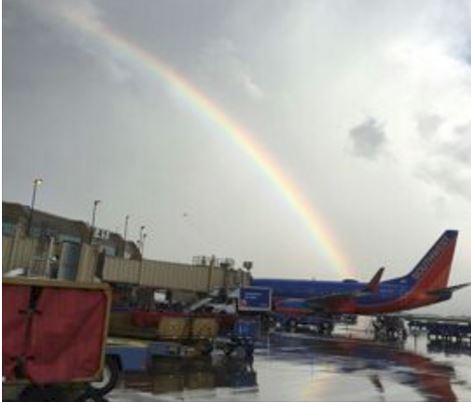 Joe