This is an archived article and the information in the article may be outdated. Please look at the time stamp on the story to see when it was last updated.
Saturday 1:30 PM Update:
I don't think I'll write a full blog today, everything said below is applicable and the thoughts concerning the N Pacific I think are important and meaty enough to read IF you haven't read them already..but I do have a couple of things for today's brief update.
1) Record lows tonight. Records are 9° in KC and St Joe…high chance of this happening.
2) Precip…outside chance of something very light on Monday (snow) then things look quiet for days to come. The latest EURO essentially gives us nothing for the next 10 days. We'll see about that.
3) Cold trends…there may be some moderation later this week for the holiday but essentially temperatures are near to below average through early December…no dramatic warm-ups expected for awhile.
Tomorrow expect a full blog write…I think I'll throw out my winter snowfall forecast on Tuesday AM. It's hilarious to me that the same 4″ range of numbers that I've had in my mind since essentially the middle of October is still there. Here is a hint…unless I have a major change of heart I'm pretty sure I will be forecasting an above average amount of snow for KC for 2013-2014. Which by the way is probably the kiss of death for snow enthusiasts because as I will reiterate for the umpteenth time…I have NO skill in this endeavor!
+++++++++++++
As expected temperatures are struggling through the region today with highs only in the upper 20s and lower 30s in the area. The sunshine this AM was fleeting for us and now clouds have moved back in. While radar from the NWS in Topeka shows snow on top of the area…very dry air below the clouds is causing the snowflakes to evaporate before reaching the ground. There may be a flurry out there but aside from that nothing else is expected.
A couple of things I wanted to point out this afternoon…1) is just how much of the country is pretty darn chilly right now. Take a look at this map as of the noon hour and you can sort of see the scope of the cold air. The exception (for now) is in deep south Texas and the SE part of the country.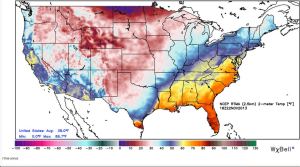 The air is even colder across the N Plains states into Canada. Look at these 1PM temperatures in S Canada…the temperatures are in RED and most areas there are well below freezing.
There is more cold air up there that will be moving southwards through tomorrow, so we're going to get a reenforcing surge of cold weather tomorrow. That surge will be moving into the region tomorrow AM and as a result temperatures tomorrow should stay in the 20s before tanking Sunday AM to around 10°. Last weekend I was predicting 13° I think for Sunday AM…looking good so far..and it's not out of the question some areas may be closer to 5° with this airmass coming in. Also expect to see the barometer jump up to around 30.80-30.90″…which will be one of the highest pressure readings for November in KC weather history and in the top 15 of all-time I believe.
The issue that we're going to have is that this immense for November high (similar to a couple of Monday's ago) is going to be sitting nearby on Sunday. When this occurs the winds are very light and as a result the cold, dense air just sits on an area. so despite the sunshine highs on Sunday may struggle to get to 32°. So cold weather for sure for the football game…again though the winds will be very light during the afternoon before picking up a bit from the south on Sunday night.
As I look into next week…at this point aside from watching a storm on Monday that should slide well south of KC…not much is going to happen, although another shot of cold air will move in for 36 hours on Tuesday. The storm that will pass to our south early next week is an impressive one and is giving the SW part of the country much needed rain…and unfortunately flooding as well. Phoenix has had over 1.5″ of rain and some areas out there have had considerably more than that.
The storm is sitting and spinning. We call it a cut-off low. They are not unusual for the next several months in that part of the country. As a matter of fact aside from the monsoon season it's one of the best ways that they get their moisture during the year. Take a look at the water vapor imagery from Rutgers University.
That thing should move through OK and TX over the weekend and yes give them some wintry weather down there. Winter storm watches are in effect for much of the southern Plains area for a combination of freezing rain/sleet (ongoing now) and snow from the South Plains of TX northwards. Overall a real mess. This is what the NAM thinks over the next 3 1/2 days. Remember from a time perspective…6AM is 12Z/Noon is 18Z/6PM is 00Z and 12AM is 06Z.
OK so 600 words later I'm not even writing about what I wanted to write about yet.
Let's talk about a winter forecast ingredient that I've been paying more attention to. I briefly talked about the ENSO (El Nino-Southern Oscillation) earlier in the week in reference to part 2 of my research into fall precipitation patterns and what happens the following winter. ENSO conditions, when moderate to strong El Nino's/La Nina's develop can certainly influence the jetstream patterns through the country. That is just one piece of a complex atmospheric puzzle related to the influence of oceanic water temperatures to weather overall.
Let me show you how the global water temperatures are doing compared to average…
Click on that image above to make it more readable.
One of the bigger things that catches my eye and it should yours, and it has for the last month+, has been this really warm and very large pool of water across the N Pacific Ocean. That is NOT a small area of warm water…it's large and "intense" with temperatures running about 3°C above average. Here is a closer view.
Here's the thing…meteorologists are quick to jump on El Nino's (warming waters in the equatorial Pacific) and La Nina's (cooling waters in the Equatorial Pacific) because there is overwhelming evidence that they influence the weather in the US and elsewhere, especially in the winter months. Many though fail to realize that something that large and "intense" in some way shape or form has to influence the weather in our part of the world somehow.
The reason is that this abnormally warm water feeds back heat/energy into the atmosphere. How much is still an unknown but if enough it would then have a tendency to create more of an upper level ridge (or perhaps a tendency for the upper level ridges that do form to be stronger in that area). Should this occur, and we're seeing some signs that it is/has at times this fall, this would then force the jetstream to take a deeper dip downstream (to the east) of this stronger ridge of high pressure aloft. When one thing happens in the atmosphere there has to be a corresponding response downwind if you will.
The end result would be stronger build-ups of Arctic air and then releases of those airmasses in the form of stronger areas of High Pressure at the surface up there (hmmm sound familiar) that then are sent down into the central and eastern US…sort of like what we've been going through lately.
This is somewhat still conceptual but it's one of those things that has to play a role into the weather somehow and someway. So while that is happening in the N Pacific…let me show you what's happening in the North Atlantic…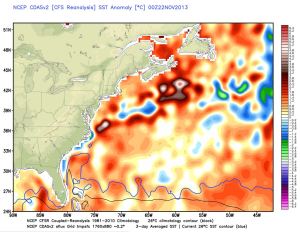 It's not totally the view I wanted to show you and the warmer than average waters continue up to the NE of that may through Greenland as well…but certainly not nearly as focused or as "strong" as what's happening int he N Pacific off the coast of Alaska. This to me is somewhat interesting as well because it could mean that there is somewhat less feedback into the atmosphere of warmth/energy compared to the N Pacific Ocean. Maybe, and this is PURE speculation on my part…this is explaining why we're having a somewhat difficult time getting the NAO to trend negative for any amount of time…because of there isn't strong ridging out there…it can't poke it's way northwards through Greenland and start "blocking" the atmosphere up.
In a sense though we have two competing things going on…one in the N Pacific that allows cold air to build and get released through the central and eastern US and the other that doesn't allow the pattern to get blocked, hence things are so transient and not "locking" in…just speculation on my part…but this stuff to me is interesting because the atmospheric puzzle will never be figured out in my lifetime.
The climate models that we look at for the next 1-3 months try to figure this stuff out and what they may be erring with is how they're handling this N Pacific ocean warmth and how they try to reduce this warm pool of water. It seems though that there has been a tendency over the last 4 weeks for the models to grab onto this warm pool better and keep it going longer…this has resulted in a tendency for some of the models to "cool" off there previous forecasts of warmth for much of the US. One thing for sure…the american long range forecast model (the CFS) is still on the screaming warm side for the winter as a whole in the US but interestingly there has been a tendency for even this model to get Canada pretty darn cold (at least in DEC and FEB).
OMG…this blog is creeping up to 1500 words…that's enough and plenty to ponder today. If you think I'm done…nope…over the weekend we'll be talking about how the snwocover may or may not play a role into things…there has been some success with this method by one professor…I'll write about that over the weekend.
Have a great rest of the day and Go Chiefs (why am I starting to get more nervous about this game all of a sudden?)
Joe