This is an archived article and the information in the article may be outdated. Please look at the time stamp on the story to see when it was last updated.
Good morning…haven't had an opportunity to really write up a weather blog for the last few days..I've had the time…just no real material to dive into. Yes the weather has been "boring" which is good for 98% of the population during this time of the year…but not so great when you try to write interesting blogs about the weather with some "meat" in them for you to chew on and ponder. As you know, one of my rules about the blog is I try and NOT waste your time just to throw a few paragraphs together and with all the nice weather out there lately…it's been tough to come up with something. We'll try today and look for a change in the weather scenario in about 10 days or so…
---
---
Forecast:
Today: Filtered morning sunshine then sunny skies. Windy and warm for late November. The record high is 71° set in 1960…today I think we'll fall short of that record by 2-6° (officially at KCI). Highs today in the mid 60s to near 70°. The winds will again be an issue…from the SSW at 20-35 MPH, especially later this morning and this afternoon.
Tonight: Fair skies and mild with lows near 55°
Tuesday: Becoming cloudy and turning cooler with highs in the 50s (some upside on the south side) and as a cold front comes through the temperatures may actually back off a few degrees in the afternoon. Also there may be some areas of drizzle developing with the front and behind it.
Wednesday: Variable clouds with some light drizzle or a few AM showers possible. Cooler but still above average with highs in the 50-55° range
---
---
Discussion:
Well for the 2nd time in 4 days…we're going to try for a record high…and believe it or not…I'm looking into the record highs for December 3rd too as I'm expecting a warm finish to the the upcoming winter. The record today of 71° set back in 1960 is in range BUT there are issues getting to that lofty number. 1) is the cirrus clouds that are filtering out the sunshine this morning…2) is that our temperatures above us will not be as warm as they have been (in the warm days we've had recently) but in the end I'm still expecting 67-70° highs this afternoon.
All of a sudden we've gone from seeing temperatures some 5+ degrees below average for the month to, after today, almost average temperatures for November. We've had 17 below average days and counting today…10 above average days BUT this will be the 6th double digit above average day compared to 5 double digit below average days…that's a lot of swinging temperatures but in the end…the month will be pretty close to average.
Perhaps a harbinger of the upcoming winter…lots of flips coming I think. Not terribly unusual for the Plains though overall.
The last blog dealt with the winter snow forecast…well obviously snow right now ain't happening…nor can it because…well duh…it has to get cold first.
That won't be this week…but it may be towards the middle of next week. At least getting colder…not so sure about the snow risk (of consequence). I should also put this out there now, I'll repeat it many times when looking farther ahead into the future…I'll typically be talking about snow chances of significance…let's say 1″ or more…when looking longer range. Sure there can be some flurrries…or some lighter snows (and a lot of times those can create some problems in and of themselves) but those smaller scale issues will be dealt with closer to the main event…anything bigger will be speculated farther away (if that makes any sense).
That's a long ways of going about in saying, as I mentioned on the air over the weekend…I'm not seeing that potential of anything bigger for awhile at least…more than likely 10+ days. So snow lovers will have to wait longer to get anything to crow about…or to shovel I think.
There is a more significant change in the weather likely though towards the middle of next week. That will be a trend for about 10-20 days of colder air masses coming back into the region again. It can't snow when it's almost 70° outside…so the first step is to get some cold weather in play in the Plains.
This should come about in response to a storm that's wayyy out towards the west of the Aleutian Islands right now…can you see it on the satellite loop this morning…it's in the upper right side of the images…
By tomorrow into Wednesday it will be into the Islands…and it will be a seasonably strong storm up there.
943 mbs…is the strength of a hurricane on this side of the world…and a strong one at that…but up there where there is the cold polar air to it's north…these storms wrap up incredibly on an almost routine basis. Our model data has shown this evolution for awhile…so confidence in the downstream effects are increasing.
What we don't know though are the details how this will play out…that storm in AK will be in the center of the Islands up there later Tuesday…then slowly progress towards the Gulf Of Alaska later Thursday…then be off the west coast of CA/OR later Saturday and then move into the SW part of the country on Sunday. That part is more than likely at that point…from there though things get dicier and it's influence on our weather gets iffier.
There are two model camps…one would be that the storm "cuts off" and gets separated from the main jet stream to the north…another would be that the storm keeps moving along…and impacts our area with stronger effects (more precipitation…probably rain…and perhaps even some severe weather somewhere here or southwards?
I'm posting a map for next Monday night…a week from today.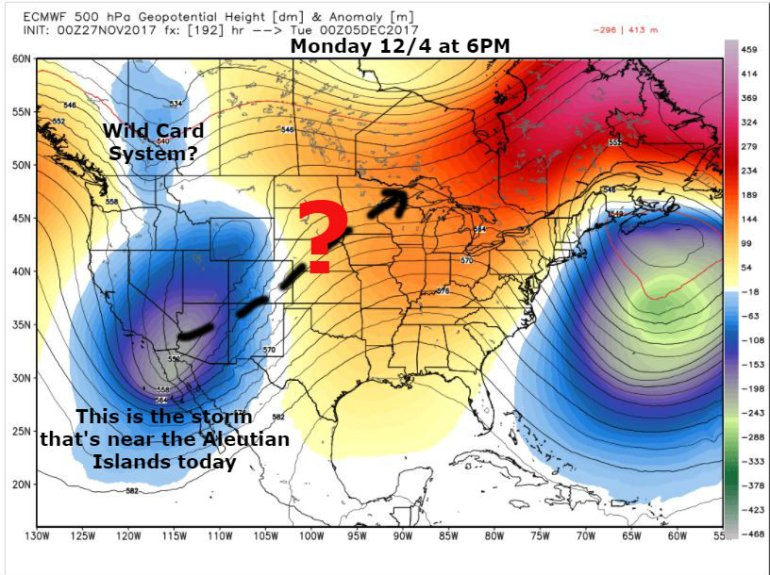 Or will there be a wild card system dropping in from the western part of Canada…that kicks a chunk of the current AK storm towards the NW of KC…we get some rain and then dry slotted as the colder air behind the storm wraps through the region…as the "wild card" system becomes the predominant storm in the SW part of the country and we wait for that to come out after the middle of next week?
The later scenario could be more interesting for snow lover's IF we get cold enough. That timing would be towards the end of NEXT week though.
The ensemble data which should be used from this far out…is in the camp of a more "progressive" system which I tend to agree with. We haven't seen a cut-off low in the SW part of the country yet this fall…one of their driest and warmest falls out there is because of this…but I'm not sure of the real path of the storm at the end…I do feel confident of the colder look though coming sometime after the 5th or 6th or so…
Let me illustrate that better for you…let's look at the 5,000 foot temperature trends over the course of 5 days…ending in the 6th of December (from 12/1-12/6 at 6PM). That red corresponds to warmth to a large degree…and remember this is a 5 day average…
Now let's jump 5 more days into the future…for the period of 6PM on the 6th through 6PM on the 11th…ALL that green and whitish shading is a LOT of cold air at that level (5,000 feet or so).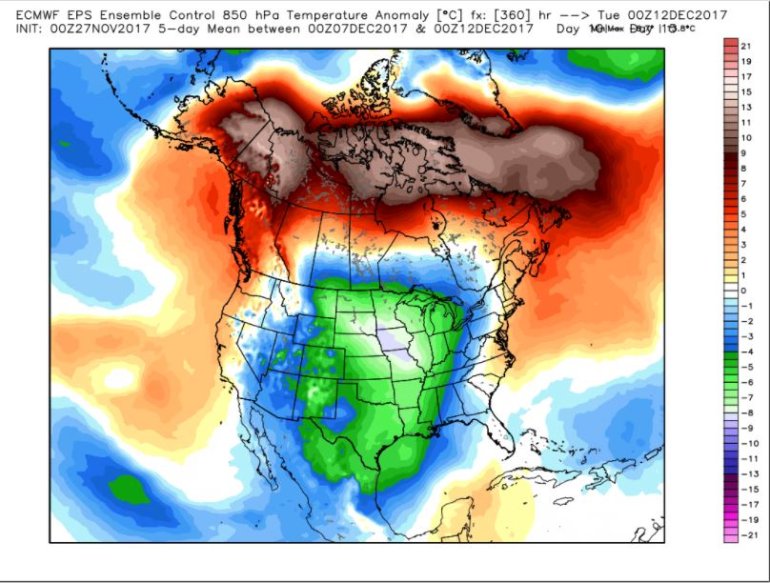 Notice as well…with us cold…that there's warmth (it's relative up in northern Canada). So the cold has been displaced towards the USA…it's still cold even in Canada…but instead of being 30 or 40 BELOW Zero…it's closer to 10 below zero..
So utilizing the charts above…whats the takeaway? 1) a likely storm towards the 5-8th time period…2) odds favor rain as the main precipitation 3) MUCH chillier air flows in sometime between the 6th-9th…4) this type of cold will ebb and flow for awhile but for at least 7-10 days after the 6th-8th we should be cold on average with some brief warm-ups possible in that span before another cold shot moves into the area. 5) overall it appears mostly dry though without significant moisture after whatever storm ushers in the change to begin with…this would take us almost towards mid month. 6) let's watch for any "clipper" type systems after the 9th or so
So there you have it…at least for now and obviously VERY much subject to change. For snow lovers…at least it'll be getting cold again…just not seeing any significant storms lining up for us (snow-wise).
Our feature photo comes from this morning from Angelita Crow…
Joe