This is an archived article and the information in the article may be outdated. Please look at the time stamp on the story to see when it was last updated.
Good morning:
Thought I'd start today's blog (after a weekend off) with a nice letter I received last week….it concerns our approach to the way we handle and cover severe weather situations in the KC area…
Joe:
I just wanted to let you know that since moving to KC from Joplin almost three years ago, I have relied upon you and the rest of the Fox 4 weather team because you truly are "calm during the storm."  I'm originally from tornado and ice storm country, and I've lived through several severe weather events, including one huge tornado.  Because of my experiences, I expect that I'll probably always have some level of anxiety about severe thunderstorms.  That's why I especially appreciate your weather blog and your forecasts: You stick to facts, you're accurate, and you're not on the air or online hyping it up and acting all excited about the possibility of getting severe storms like it's somehow entertainment.  Thanks for that: It really means a lot to me.  I appreciate you and will continue to rely on your team—even as I hope for calm weather, all the time. 
–Angela

Thanks Angela!
Now onto the forecast:
Today: Mostly Cloudy with some afternoon showers and maybe a couple of rumbles of thunder as well. Highs should peak out near 65°. Best timing of the rain is after 2PM or so (although there are lighter showers out there now). Winds will be out of the NW at 10-15 MPH. Tough to see how any one place gets more than 1/4″ of rain today. Most won't even get 1/10″.
Tonight: Partly Cloudy, breezy and cool with lows in the 40s.
Tomorrow: Starting to see more sunshine and seasonable weather with highs again around 60. It will be breezy with NW winds of 15-25 MPH
+++++++++++++++++
Discussion:
I thought I'd start his morning taking you up into space and looking down at the middle part of the country. With all of our cold and at times snowy weather around here that has gone on for months…we've had a tough time "greening' up. The lawns seem to have been jump-started a bit over the last week or so, but certainly the trees seem to be running a bit behind. Let's take a look at the Midwest last year…on April 4th I think…
Notice there are tinges of green in there…especially from KC southwards and also out across central KS.
Now this year…this picture was taken on Saturday the 5th…so about 1 year later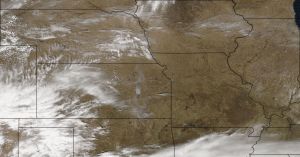 I sure don't see much n the way of green anywhere…so obviously we're off to a slow start to spring around these parts. Now wonder why…March was about 4° below average and while April is barely a week old…it too is running about 4° below average as well.
So it's been cold…and snowy…not exactly breaking news. Take a look att how much snow has fallen through the Plains since 11/1…some pretty impressive numbers for some areas, especially towards the Great Lakes region!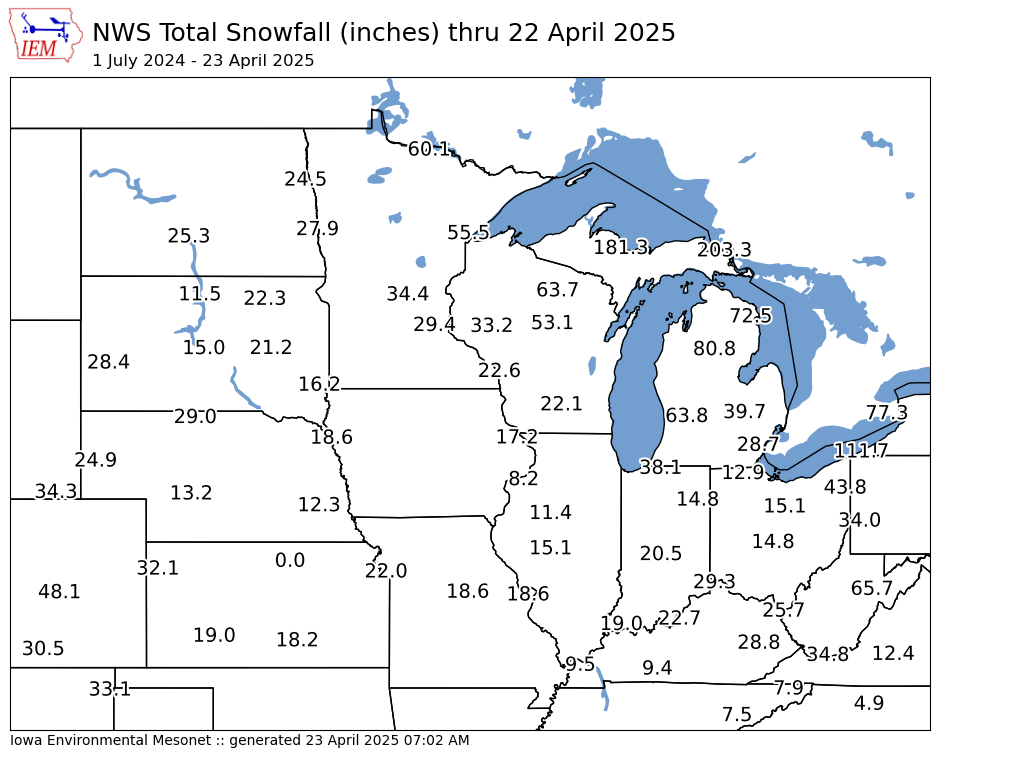 After today's showers…weather should stay quiet till the weekend when a strong storm is forecast to move into the middle part of the country. This may again try and give us some significant moisture through the Plains, which would be welcome especially for areas that didn't do as well with the last storm system.
As a matter of fact if we go back 60 days and tally up the moisture…some have done well (especially after that last storm on the southern side of the viewing area) while others really haven't done that well at all with the rain/melted snow. Click ont he graphic below too make it larger.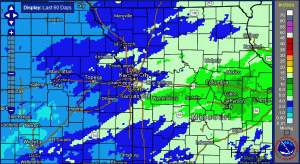 Now what about the next 7 days…here is the forecast from the folks at the WPC…click on it to make it larger.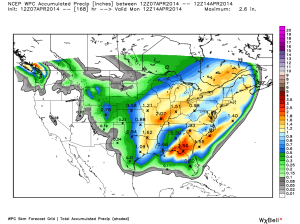 Most of this is forecast to come later Saturday into Sunday. It's connected to a storm up in N AK and another in the Pacific. Depending on how these two attempt to merge or how they end up playing with each other down the road in the Plains will determine how we do for rainfall. Last night's run of the EURO model gave us 1″ on the ensembles and 2″ off the operational model. While the GFS model gave us about 1″ of moisture.
So there is that to look forward to…
Also there is a pretty good shot of cold weather behind this so gardener's…pay attention to next Tuesday/Wednesday AM's forecast especially as lows may tank into the 20s. Nothing we're not used to during this time of the year.
That's it for today…we'll start talking a bit more about the weekend storm tomorrow and Wednesday.
Joe