This is an archived article and the information in the article may be outdated. Please look at the time stamp on the story to see when it was last updated.
During this time of year, when in the right weather pattern, the forecast for temperatures can be tricky. For the rest of the month that will be the case. I think my forecasts for 1-2 days out will be OK…it will be what happens after that that will drive me nuts in a sense. We are in a very fast flow for the rest of the month. I've talked about it for the last week or so and sure enough that aspect is going to come to fruition.
Now the question is can these little (and sometimes not so little) disturbances be timed out with any real accuracy and I think the answer to that is no. Why is that important? Well even though moisture will be in very limited supply for days to come in a sense easing my forecast concerns, timing these waves that will at first and as they approach create S to SW winds warming things up…then on their backside create N/NW winds cooling us down will be a nightmare.
For example…if one of these waves is due in at night…that means we have the chance to warm up a bit during the day (ahead of the wave) and cool night later that night and the following day (behind the wave). If this same wave moves in during the day…even in the AM hours…then we don't cool off as much at night (before the wave) and see steadier or less of a rise in temperatures during the day the wave moves through (behind the wave). Do you see where I'm going with this? Oh and clouds will play another role into things as well.
So you can see my conundrum. In all honesty when the models predict the timing of a wave 3-5-7 days out, while we're in the N to NNW to NW flow aloft…the timing will be wrong. Perhaps by 6-12-18-24 hours. So you can see why the forecast will be a changeable one when I do the longranger this evening. I'll try to keep things consistent with what I've done this weekend so far (that's always my personal mantra) but during these fast flow situations that can be tough to do sometimes…and I almost always let you know the why's and the whatfors on the blog before I do what needs to be done with the forecast.
So for the last couple of days we've been faced with a front moving in tonight and I've been expecting cooler weather tomorrow. That is still going to happen. Here is the midday surface map showing the actual cold front still well to the west of here (blue line) with a trof, a dashed black line (representing a wind shift (S/SW to N/NW) just to our west.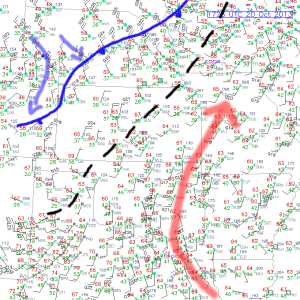 Ahead of the trof, SW winds are warming things up…we're near 60° as of this writing and should pop another 10° during the afternoon. Behind the trof, the air is about the same in terms of temperatures in RED and dewpoints in GREEN. It really isn't until you do cross the cold front itself (in blue) that the air gets chillier. What will happen this evening is that the cold front will catch up to the trof and the two will merge. So cooler air will overspread the region tomorrow.
My forecast issue for tomorrow is how warm to go…I have been going 50-55° or so (actually we all have been forecasting that for a few days now). That has been on the assumption that as the cooler air comes in we'd have a good deal of cloud cover as well. Satellite pictures this afternoon are showing a wealth of clouds across the N Plains as I type this…and many of them are moving this way.
Some of our model guidance suggests that tomorrow may be brighter though than what I am anticipating. The clouds that will move through tonight may keep temperatures from dropping below 40°…and IF we get enough sun tomorrow we may be able to do 55-60° for highs. The forecast soundings off the NAM model suggest 55° is doable and our hi-res NAM model suggests perhaps even a couple of degrees warmer is possible.
So my gut tells me that I may go ahead and bump up my forecast a few degrees for Monday.
Then there is the issue for Tuesday as a another disturbance swings into the area from the N Plains in the late AM and early PM hours. again we try to warm up ahead of the feature…I'm carrying 50-55° and cool down behind it. Some model data today suggests highs could be 5° warmer…in some cases pushing 60°.  Again here is the hi-es NAM model for forecast highs on Tuesday.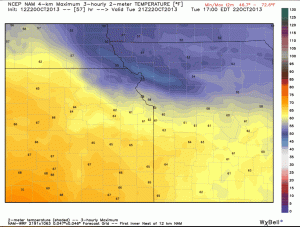 What you need to pay attention to is the spread in forecast there. Almost 15° from the north to the south. Near 50° closer to the IA border and near 65 towards the Lakes region. So if the next front speeds up or slows down by just 3 hours…you can see how the temperatures would respond…either warmer (front slows down) or colder (front speeds up). With that still "up in the air" the other issue is can we squeeze out some showers from this transition with meager moisture in the atmosphere as this transition is occurring. I still think it's possible. Again the hi-res NAM model for later Tuesday PM.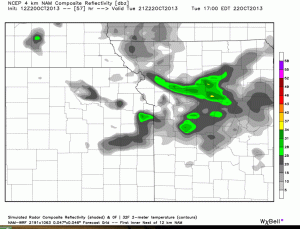 This shows potential…don't necessarily get caught up in the location of where it thinks it will rain because it's wrong in the placement of the rain. The potential though is what interests me. We've had a 20% chance in there for awhile now and I may bump it up to 30% in tonight's forecast.
Wednesday is another weird one as well. We should start chilly…but depending on the clouds that could be anywhere from 30-40°…then with a shot of cool air on toop of us struggle to warm up at the surface. Aloft however; things are moving so fast that the cold air above us quickly moves out and temperatures @ 5000′ may warm some 10°C /18°F over the course of 12 hours from AM to PM. Will any of that warm air mix down to the ground and send my 50-55° forecast to 55-60°+? Oh and then another cold front sends us back down a bit on Thursday.
Then we try and do the whole process again with warmth of Friday and a chill on Saturday. Grrrrrr I hate these types of patterns.
OVERALL though our temperatures at least for highs should be below average almost every day this week. Average for highs now is around 65° or so. Our monthly temperature is running about 1/2° above average including yesterday's data. Remember earlier in the week when I told you that this stretch of weather to finish OCT would send us on a downhill run from the +3° this month we were at when I wrote what was coming…well sure enough we're getting to below average monthly temperatures and this chart for the rest of the month (actually the next 16 days) is also showing how cool it may be. This represents the average temperature anomaly/day.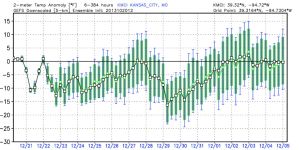 With the exception of 1 day (the 27th) it thinks most every other day over the next 13 days will be below average overall for the KC area. As a matter of fact some of the newest data that I just looked at off the GFS shows that the time frame around and after Halloween could be the coldest of the next 16 days.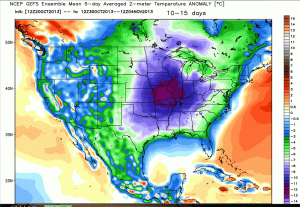 Remember those anomalies are are in °C…convert that to °F and that is almost 20° below average from the 30th to the 4th as repeated incursions of arctic air spread through Canada>N USA>the Plains states! There is other model support for this as well…
Something to think about over the next few days…especially as you plan the costumes for the little ones for the big day on the 31st. I'm just saying.
Enjoy the rest of a wonderful Sunday. Not sure when we'll be this warm again!
Joe