This is an archived article and the information in the article may be outdated. Please look at the time stamp on the story to see when it was last updated.
That tweet I sent out almost 3 weeks ago, and that I wrote about in this blog concerning the potential for snow in the 1st 10 days of December has an increasing chance of coming to fruition. Already today 1-3+" of snow fell across parts of N MO. See the pictures in the discussion part of the blog. That was a heavier (by weight) and wetter snow…the system on Wednesday may be a finer and drier type snow and those can add up quickly. The good news is that Monday looks to be a stellar day in the area with temperatures well into the 50s
Forecast:
Tonight: Fair skies with a heavy frost. Lows near 30°
Monday: Mostly sunny and mild with highs well into the 50s
Tuesday: A chillier day with highs closer to 40° and variable clouds.
Discussion:
It took awhile to get going yesterday evening but a good soaking rain fell overnight into this morning. After it ended we totaled widespread 1/2-3/4″ totals with some nice areas of 1″+ in some areas (isolated). Farther north some unexpected accumulating snow fell towards N MO. The rain changes to snow this morning up there (there were some flakes in the KC metro area as well in some cases) and the snow came down hard enough while it was dark to give that area a dusting-3″. The pictures from N MO show the snow nicely. Here are just a few of them…
From Hale, MO (via Terry Riley Stephens)
From Sumner, MO and Janie Barber
from Sharon Holloway near Trenton, MO
From Gini K Baker of Ridgeway, MO
and finally from Rachael Bears of Princeton, MO
Pretty stuff and thanks to all who sent in the pictures via FB.
Onwards…
We've got a blend of clouds and sun in the region today behind the system that gave the metro that much needed rain.
KCI ended up with about 7/10″ over the 2 days…that's the most rain we've had in almost 2 months up there!
Notice the clear skies to the west…those work into the area overnight and Monday.
Now we have a couple of things to talk about from there.
On Tuesday…we'll see a seasonably strong cold front will move through the area and basically just sent our temperatures back to near 40°
The true cold air…with arctic origins will be moving in on Wednesday, especially later in the afternoon. When it gets here the temperatures will really start to drop off…so we may waffle in the 20s to near 30 for most of the day Wednesday before tanking later in the day and at night. Thursday through Saturday AM are going to be bitterly cold. The coldest mornings should be FRI AM with lows down to near 5°. This cold air mass has teeth to it…and while there will be some moderation next weekend…it won't be seasonable. Below average temperatures will continue.
This all may be enhanced because of the increasing potential of snow again in the region. This time the better accumulation potential looks to be south of 36 highway. This obviously would place KC in the swath of snow accumulations. How much is still somewhat in doubt. IF you've followed the blog…or my tweets…you know this event has been in my wheelhouse for quite some time. When the models flipped and flopped I didn't waver about the potential. It's been laid out for days for you…and the reasoning why as well.
So with that said…obviously with snow scenarios in KC these are never slam dunks. So many things can go wrong as we know…and the system on Wednesday certainly shows bust potential but as I wrote about last week…snow that occurs when an arctic air mass comes in at roughly the same time…can be hairy weather situations. The increased "fluff" factor of the snow sending snow ratios higher into the event are very tricky to nail down final accumulation numbers.
What are snow ratios? For those new to the blog…you're probably familiar with the standard 10:1 liquid to snow. This means that 1″ of rain – 10″ of snow. Locally we actually average more of a 12:1 ratio. That 1″ of equivalent rain equals 12″ of snow. Things get tricky when those rations get to be 15:1 or higher. Back in those big winters a few years ago…we were getting 20+:1 ratios. How are the ratios determined. It all has to do with temperatures in the atmosphere as you go up. The closer to 32° from the ground upwards…the the lower the ratio. Heck you can get 5-7:1 ratios when the near surface temperature is above 32° because the flakes are melting somewhat before they reach the ground. When the atmosphere overall is cold…that's when these rations go higher and higher.
What's fascinating (I'm really getting into the woods here) is that these different atmospheric temperature profiles actually alter the shape of the developing snowflakes!
Those "plates" and "dendrites" are typically the faster accumulating snows. When it gets so cold (like the arctic region) while it can snow a lot (time wise) it doesn't necessarily accumulate as fast because of the shape of the snowflakes that are falling.
OK that was a tangent :) …now about the Wednesday snow maker…
Here's the story of a little disturbance off the coast of British Columbia right now. Can you see those "clumpy" looking clouds off western Canada (NW of Washington)…that's the leading edge of the potential snow-maker for us.
So this thing is going to drop to the WA/OR coastline Tuesday morning…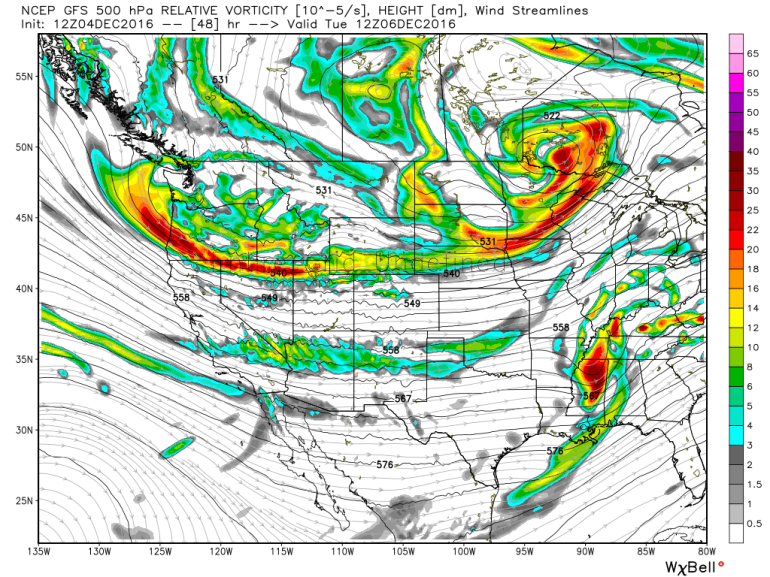 Now for Wednesday morning….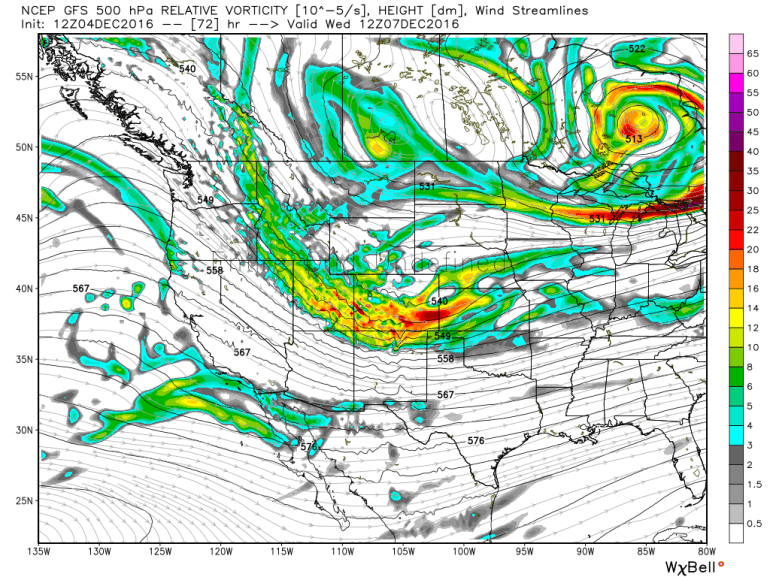 As this wave gets towards CO…precip in the form of snow will break out across the western Plains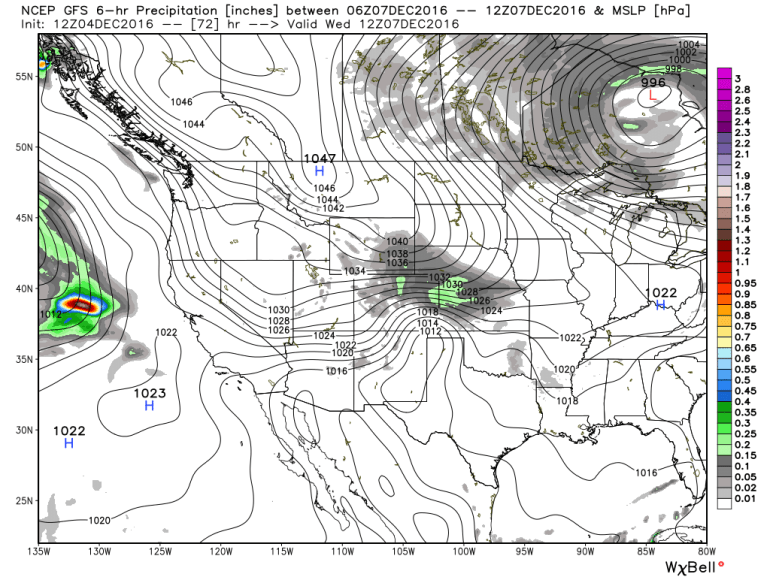 As we get into Wednesday afternoon the winds above us will be cranking away. As we go up to about 30,000 feet the jet stream will be directly overhead. Within that jet stream there is something called a jet streak. This is where the core of strongest winds lie in the jet stream.
This enhanced lifting will create bands of heavier snows…and that it what could lead to enhanced snow accumulations IF those bands move towards the east or ENE. This is what the EURO shows…and as a result it has the most snow accums…something on the order of 3-7″ or so for KC proper…accounting for snow ratios. This is on the table for potential.
The GFS handles things a bit differently…but it's been behind the 8 ball I think all along as you well know. When looking at the GFS ensembles though, which have preformed better in cases, as I've shown you in previous blogs…it too has a definite accumulating snow although with lighter amounts (more along the 2-4″ range potential). The ensemble "liquid" amounts are close to 1/4″…which converted to snow is that 2-4″ total. The EURO ensemble liquid totals are closer to 1/4″ as well.
There will be initially some dry air for the snow to overcome as it moves in on Wednesday…probably near or after AM rush should this come together.
So with all that said…my initial thoughts are roughly a 1-5″ snow "storm" potential. The higher amounts may be more doable along the KC and southwards corridor. I won't be talking about those numbers on the air..since it's too premature in my opinion today for the "masses"…BUT I try to do this on the blog for my readers since that's the purpose of my blog. I think those numbers give me some "wiggle" room in case on Tuesday this turns into a dusting to 2″ event or a 3-6″ event. It should be tougher to get more than that since this will be happening pretty fast and we may lose some to saturating the atmosphere. This small scale bands though are the reason why I can see upside for some area…but we won't know about that until the bands actually form.
I've got to stop here…too many words! Our feature photo comes from Amy Glenn of Gilman City, MO of the snowy scene this morning!
Sorry for the way too lonog blog…and i didn't even get to the Lighting Of The Joe from this morning. We'll deal with that tomorrow.
Joe