This is an archived article and the information in the article may be outdated. Please look at the time stamp on the story to see when it was last updated.
Good morning…a cooler but brighter day in progress in the area today as temperatures are slowly recovering after a rather cool start to the day. We dropped to 50° this morning. Our monthly temperature is still running more than 5° above average for April. We're going to be mostly above average till Friday or Saturday when a storm will be passing towards the south of the region allowing colder air to move in for a couple of days.
---
Forecast:
Today: More clouds and sunshine. More sun towards the north and more clouds to the south. Temperatures should top off near 70° or so. Winds will be out of the ESE at 5-15 MPH
Tonight: Fair skies and breezier towards morning. Lows in the 50s
Tuesday: Windy and warmer with variable clouds. Highs 75-80°
Wednesday: Partly cloudy, windy and warm with highs 80-85°. Storm chances increase in the evening and overnight hours. This may affect the latter part of the Royals game that night. There is also a chance of some severe weather with these storms. Iffy though on that.
---
Discussion:
There are a few systems we're watching this week. A cold front for Wednesday night…and a rather decent for late April surface storm that will be passing south of the area FRI>SAT. weirdly another storm that could've been a nice snow producer during a typical winter season…but obviously that won't happen this time through.
Today we have mixed sky conditions in the area. Clouds favoring areas south of KC while farther north skies are brighter…and that is illustrated by the morning satellite picture.
Temperatures (shown in RED below) as I type this blog are around 60° but we should warm up nicely as the day moves along. The average for today is 66°/46°.
Aside from the most of the NW US…overall this has been another warm month.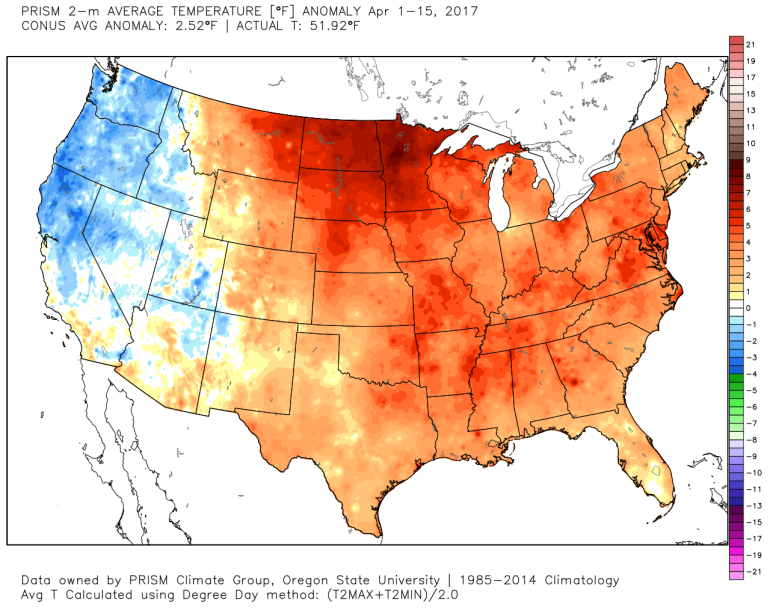 As we focus our attention a bit more locally for 2017 as a whole…it's been warm!
As far as the next change of the weather around here…that will be in the form of a cold front that will be moving through the area Wednesday night. Here is a look at the NAM model for 7PM Wednesday…showing the front to the NW of KC.
As the front moves into the region as a whole…it will run into the instability that will be building during the course of the day thanks to the gulf moisture moving northwards and temperatures near or above 80°.
The front should move through the KC Metro area before 1AM Thursday. There are some similarities to what may happen Wednesday night and what happened this past Saturday night. By that I mean the stronger storms may be closer to the IA border while some sort of weaker line moves through our area later in the evening. There should still be at least enough instability around before 10PM WED that any storm that moves through may have the ability to generate 40-60 MPH winds and perhaps some 1″ hail. We are under a "slight" risk of severe storms Wednesday night.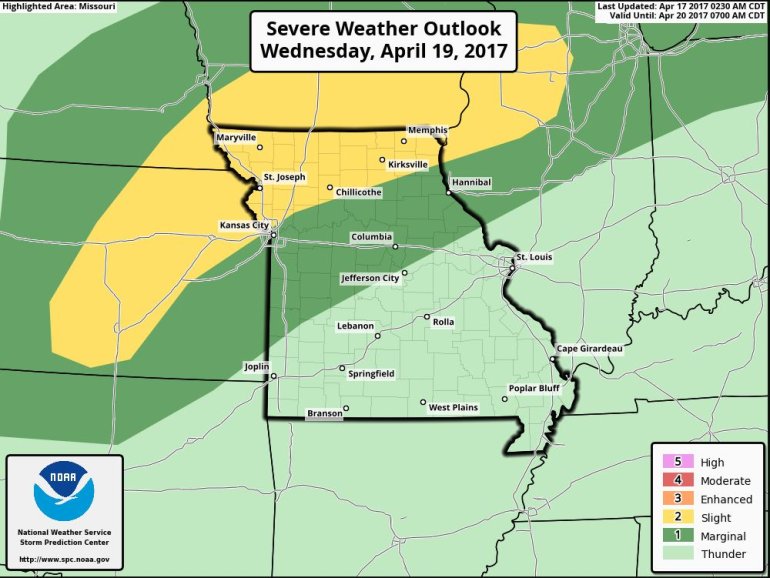 To me there are again pluses and minuses to our severe weather risk…so it's not really a slam dunk that severe storms are going to be a BIG issue for us locally…again let's just be AWARE of the situation. Again the threats appear to be wind and hail with this…with a higher threat farther north towards 36 highway and northwards.
Finally a note about the "weird" clouds from yesterday afternoon. Received numerous tweets and FB questions about the clouds…they were cool to look at. Clifford Hall sent in a couple of pics that I showed on the air last night…I'm using one of them as my feature photo today too!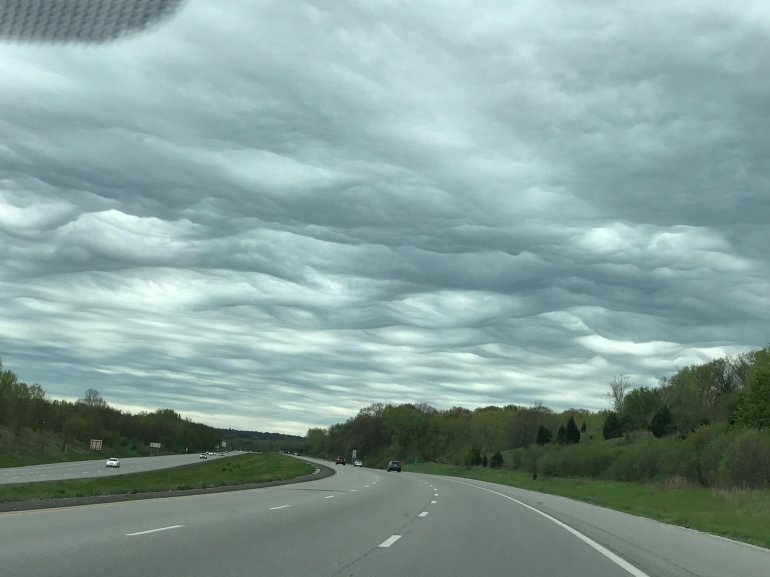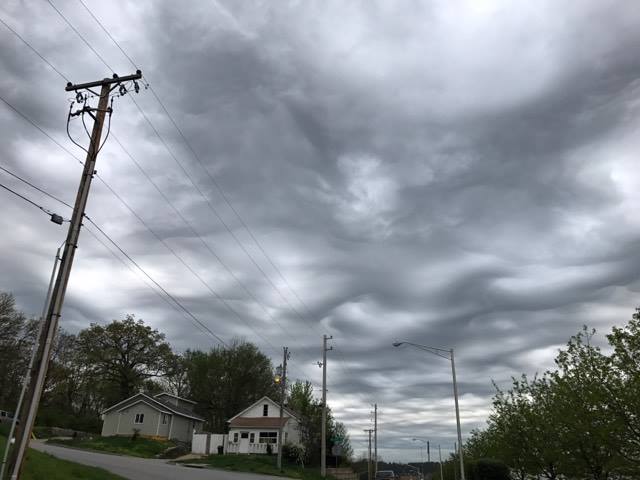 So what is the deal? Well interestingly enough…while the clouds have been around forever…this year these types of clouds, and others, were given a new name. They're called Asperitas clouds.
So now you know…
Have a great Monday!
Joe