This is an archived article and the information in the article may be outdated. Please look at the time stamp on the story to see when it was last updated.
You know…there's going to be a point in time over the summer when I stare at the computer desperately trying to come up with something to write about…and I'm going to remember these last few weeks of weather…because right now there is too much to write about. It's been an interesting winter and our pre-season thoughts of having above average amounts of snow (somewhat bold considering the last few years of snow-less winters) are bearing out nicely. The issue as of today is how far about average we get. Why? Because as of today we're exactly at our winter average of 18.8″ of snow. From here on out it's gravy in the snow universe and I think there is more gravy to come with the main course that's been served already.
---
---
Today: Cloudy…rainy and drippy. Overall not pleasant with temperatures in the mid 30s and a cold east breeze blowing
Tonight: Things wind down and turning colder. There may be some flurries around before daybreak. Need to watch areas farther towards central MO for some accumulating snows as we watch areas towards far northern MO as well. Those scenarios make me a bit nervous because the potential is for better accumulating snows all around KC. It's worth watching and I wouldn't be shocked if we had a covering of snow in the Metro tomorrow morning. Lows dropping into the 20s. Also watch for refreezing again of whatever is out there with the colder temperatures at daybreak.
Tuesday: Becoming sunny and blustery with highs in the mid 30s but with gusty NW winds of 20-30 MPH making it feel colder
Wednesday: Finally…50-55° and breezy with mixed clouds and sunshine
---
---
So let's start with winter so far in terms of snow. The graphic below is via IA State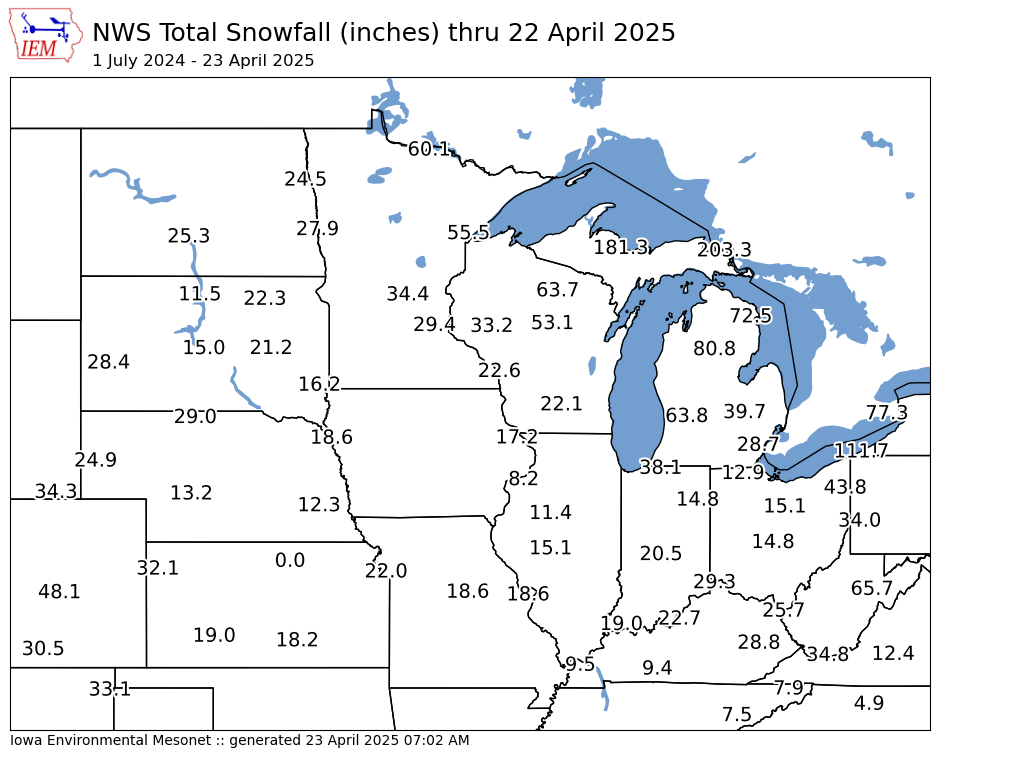 That's actually pretty healthy compared to previous winters…look especially at the I-70 corridor from Columbus, OH westwards to Goodland…impressive!
So the last 3 winters combined have given us 18.5″ and this winter we're up to 18.8″. Like I've mentioned for a few days…we're not close to being done with accumulating snow. My winter forecast of 21-26″ is looking OK right now…although in the next 6 weeks I worry about my high-side number not being enough. I'm still bullish about where we're going…and I still think something more significant is very possible at some point next week.
Meanwhile for snow lovers…we can't complain too much. This is the most snow we've seen through 2/11 since 2014…other noteworthy years are 2010 and 2011 too!
So being in the top 30 for accumulated snow through 2/11 isn't terrible IF your a snow-lover.
This is good business for some…the snow removal folks who profit from more active winters are at least getting something more this winter. Car repair facilities are pretty busy too with a lot more body work happening this winter compared to some previous winters. There are others I'm sure. I'm guessing after a slow start to winter in December the skiing in Weston up at Snow Creek is doing well without long term warm spells like what happened in much of December.
The flipside to that are other industries that are taking it hard this winter…I've been reading quite a few articles about how the local restaurants are hurting with all this weather. Things are usually slow to begin with after the holidays but you throw in this crummy weather, so much so that folks don't want to leave the house and you get bad weeks of business. Local golf courses who, while not overly busy during the winter…aren't really getting any business right now and even when the weather improves it will be a mosh pit of mud out there so that won't be helpful.
Schools seem to be cancelling every day, mainly in the outlying areas. Today there are about 30 different districts around the KC region with no classes…and some districts are going to be forced into adding days into the end of the year…some schools may be in session well past Memorial Day
Some good replies to this tweet…
Help a meteorologist out…businesses that benefit from the snow…snow removal companies…ski areas…car repair/body facilities…who else? Businesses that are hurt…restaurants…folks who have to stay home with kids because of no school…what else am I not thinking of? JL

— Fox 4 Weather KC (@fox4wx) February 11, 2019
I'm sure I'm missing some angles to this…but you get a point there are always winners and losers with regards to whatever weather you choose. I think though the overwhelming view from our viewers is that winter is starting to get a bit old for many and spring can't come fast enough.
We'll actually get a brief spring taste on Wednesday and Thursday but it will be brief. 50s are likely and there is a small cahnce IF we can hold off on the next cold air dump coming at some point on Thursday that we could be close to 60°..but it will be fleeting with colder weather coming for FRI>a long time from FRI.
So let's backtrack and bring you up to date about today. We have a wintry mix in progress north of I-70…this too won't last long in the KC Metro area…overall no impacts locally it seems. This is what I wanted to emphasize last night despite that winter weather advisory for the KC Metro area. Farther north there is more winter weather occurring and some accumulating snows are possible, again, towards northern MO.
In KC…here's radar.
and here is the HRRR model giving you an idea of what's ahead with the rest of the day.
For timing…18Z is Noon…21Z is 3PM…00Z is 6PM…03Z is 9PM and 06Z is 12AM.
I'm not sure how much snow there will be from St Joe southwards for the day…our 5,000 foot temperatures are well above 32° from about 36 highway southwards.
Tonight though offers some changes…all because of an upper level storm and a developing surface storm that will be moving through MO Tuesday morning.
The problem is that this developing storm may create some wrap-around snow that could move through the I-35 corridor tomorrow morning before daybreak and linger for a couple of hours as the colder air moves through the region. Sometimes these scenarios can give areas a dusting to 1-2″ or so…something to pay attention too.  This system should come together a bit better off towards the east of the Metro…so central MO may see a solid 1-3″+ of snow.
The hits keep coming.
Don't discount the refreezing Tuesday AM with the dropping temperatures and the wet conditions with the treatments being flushed away with the rain today…we may have a worse rush hour Tuesday morning.
Our feature photo comes from Sandra Cox out in Leeton, MO.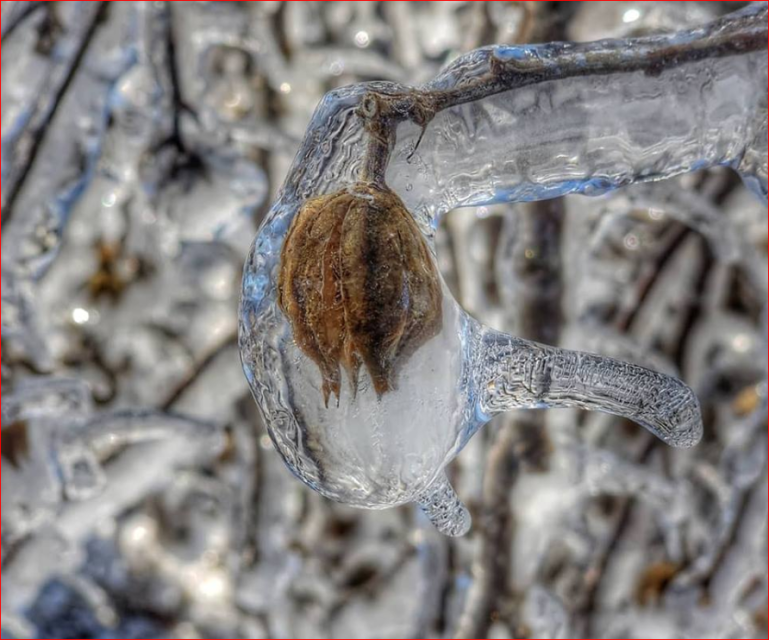 See you tonight on FOX 4 News.
Joe