This is an archived article and the information in the article may be outdated. Please look at the time stamp on the story to see when it was last updated.
The severe weather threat has ended for most of the area…still some strong storms with the ability to produce some hail in N MO for the next 2 hours.
We'll need to see if storms can redevelop overnight tonight…especially across N MO and NE KS. Odds favor these storms staying away from the KC area.
Tornadoes were reported in Orrick, MO with damage there…and also a rain-wrapped tornado was reported near Marshall, MO…the storm that was in Saline county, at least on radar, was the most impressive one of the bunch. Numerous reports of larger hail were dotted through the region as well…mainly north of I-70. Click on the following image to make it larger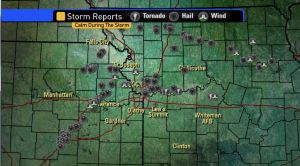 Take a look at this impressive video of the tornado that struck Orrick, MO. Haven't checked the sound so if there are kids around…may want to mute it to be safe ;)
The SPC has issues a new Severe Thunderstorm Watch till 4AM for areas W and SW of the KC Metro.
JL
++++++++++++++++
The SPC has issued a Severe Thunderstorm WATCH till 10 PM tonight for most of the FOX 4 Viewing area.
The potential for large hail is especially a concern with these storms as the clouds are really starting to pop now towards the west of the state line.
Please be weather aware from about 4PM through 8PM this evening.
JL
++++++++
I've been expecting a more active severe weather season in the KC area…and while the end results haven't been there (yet) … the set-ups have been, to a certain extent, and today is another one of those times where the set-up is developing but there are questions on the extent and location of storms later today/this evening and how close they will be to the immediate KC area.
Forecast:
Rest of this afternoon (through 5PM): Mostly sunny with clouds starting to develop on top of the area after 3PM or so. This will be a sign of moisture increasing from the south to the north. Highs between 80-85°. Winds will gust to about 25-30 MPH later this afternoon
This evening (5PM-10PM): Our risk of storms developing nearby or on top of the area goes up. The storms should not be widespread but what does form will have the ability of creating larger than typical hail and perhaps some strong gusty winds over 60 MPH. To reiterate this will be an isolated-scattered event IF it even happens here. Some indications the better chances may be towards the NE of the KC metro as the evening goes on. Temperatures in the 70s. For race enthusiasts…there chance of storms will affect the race but whether or not a storm is close enough to the Speedway considering the scattered nature of the potential activity, is still on the lower side of things.
Mother's Day: Partly cloudy, windy and warm with late springtime humidity levels. Storm chances are low for the daylight hours into the evening for the KC area. There could be some lingering storm chance through 9AM but it looks like most of the day should be summery. Highs in the mid 80s again with south winds gusting to 40+ MPH!
Discussion:
These are the days that sort of drive me nuts…not only are we going to be in weather aware mode this evening but we're showing the big race out at KS Speedway starting at 6PM (race starts at 6:30). Which means I'm going really try NOT to do weather coverage over the race unless it's absolutely necessary, which hopefully it won't be. I may jump on and interrupt some commercial breaks with updates but I'm going to do my best to let our race fans enjoy what they want to see. Now should the race be stopped or delayed and they're filling time…that's a different story in my book and should I need to cover the storms harder I will.
The scenario for today is a bit different that what we usually see here…or maybe I should say a bit different that what we've seen over the last couple of years in the KC area. It's not an unusual set-up…the indicators in the atmosphere are certainly going to be present…it's just one of those feast or famine type things…it either happens or it doesn't.
What do I mean by that? Well IF the storms form, they will have a decent++ amount of instability to tap into in the atmosphere. IF the storms get going they should turn into supercells. IF that happens larger than typical hail will be possible along with the potential for strong winds from the storms. IF there is a warm front with SE surface winds in the area (perhaps to the north by this evening) then there is a chance of some rotation within the calls leading to the possibility of an isolated tornado.
That's LOT of ifs and I hate that.
Here is the situation..moisture is on the increase this afternoon at the surface. You'll start to notice it more after about 3PM today as dewpoints continue to increase to 60-65°.
A cold front is out towards the west of the region (blue line). This front will impact our weather later Sunday night into Monday.
A warm front is forming near the KC area now and will move northwards later today. The location of that front will also play a role in the future storm development and more importantly what happens to the storms after they develop. There are indications this front may be up towards the north of the KC area later this afternoon.
This will be one of those days where you can keep an eye on things later this afternoon by watching the clouds and how they develop. IF you start to notice a significant increase in the vertical structure of the clouds, in other words as the clouds develop and grow upwards into the atmosphere the risk of severe storms will be increasing. What storms develop should move towards the NNE or NE. This means that as you watch the clouds/storms develop, keep an eye out towards your SW…and see what if anything is developing there.
Our latest short-range models are suggestive of storms developing near the KC area between 4-6PM and then moving away from the area this evening and overnight tonight. Actually some of them are creating storms as early as 1PM…that is not going to happen and again I question how this whole thing plays out later today. Let me show you what I'm talking about…here is the 10AM run of the HRRR model valid for 1PM this afternoon.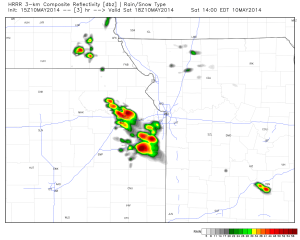 As I'm writing this blog…it's now 12:40…there is not a cloud in the sky where the model thinks there are going to be storms in 15 minutes.
What there is though are signs of cumulus clouds developing south of Topeka and west of Emporia. So perhaps the model is onto something but it's just doing things too quickly. For that reason I'll post the model run here for you so you can get an idea what the model thinks will happen. This is from IA State.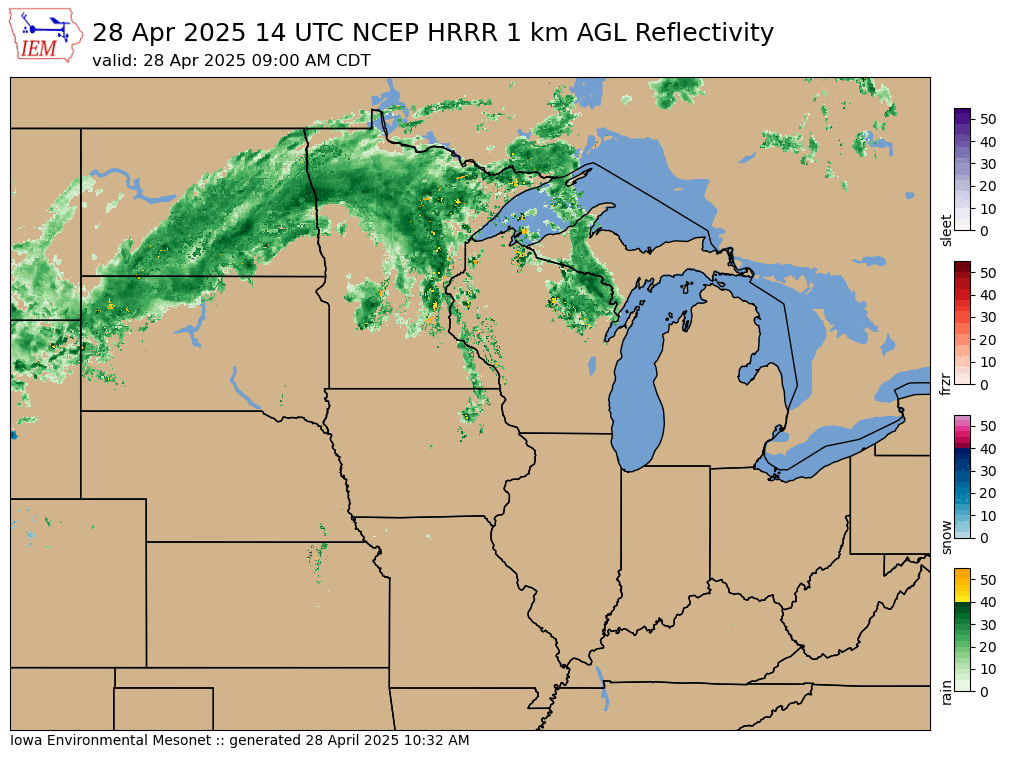 That cumulus cloud development is bothersome to me because of the available instability in the atmosphere which is increasing rapidly this afternoon. One indicator that we use is CAPE. This is an acronym for Convective Available Potential Energy. As of this writing it's going through the roof right now…
As of noon it's about 2500-3500 just south of the metro which is VERY high…and indicates that IF something gets going in the atmosphere…it will have a LOT of instability to tap into as it grows vertically. Hence the severe weather risk for today. Also hence the concern for larger than typical hail from the storms. That area of high CAPE will migrate northwards this afternoon…so you can see my concern by later today with that area setting up around the KC metro region.
Now what about the rotational aspect of this? For that let's use another criteria called storm relative helicity (SRH). This helps us determine whether or not the storms will be rotating (or have a better potential of rotating) as they grow vertically upwards.
There is no magic number when it comes to helicity but numbers about 200 get me worried a bit more…and as of noon that is south of the region…but may migrate northwards later today and this evening. Rotating storms also really help in creating larger hail (at least) and even the potential for isolated tornadoes.
Another parameter for the development of supercell thunderstorms is the Supercell Composite index which actually combines several indices into one number.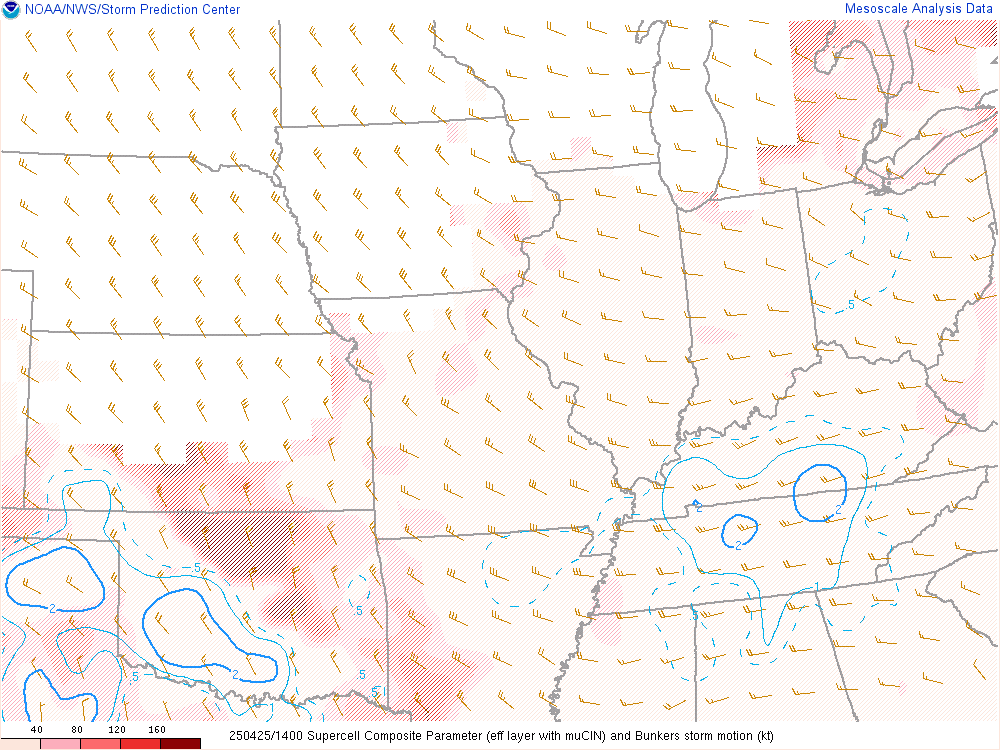 There are some healthy numbers in play just to our SW as of 1PM…concerning to me as well.
So the bottom line is that once again there is a set-up for some big thunderstorms. The coverage should NOT be widespread but IF anything develops it would have a rather easy time of becoming severe, perhaps quickly. I suspect we'll be placed under some sort of watch later this afternoon into this evening from the folks at SPC.
I've taken about an hour to create this and I'm running out of time. So let's be brief about tomorrow. We should be fine through the day with increasing chances of storms into Monday AM. The storms should weaken as they approach the KC area with the higher risks of severe weather to the west of the metro and also up across far NW MO and NE KS later on Sunday. Storms will fire along a cold front as it moves into the region tomorrow night. The storms that form later tomorrow will move NNEwards and have a tough time getting to KC tomorrow evening.
There are still questions about how much rain we get on Monday and how chilly it may be. There is the potential for MON PM to only be in the 50s with a chilly rain falling at times. What may happen is that Monday starts warm/mild then we see falling temperatures in the afternoon sometime. We may start near 70° go up a few degrees and then drop into the 50s in the PM on Monday. More on that potential tomorrow.
That's it for now…should a watch be issued I'll get that information to the blog as quickly as possible and again a reminder to bear with me tonight as I juggle the potential severe weather with the NASCAR race on FOX 4. I'll do my best for you this evening IF there is rough weather in the region.
Joe