This is an archived article and the information in the article may be outdated. Please look at the time stamp on the story to see when it was last updated.
A fabulous afternoon in progress through the region today as temperatures have soared into the 50s. As of this writing we're 52° at KCI and 53° in downtown KC. Yesterday from noon on we added about 3-5° to the temperatures and I suspect today we'll add about 4-6° to the temperatures…so we should max out between 55-60°.
We certainly have a history of hitting some decent highs before the arctic fronts move into the region. This has happened time after time in the last couple of months. I've highlighted a few of the bigger changes. I can't promise that every one of these were Canadian/Arctic fronts but I'm pretty sure most (or all) were.
Here is the November almanac…I've circled some of the impressive 24 hour changes.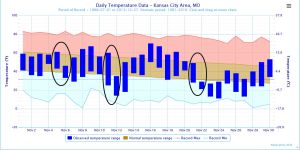 Now take a look at December…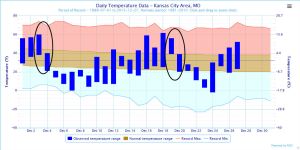 It should also be noted that there were a couple of transitions where we actually had a 12AM high temperature for the day after the warmth. So in reality the afternoon high one day and the afternoon high the following day would've been even more dramatic. In other words the charts above would've been even more telling IF I could've been able to do as 12PM-6PM charting of high temperatures from one day to the next…if that makes sense.
So we've seen this time after time this fall/winter…and it's going to happen again tomorrow. We'll have a midnight high around 30° or so…but during the afternoon tomorrow temperatures may only be around 15°. An impressive 24 hour change that's for sure…let's see how things stack up comparing 3PM today and 3PM tomorrow in the KC area.
The front in question is certainly on the move. Winds are gusting to 60 MPH across parts of the northern Plains states. Check out the noon weather map for up there…the temperatures are in RED…
The 0° line has now crossed into the US from Canada…ahead of the front temperatures are approaching 60°…behind the front it drops around 10-15° then on this map there is a secondary surge of the true arctic air along the SD/ND border. Nasty. wind chills in ND are 25-35° below 0°!
This cold air will surge through the region tonight after midnight. Temperatures will drop from near 30° at midnight to the teens by daybreak…and we actually may drop a few more degrees even through tomorrow AM before we stabilize around lunchtime Sunday. It's not out of the question that some light freezing mist/drizzle/flakes may form with this going on tomorrow AM. No accumulations are expected though.
These ups and downs will continue next week as well. We'll moderate on Tuesday…possibly to near 40° than dive again on Wednesday and especially Thursday as a clipper moves through Thursday…need to watch that for a stripe of snow into the Plains. The GFS actually gives us an accumulating snow on Thursday and the EURO has the snow nearby and north of here and the Canadian has it here on Wednesday. This is concerning but not worth getting excited about at this point from 5 days out. Since this would be a clipper type system…we'd need a good to almost perfect track to get in on the action. It's been a few years since we've had a good clipper-type deliver snow to us…where it intensifies close to KC. then it would turn into a monster nor'easter for the NE part of the country heading towards next weekend. Again we'll see about all this. For this blog entry at least…I'll keep the FOX 4 Snowfall Potential Index at a "1".
We should warm-up again heading towards next weekend (depending on the snowcover situation…then turn cold again.
Have a great rest of the weekend…and enjoy the warmth while you can. Next time I update the blog…it will be about 40° colder!
Joe