This is an archived article and the information in the article may be outdated. Please look at the time stamp on the story to see when it was last updated.
Tell you what…it's going to be a hot one this week. Temperatures will be on the slow creep upwards starting Wednesday into Saturday before potentially some relief later in the weekend in the form of a cold front. Rain chances overall look pretty minimal until the weekend and as the heat index creeps higher and higher this week as well…it will be stifling out there again. Odds favor somewhat higher heat index readings than the last blast of hot air last week…so it's worth again being as prepared as possible. An Excessive Heat watch is out for TUE through SAT…this will be upgraded to a warning tomorrow or perhaps on Wednesday I'm think and that will help to trigger cooling shelter openings in the inner part of the city. To add insult to injury…air quality will be poor in the afternoon as well for a couple of days too so an Orange Alert is in effect for the area too. YUCK!
---
Forecast:
Today: Mostly sunny and hot with highs int he low-mid 90s
Tuesday: Ditto. Outside chances of evening storms…especially farther north.
Wednesday: Partly cloudy skies with highs in the low-mid 90s. There is about a 20% chance of a storm…better chances in N MO.
THU>FRI: Highs 94-98°. Heat index values near 110° or higher in some areas.
---
Discussion:
Another rather typical blast of summer heat is moving into the Plains this week. Nothing really unusual about it…happens virtually every summer and so it goes. About 3 weeks ago I was thinking that the back half of the month would be hotter than the 1st half of the month. Through yesterday (the 16th) we were running about only .5° above average for July (so far). Let's see how things trend for the next 2 weeks or so…and see where we end up.
I was down at the Lakes this weekend…hot there as well and very green. When I got home I noticed my rain gauge filled rather nicely thanks to the heavy Thursday rains in the region that I wrote about last THU…that was a good forecast that verified nicely…well with things locally being lush and green…as I wrote about last week at this time…we need to evaporate a lot of moisture from the ground and also see the terrain slowly "brown out" for us to get a break in the humidity levels…and that takes time. This week will again feature high heat (probably stronger than last week) and high humidity levels…hence the Excessive Heat Watch.
Excessive heat is expected to settle into the area starting Tues really ramping up Wed through Sat with Heat Index values between 105-110°F. pic.twitter.com/4KFq1RXlHN

— NWS Kansas City (@NWSKansasCity) July 17, 2017
This is an areawide Watch that will be upgraded to a warning in time this week.
For those that work outside…you know the drill by now…but it's always worth repeating…pass along and/or share on FB this information and try NOT to underestimate the hotter weather. There may NOT be a lot of wind this week either.
Like we said earlier, it's going to be icky this week. Here are some heat safety tips to keep you & loved ones healthy during the #heatwave pic.twitter.com/rkfyKtLc5g

— NWS Kansas City (@NWSKansasCity) July 16, 2017
After a few more days of this…odds are folks will be looking for more relief…and there may be a cold front to help the cause SAT or SUN. This will be keyed to a disturbance coming through the Great Lakes region that some of our models are depicting. That in effect will help the dome of hotter air nudge westwards later in the weekend and give us some relief from the excessive heat for a couple of days before the heat comes back sometime next week again. Also there may be some rain/storms with this over the weekend.
It's important to note that none of these temperatures will threaten any of the record highs in the KC area (or Plains really) this week) and for KC at least it won't even be close. Record highs are in the 105-110° range and we won't get close to that.
You'll notice quite a few records dating back to 1954 and back to the mid 30s in the above chart…
Our feature photo comes from Mary Jo Seever of Lancaster, PA from earlier this month of the "Thunder" moon.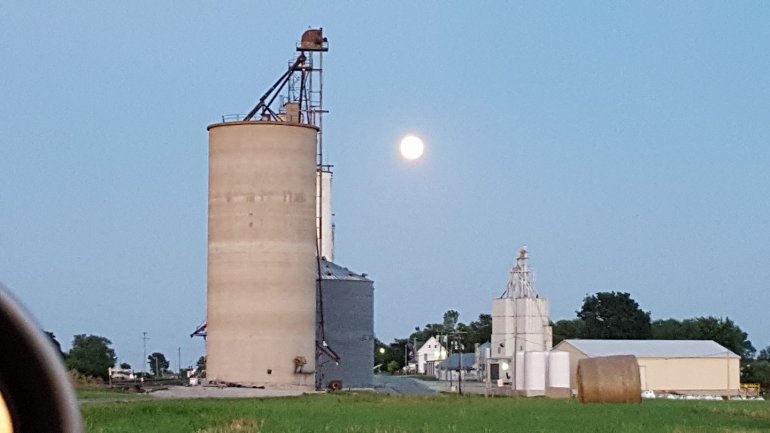 Joe