This is an archived article and the information in the article may be outdated. Please look at the time stamp on the story to see when it was last updated.
The other day I was speculating somewhat on the potential that we may have seen the hottest weather of the summer pass and from here on it was "somewhat" downhill. Last week if you remember we were in the upper 90s to lower 100s in the region…and I'm becoming more and more convinced that those highs won't be replicated again this season. While we will be warmer for the next few days…it won't be to that level…then a strong front moves in this weekend…that may allow enough cool air into the area (with back up fronts) to allow most of the rest of the month to be near to below average for highs.
Forecast:
Today: Mostly sunny and warm with highs 85-90
Tonight: Mostly clear and mild with lows in the 60s
Wednesday: Mostly sunny and warm with highs around 90°
Thursday: Mostly sunny and warm with highs near 90°
Discussion:
Yesterday I talked about the increasing chances of cooler than average air moving into the area heading into the weekend…so let's talk about that today.
A rather significant cold front (by August standards) will be moving into the area to start the weekend. The timing is still a bit of a question…is it later Friday night…or does it come in sometime on Saturday? Regardless…a promise of cooler weather is looking good…including the potential of 50s for lows for 1-3 mornings in a row. Heck this morning we dropped into the lower 60s…a run down towards 55-60° seems probable to me with this shot of cooler weather assuming skies are nice and clear.
The best way to show this is by looking at the GFS model ensembles. There is good agreement between the EURO model ensembles and the GFS ensembles leading to increased confidence of the playout of this run of below average temperatures. Let's use roughly the 5000′ level (850 mb temperatures). These maps show the abnormalities in relation to "average". The red shades are warmer than average and the blue>green shading is below average temperatures at that level. It's not a perfect connection to what happens at the surface…but when the shadings get to be a bit more extreme…like what's coming over the weekend into early next week into the Plains…odds are heavily favored for some cooler temperatures.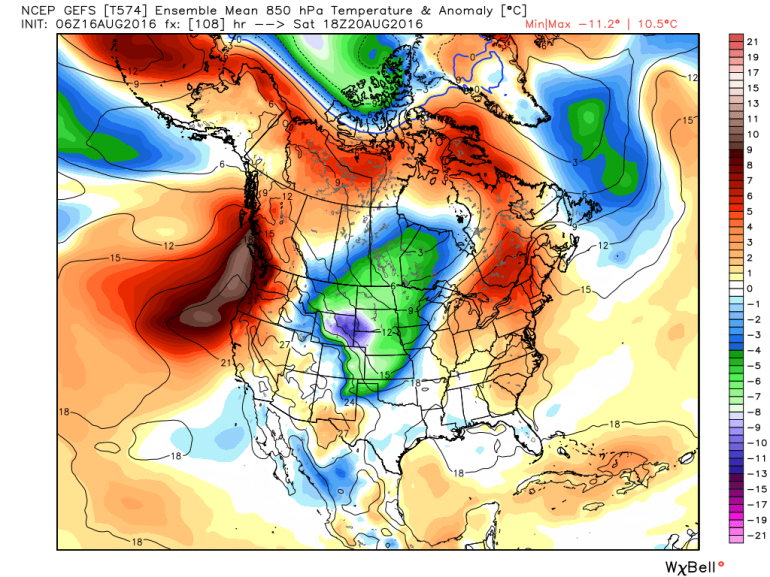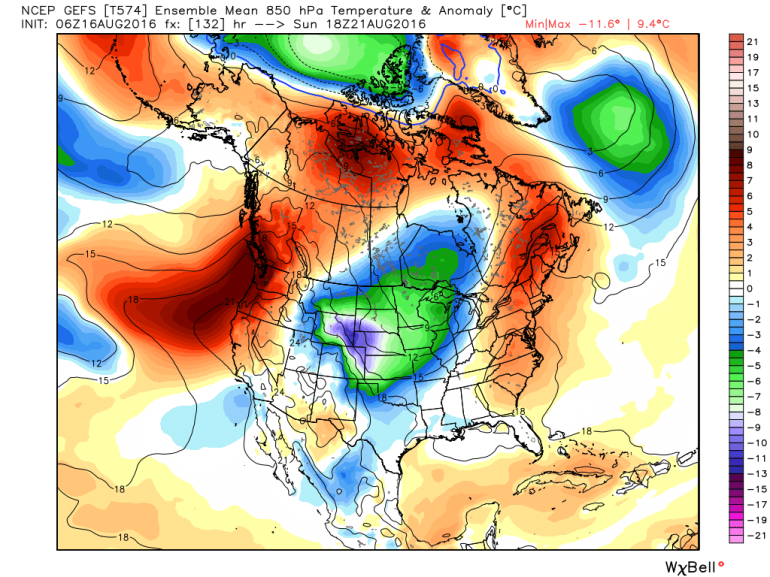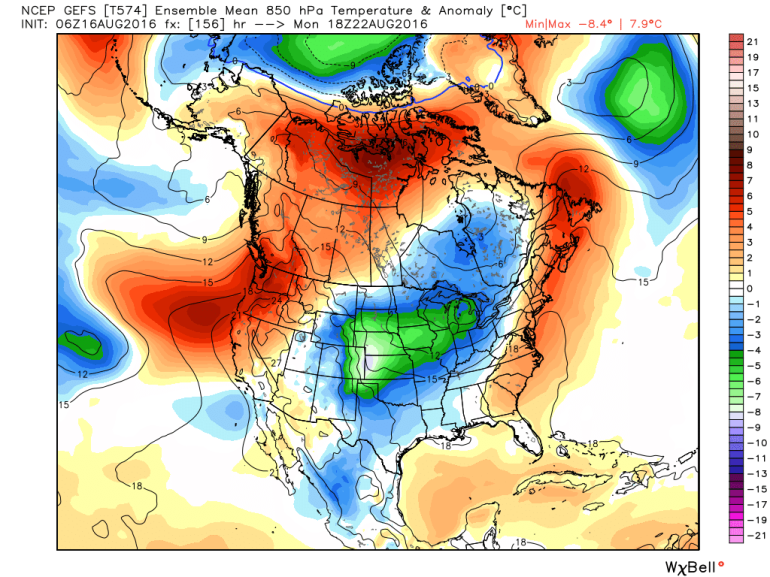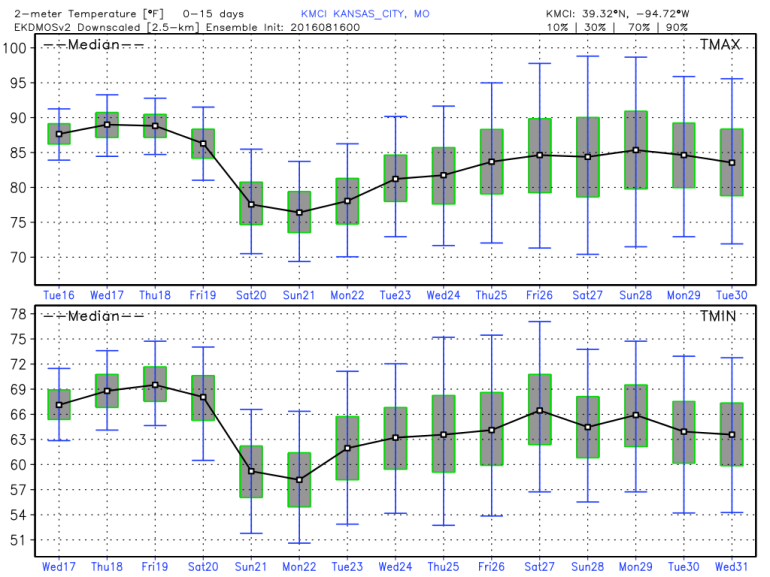 This seems pretty reasonable to me.
We should get some moisture out of this…and I'm somewhat hopeful that maybe many areas could get at least 1/2″ rainfall…with some potential 1″ totals (as an average) shaping up. Again there are some questions about the timing of all this…and a slower solution (a'la the EURO would bring more rain into Saturday.
Last weekend I said we may be looking at TOP 10 summer days early next week…I still think that's possible, especially Monday (maybe Sunday too if we clear out fast enough).
We need that moisture with this incoming front…because it looks dry behind it again.
Couple of tidbits for you…there was a tornado in IN yesterday…did some damage. Here is a cool perspective
Tornado Howard Co Indiana Thanks Seth!!https://t.co/YuJhBTn3xc via @YouTube

— Kokomo Scanner (@KokomoScanner) August 16, 2016
As you know…parts of LA have had way too much rainfall…
2016 precip at #BatonRouge now exceeds 1900-2015 *annual* avg by ~6+ in. #LAWX #Flood2016 @NWSWPC @NWSNewOrleans. pic.twitter.com/Pr1lUpkzFE

— Greg Carbin (@GCarbin) August 16, 2016
That's pretty impressive with 3+ months to go in the year.
Finally there is some semblance of life in the tropics…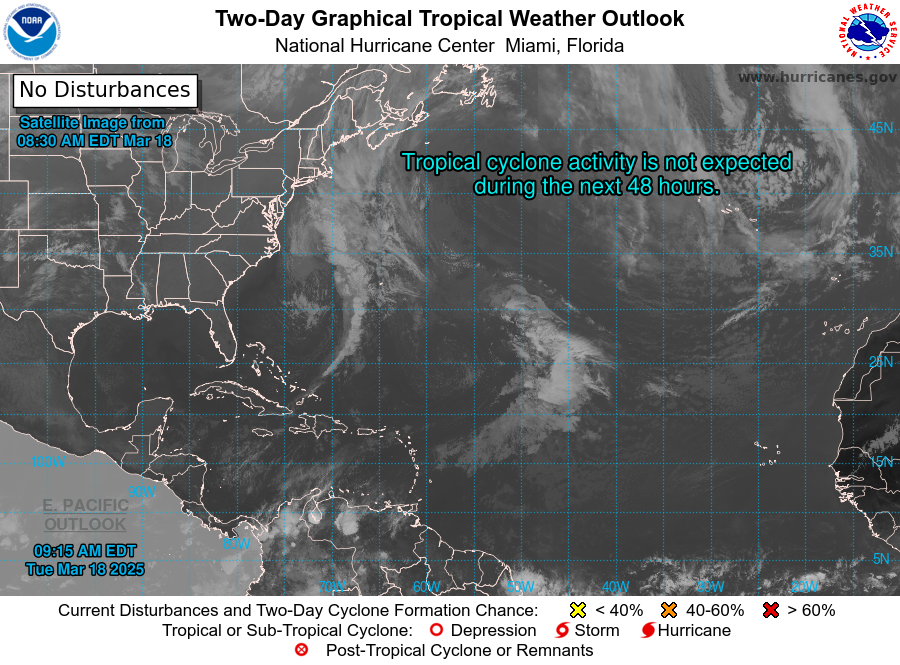 That disturbance out there may develop into "something" but it doesn't appear as if it will threaten the US coastline anytime in the future. Odds are it stays in the open waters of the Atlantic.
There is a LOT of warmer than average waters sitting near and off the east coast of the US…it's concerning because IF something can tap into that stored energy…it may tend to really blow up into something that won't be nice to deal with should it come ashore.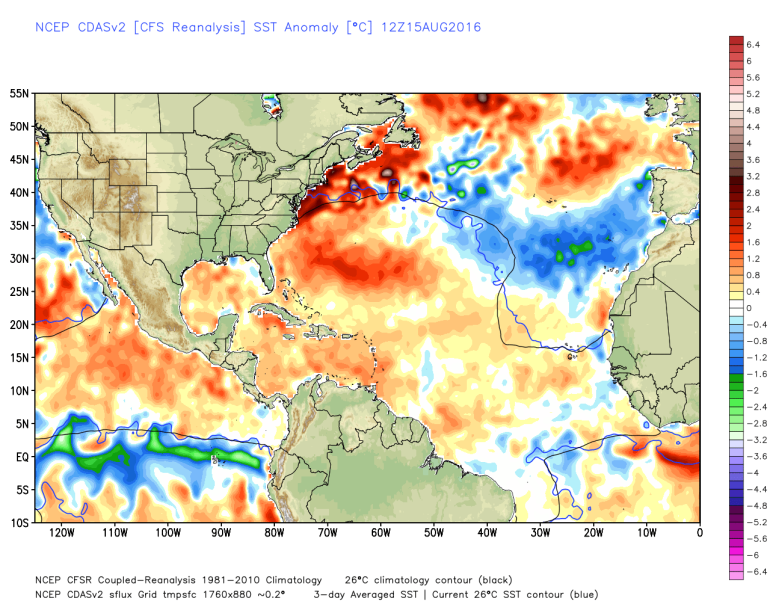 See all the red colors from the Canadian Maritimes southwards to well off the Carolina's…that's a LOT of warmer than average waters…
Another thing to ponder as we finish off the month . Have a great Tuesday…no blog tomorrow. Our feature photo comes from the Gray Wolf or @xylaria01 on Twitter
Joe