This is an archived article and the information in the article may be outdated. Please look at the time stamp on the story to see when it was last updated.
Good morning…we're finally going to enjoy a more seasonable weather day in the KC area…as the sun is finally out today and with a breezy SW wind developing highs should pop well into the 40s. If you're wondering…the average is around 43° today so believe it or not…we're finally going to see above average highs (for a change). Actually we've had a few…as recently as this past Saturday but with the colder air always pressing southwards…it's been tough to enjoy the afternoons. The main subject of the blog today is a rather large winter storm that will "mostly" pass south of KC. We still may get some snow locally though.
---
---
Today: Sunny and milder with highs 45-50°
Tonight: Increasing clouds with a chance of some rain/snow developing. It won't be much and it won't last long…and it may be more focused south and southeast of the Metro. Lows tonight again starting to drop into the 20s again. The issue though is IF we get some moisture with the colder air coming in…it may be bad timing for some of the roads in the area…especially again the bridges and overpasses. Be aware of this and you might need to set aside some extra commute time in the morning.
Tomorrow: Pretty gray and cold with highs only around 30° with colder north winds out there too
Friday: Not as gray but still mostly cloudy. A cold morning with lows down to near 10° and a cold afternoon with high only near 30° again
---
---
Well these last couple of weeks of fall will be a bit more varied I think. I've mentioned for the last 10 days, if not longer, that there would be, at least, some milder air work into the Plains and I still think that's going to happen for a few days next week. The pattern though is an active one and whatever shot of milder weather we get…won't last overly long. Enjoy today..and a couple of days next week because it will be a rather changeable weather pattern heading into the last half of the month.
Another cold front is coming our way tonight…that cold air is just now crossing the US/Canadian border region…here is the 8AM surface map…with the temperatures in RED…note the change to colder in northern parts of ND.
and if we go north into Canada…the teens are more prolific. It's not brutally cold air by December standards…
Its a basic combo though of cold air and some moisture (clouds) that will conspire to keep temperatures in check after today for a few more days.
As this occurs…and as I've written and talked about for awhile now…a storm will be moving through the southern Plains.
Tomorrow that storm will be moving into CA…
Then on Friday it will be moving into the SW US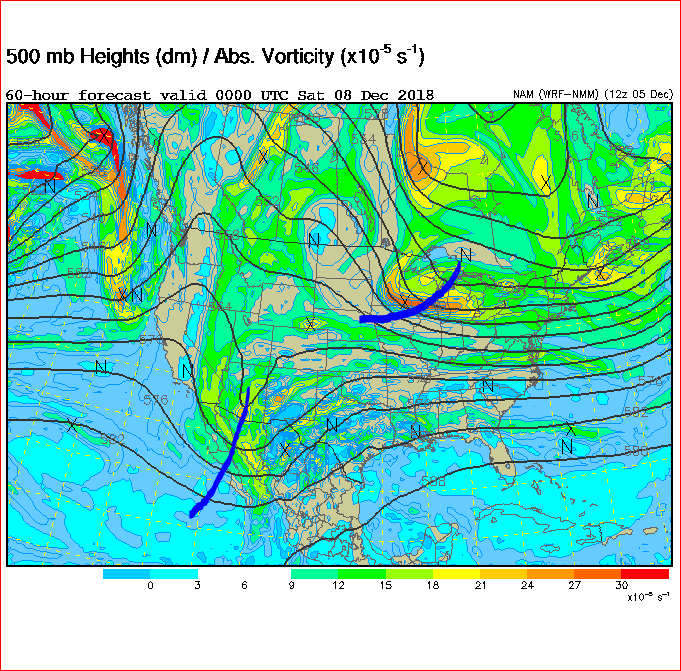 As this occurs a lot of moisture which is sitting across the southern US will start interacting with the wave coming out of the 4 corners area…and while that wave moves more south of KC…snow and rain will develop and spread through the southern Plains region on Friday and especially on Saturday.
See how far south the wave is going…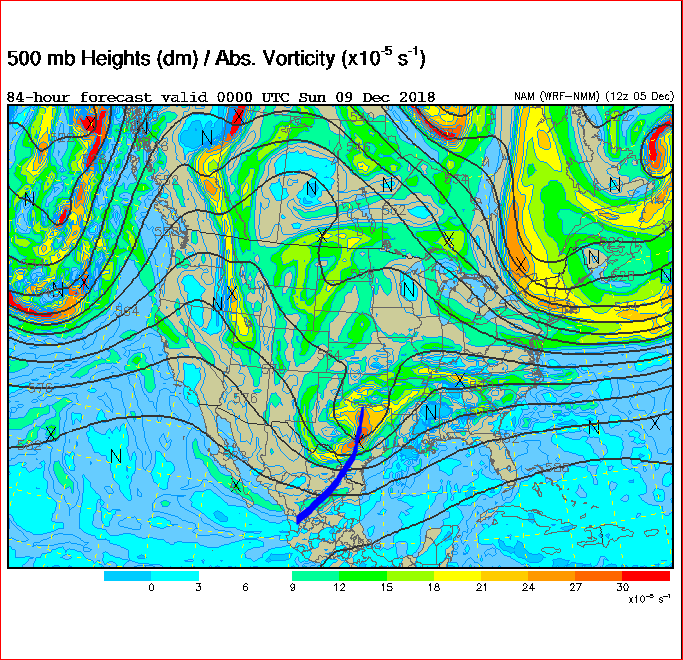 If it was closer to the I-44 corridor region our weather would be markedly different…but it's going too far south. As a result look a the model forecast of rain/snow.
The highest risk (probability) of 4″+ snows…and there will be much more than that through SAT AM is towards the TX Panhandle
By the way that part of the country will be well into the 50s today…and there are winter storm watches in effect for them.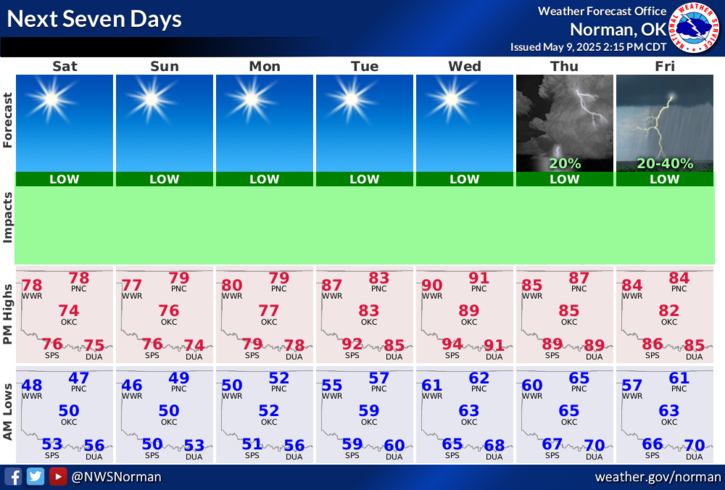 Meanwhile more towards OK…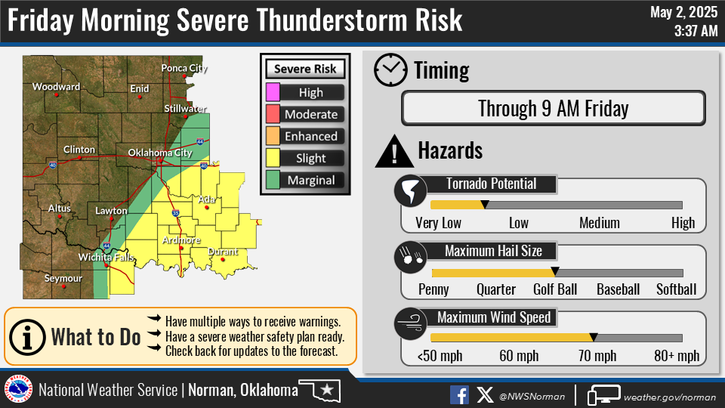 and ice could be an issue as well…tough forecast down there.
The storm will likely impact southern MO as well…and they haven't seen a winter storm of significance (widespread) in awhile…but like us in KC…they're time is coming.
There are still some questions about how it plays out down towards the I-44 corridor region. The worst of the snow towards the Ozarks may be more towards AR than MO…but far southern MO is definitely in play for this later Saturday into Sunday morning.
We may also have some snow locally on Sunday…the EURO model at least is trying to sniff out some sort of weird band of light snow near the state line area during the 1st part of the day. We will be cold enough but I'm not sold on this potential at this point…
And then guess what…a few days of milder weather starting on Tuesday. Remember for about 2 weeks or so I've been targeting a period after the 10th for a bit of moderation…this looks favorable at this point. Dare I say we may hit the 50s with the right combination of sun and wind for a day or two.
Beyond that though…more changes and a more active pattern.
Couple of interesting things regarding where the pattern MAY want to go to…and I don't have a lot of confidence in this at this point. Canada though is looking to be not as cold as usual for mid December. The EURO ensembles are showing warmer than average temperatures up there in the 5>10 day and 10>15 day period.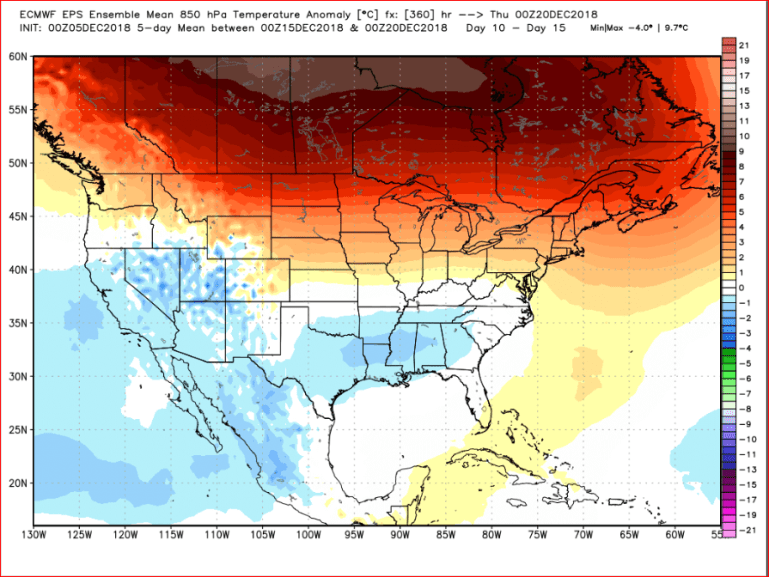 Now that doesn't mean it wont be colder than average towards I-70…BUT it does mean the that the worst of the cold air source from Canada may be shut down for a period of time…it should also be noted that during this time of the year it's pretty darn cold up there…so even a 10-20° above average run in central and northern Canada is still pretty cold by KC standards.
Finally a few interesting things have crossed my SM feeds (@fox4wx on twitter btw)…this is from yesterday.
KC picked up 0.1" of snow this morning making it the 6th day already this cold season with measurable snow…making it tied for the 2nd most on record (1906) by 12/4! Only 1898 had more measurable snow days by this point with 10.

— NWS Kansas City (@NWSKansasCity) December 5, 2018
Meteorological Fall (Sep-Nov has come to a close in KC…here is where is stacked up in comparison:

– 7th coldest on record (131-years)
– 18th wettest on record
– 4th snowiest on record

— NWS Kansas City (@NWSKansasCity) December 4, 2018
Interesting snow cover trends in North America through the years…the current data is on the far right side…via Rutgers. This year is by far the biggest snow season (so far) going back some 50 years!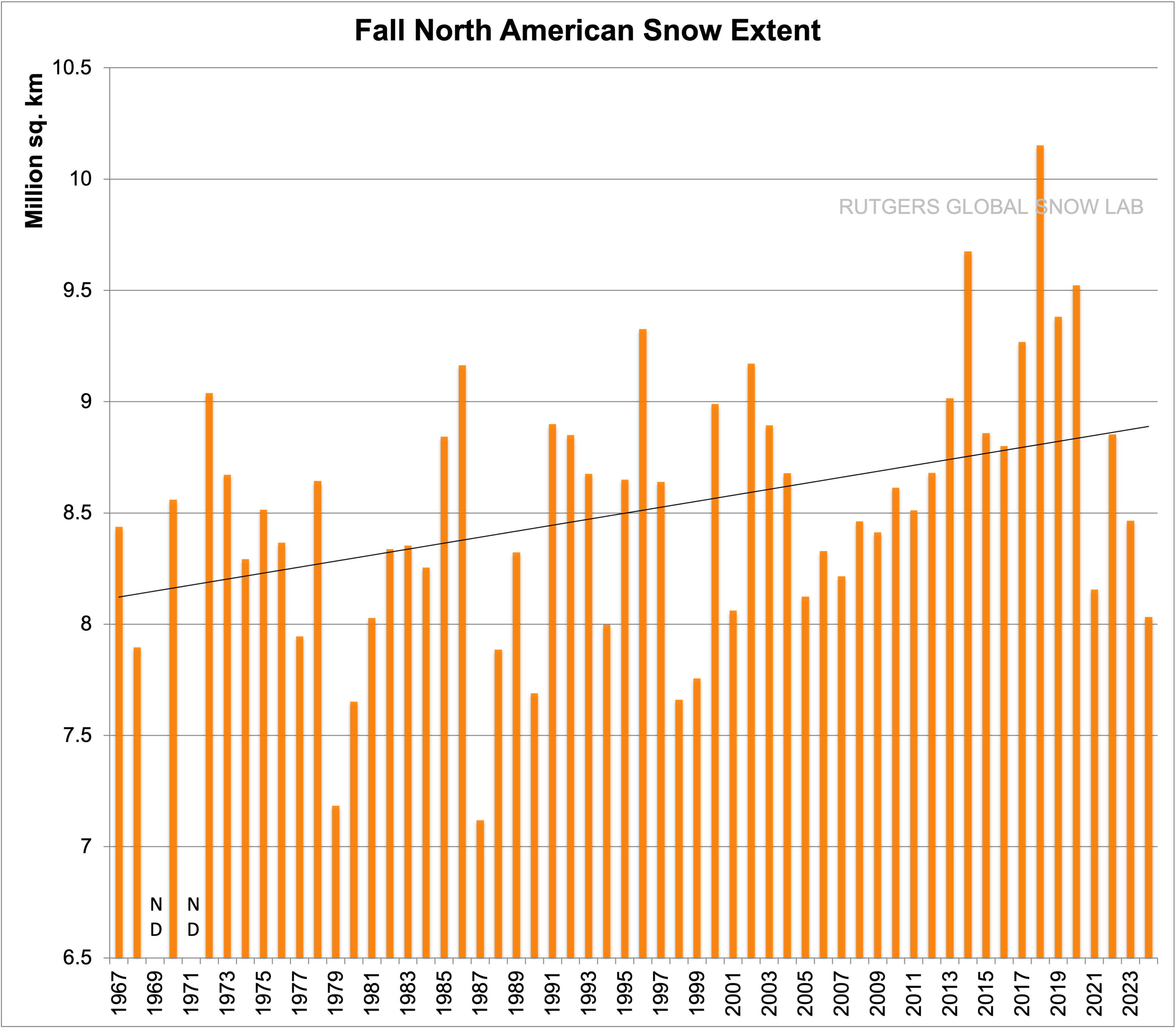 In the US…note the changes this year (in November) compared to last year…
There are big differences this year…and I can't help but feel that there are ramifications to the upcoming winter in the Plains.
On a severe weather note…that outbreak of tornadoes in IL over the weekend is one for the record books for that state!
Latest mapping on Saturday's tornado outbreak. Data remains preliminary at this time, as there is more work to do. #ILwx pic.twitter.com/9ck6kH9iD2

— NWS Lincoln IL (@NWSLincolnIL) December 4, 2018
Saturday's EF3 tornado in Christian County, IL was just the 10th EF3 of the year, and the fist since July 28

The U.S. averages around 30 EF3 twisters a year

There have been ZERO EF4s and 5s in 2018 pic.twitter.com/cZKJyIKVNN

— Greg Diamond (@gdimeweather) December 4, 2018
Update #3: New tally is up to 26 tornadoes during the Dec. 1 Illinois outbreak. Further NWS assessments still scheduled. This also now ranks as the 3rd biggest outbreak regardless of month on record in Illinois. pic.twitter.com/z8X09c2nqO

— Steve Bowen (@SteveBowenWx) December 4, 2018
Our feature photo comes from ‎Mishia O'Dell-Palmer‎ up in Lathrop, MO
Joe