This is an archived article and the information in the article may be outdated. Please look at the time stamp on the story to see when it was last updated.
Good morning…just about clear as a bell out there as I type this and a cool start as well with readings into the lower 40s this morning…
Forecast:
Rest of today: Mixed sun and clouds and moderating temperatures with highs near 70° or so…west winds will switch NW at 10-15 MPH during the day today. We'll stay dry through 6PM or so.
Tonight: There is a fast moving disturbance in the flow that has potential of creating a band of showers/sprinkles during the game. The timing would be roughly 7PM-11PM and I plan on bringing some rain gear to the stadium just in case. The lower part of the atmosphere will be rather dry so some of the falling rain will evaporate but I've been mentioning this for a couple of days and I continue to feel that it could be a nuisance type thing should the rain fall hard enough. So again my suggestion would be to be prepared just in case. It would be rather brief in duration and fast moving.
Tomorrow: Nicer weather again with clouds/sunshine and temperatures into the 70s.
Discussion:
Won't write a lengthy discussion but these darn subtle disturbances in the flow can be rather tricky to pinpoint. I want to show you the satellite picture into the N Plains this morning and keep in mind that the flow aloft above us is going from the NW>SE…
Now radar…which right now is not impressive at all but…
My concern is that there is a subtle weak disturbance up there that will zip through our area this evening and create some lift in the atmosphere. Now the surface moisture is virtually non-existent…but there is obviously some moisture aloft int he N Plains that will zip through here and that moisture may create some sort of band of showers/sprinkles the the NW of KC that would move southeastwards this evening. The short term models are highlighting something to move through around 7-9PM or so.
Here is the AM HRRR model (above)…notice how it's generating some decent looking, fast moving showers…and also notice how fast it's moving as well…there actually may be some fast moving downpours out there with the band of rain should it come together…it won't be a solid band of heavier showers but there may some some embedded ones within an broader area of lighter showers/sprinkles. Will the "K" get a brief downpour? As they say location is everything and we'll just have to see how things come together this evening…
The RAP model as well is generating a band of rain in the area as well…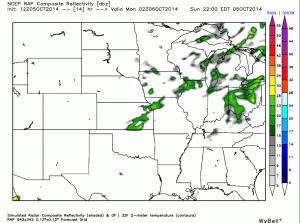 Any other day this would be no big deal…but with such a big game happening this evening…I just want you to be prepared just in case…and again I'm planning on bring some rain gear out there just in case.
The next more significant rain chance is still slated for later WED or THU…
Have a great Sunday…
Joe