This is an archived article and the information in the article may be outdated. Please look at the time stamp on the story to see when it was last updated.
Good afternoon…every so often I like to write a blog with the scraps that come along into the weather office via twitter or whatever I'm thinking about at the time…the blog rarely has a format to it…just random tweets and observations on my part.
Forecast:
Tonight: Clear skies and pleasant for early March. Lows in the 30s
Tomorrow: Sunny and milder with highs in the 60-65°
Sunday: Ditto.
Discussion:
> Did you know that 21 of the last 22 days have been below average in KC. The one day that wasn't…it was average. So in reality we haven't had an above average temperature day as a whole since 2/10! Today we started at 23° (7° below average) so we have to get to 58° for a high @ KCI to make it average overall. It may get close.
> Saw this via Climate Central…DEC and JAN were milder than average in KC…but FEB was WAY below average overall…and it dragged down the "meteorological" winter season in the area.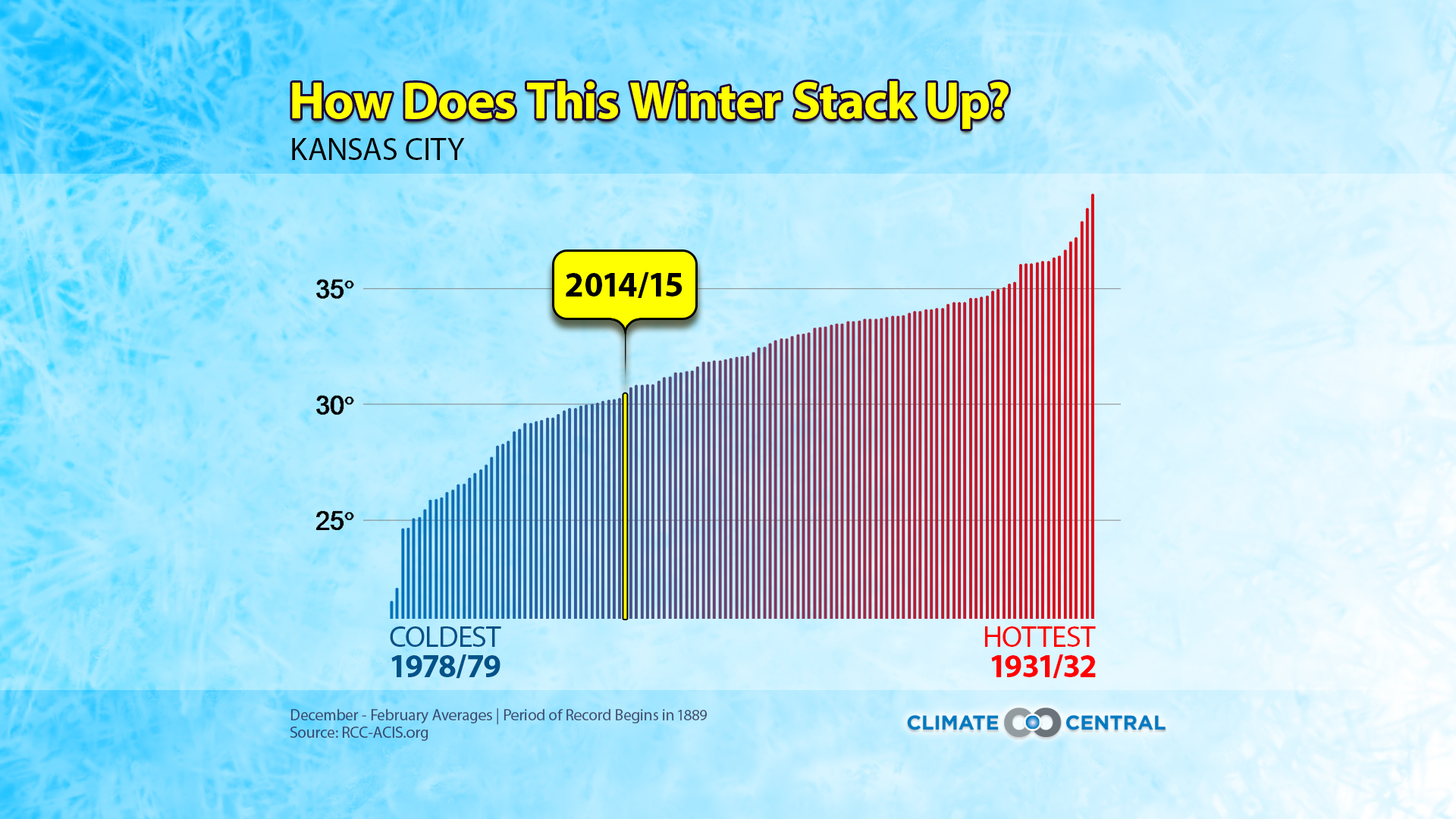 Winter 2014-15 top 10 warm for 10 states & top 10 cool for none #StateOfClimate http://t.co/CLyi3PyiUi pic.twitter.com/hJU4H2Khnr

— NOAA NCEI Climate (@NOAANCEIclimate) March 6, 2015
> I'll be spending the day in Lawrence tomorrow at the Severe Weather Symposium. IF you have an interest in severe weather and especially IF you've already take a basic severe weather training class via the NWS sessions that we're always promoting…this may be right up your alley. There is a $15 coast but it includes lunch and will go on from about 9AM-4PM or so. I'll be on an afternoon panel talking about TV's role in severe weather. IF you want more information…check out this link.
> So I see that NOAA finally decided to officially declare that an "El Nino" has developed. Really it's not a big deal frankly and won't be impacting the weather much this spring. It's been a process for sure to get the official designation but it finally came. Here is a flow chart as far as the decision making process goes for these type of things…
There is a full write up here if you want to learn more about this whole process, including any potential impacts for our spring weather in the Plains. There is a chart there that does indicate, statistically, that there is a 60% chance we could see and extra 1/4-1/2″ of moisture in the spring (March-May). The thing is that this El Nino is a little different.
Western based El Nino's have different effects on the weather. They're called El Nino Modiki.
By looking at what "can" happen during El Nino Modiki events…there is actually a tendency for drier than average weather conditions in the area. Also interesting is that they really tend to exacerbate dry weather tendencies in CA and the western part of the country. Concerning for them for sure.
Here is something else that I favorited in my twitter feed @fox4wx. Many think that since March is here…snow becomes a thing of the past. March though is a very transitional month. As gulf moisture increases and storms remain strong…the effects of said storms may actually be more dramatic…severe weather and blizzards are not uncommon in March. From a snow standpoint…many areas in the western Plains into the Rockies can see the biggest snows of their season during March.
March is snowiest month of year in a large part of Plains and the Rocky Mountains. #snow #climatology pic.twitter.com/58kwkr3B9N

— Brian Brettschneider (@Climatologist49) March 5, 2015
As I mentioned severe weather can start to ramp up in March…although this year through the end of FEB has been very quiet in terms of tornadic potential.
2015: Slowest start to the year for U.S. #tornadoes in over a decade. http://t.co/FeSdGRGBhd pic.twitter.com/DZNNrh0beM

— Jonathan Erdman (@wxjerdman) March 6, 2015
The 1st week of March has also not recorded any tornadoes.
Recently at the National Tornado Summit the "middle point" of the tornado season has actually moved up in the last 50 years…from May 25th to May 14th and according to Harold Brooks the "start" of the season is March 22nd in the US. With that said the caveat about tornadoes can happen any day and any month needs to be mentioned as usual.
> Don't forget about the time change this weekend and also to replace the batteries in the smoke detectors as well
> Back to weather…a LOT of talk about some real warm air next week…odds favor this…however something to watch for is some sort of weird developing upper level storm nearby. While we would not see rain…we could see the atmosphere cool down aloft…that would affect our max temperatures…as long as it doesn't develop close enough to us in other words stays well south of the KC area) we should see highs well into the 60s and maybe even a day or two in the 70s! There should be a change in the weather towards next weekend…so I can't promise much after next Friday at this point.
That's it…odds are no blog tomorrow due to the severe weather symposium in Lawrence.
Joe