This is an archived article and the information in the article may be outdated. Please look at the time stamp on the story to see when it was last updated.
Good afternoon. As I wrote about yesterday…clouds have indeed become a major issue in the region today. They will stick around for the rest of the day reducing our high temperature potential. This is why I forecasted yesterday and it's playing  out perfectly. The warmer weather that I expect to move into the area will do so early next week before a seasonably strong cold front moves into the region on Wednesday I also need to update you on the progress of Matthew which did some amazing intensification yesterday but has since come down a bit.
Forecast:
Tonight: Variable clouds and not as cold with lows 55-60°
Sunday: Clouds give way to some breaks of sunshine. Temperatures should be 70-75°
Monday: More sunshine and warmer. The breeze will start to pick up as well with highs in the 75-80° range.
Discussion:
The satellite pictures today are telling the weather story nicely. Clouds for many…sunshine for some. Temperatures respond accordingly.
I made a special graphic this morning illustrating the highs today. Under the clouds 65-70°. Meanwhile farther west of KC where there is some sunshine…75-80°.
I wouldn't be shocked if there were a few light showers/sprinkles somewhere out there too…especially farther east of KC.
These clouds will be hanging around tomorrow as well…although with more breaks. The clouds depress the highs but at the same time keep overnight lows warmer.
We should warm up more with additional sunshine on Monday. The next rain is still on tap for Wednesday. There are still questions how that will play out. Interesting to note that the same upper level feature that will impact our midweek forecast also plays a role in the future of Matthew which will get into the Bahamas towards the end of next week.
On the subject of Matthew.
Fascinating storm. It's in the Caribbean Sea now…winds as of this writing are near 140 MPH. The satellite presentation doesn't look as crisp and clean as last night. Yesterday it really intensified in the afternoon. At one point in the evening it attained winds of 160 MPH making it the 1st category 5 hurricane in the "Atlantic" basin in more than 3310 days (some 9 years since Felix in 2007)
The afternoon pictures though do show a cleaner eye.
Recon confirms #Matthew has a closed circular eye with diameter 8nm. This qualifies as a "pinhole eye" which occurs in less than 10% of TCs

— Sam Lillo (@splillo) October 1, 2016
Also note the movement, or lack thereof. This may be the beginning of the northwards turn that forecasters have been expecting Matthew to take.
This is the turn north that will create some nasty impacts from Jamaica to Haiti into Eastern Cuba. A quicker north turn could spare eastern Jamaica the worst of the fury however. The last major hurricane to make landfall in Jamaica was Gilbert in 1988 almost 20 years ago.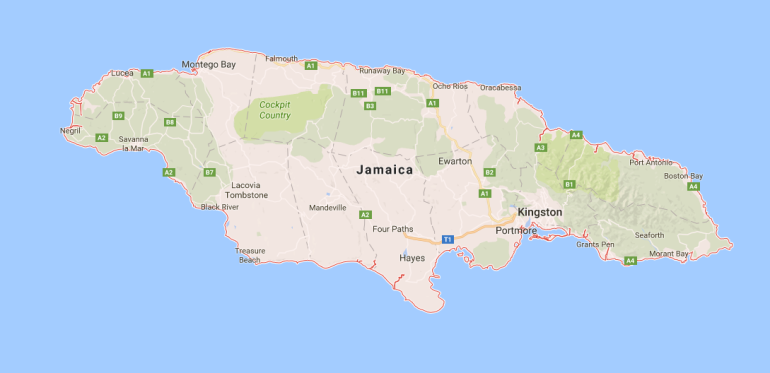 Regardless of the wind scenarios…the rain is going to be heavy and potentially devastating with mudslides and flooding
#Matthew rainfall forecast from @NWSWPC Int'l Desk forecasters. pic.twitter.com/HVashEEjEC

— Greg Carbin (@GCarbin) October 1, 2016
Topographic features also play a role in this. Mountainous areas are very vulnerable to rising air/moisture that then dumps down as rain.
Let's see when the northward turn exactly happens because that may be a key in the where the worst of Matthew goes down there.
The intensification yesterday though was impressive and NOT expected. We knew that the waters were supportive of something intense…but the feeling within the meteorological community was that there was a bit of shear that would prevent the storm from really cranking up.
Long loop showing the rapid intensification of #Hurricane #Matthew. What a surprise that it turned into such a monster so quickly… pic.twitter.com/xaHJdjTnxE

— Eric Blake 🌀 (@EricBlake12) October 1, 2016
Matthew surprised us and did something that doesn't happen all that often in terms of strengthening so quickly. In the tweet below…RI stands for Rapid Itensification
24 hurricanes since 1851 have undergone RI of at least 60kt / 24hours. The majority of these were in the W Caribbean or Gulf of Mexico pic.twitter.com/BiZwxVPEUX

— Sam Lillo (@splillo) October 1, 2016
I spent a bit of time talking about the different model projections yesterday. The GFS runs are still most concerning for the US. The EURO and the Canadian are both well offshore.
The Bahamas though are in trouble with this. Really not a matter of will they be impacted but more or less what shape will Matthew be in when it impacts the Island chain and then where it goes while "visiting" the islands. This is still some 5 days away though…so a lot will play out. See yesterday's blog for additional details.
More tomorrow afternoon! No news for the rest of the day due to football so I'll see you starting at 7AM Sunday
Joe