This is an archived article and the information in the article may be outdated. Please look at the time stamp on the story to see when it was last updated.
Good afternoon…getting my car worked on for a bit so I figured this would be a good time to write up a weather blog for you. I'll see you tonight on FOX 4 News at 5/6/9/10 as we talk about the summer weather that continues in the region but also the transition to a much cooler temperature regime for a few days next week. So enjoy those summer "feels" while you can…cooler weather on on the way for sure. When we go through this transition there should be some rain…those chances increase later Monday or Monday night into Tuesday morning…so it might be a good idea to get some fertilizer down over the next few days.
---
Forecast:
This afternoon: Weirdly there may be a few t/storms on the MO side towards the NE of the KC Metro area…there is an outflow which I'll show you in the discussion that could create some PM storms…hot and humid with highs well into the 80s if not around 90° in some areas. Heat index values will be near or above 95°
Tonight: Breezy and warm again with lows 70-75°
Friday: More or less the same…
Saturday>Sunday: More or less the same with variable clouds and hot temperatures (for late September) with highs well into the 80s and heat index values in the 90s
---
Discussion:
Well this morning temperatures never really dropped off…we dipped to 76°. That's noteworthy because IF that holds through 12AM…that would be a record WARM low temperature in KC. Sort of a strange record of sorts and not something that most would normally check. Also interesting to note that IF it holds up…it would be 4° warmer than the previous record warm low temperature.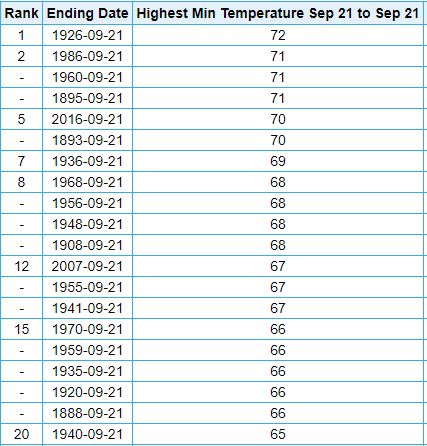 I checked the FOX 4 Weather Almanac and this would be 1st record warm low temperature of the year I believe. This is also one of the warmest low temperatures for the last half of September…but there have been a few other 76° lows.
Meanwhile the humid weather continues and the 11AM surface map shows the dew points well into the 70s locally…here is the 11AM surface map…not the dew points in GREEN…they are well into the 70s…still feels "ripe" out there.
The stationary front that we were watching last night sort of fell apart north of KC and south of St Joseph. There have been some persistent storms/rain well towards NE MO last night and there are a few cells popping on the MO side this afternoon.
I can't rule out something very isolated closer to home this afternoon.
The GOES16 satellite picture shows an outflow towards the NE of KC and that will need to be watched as the afternoon moves along because it is drifting towards the SW…
Aside from that and the warm winds…not a lot happening around these parts till later Monday. We'll talk more about the change in the weather for early next week in tomorrow's blog.
Meanwhile Maria is still out there…it's been an interesting last 48 hours for Maria. at one point it was packing winds of 175 MPH+…then it raked through Puerto Rico (aside from everything else…the flooding has been awful). At one point the eye was only about 10 miles from end to end (when it was at it's max strength). Now though the eye of Maria is about 40-50 miles across and it' going through various transitions and some of the circulation is still being somewhat disrupted by the Islands.
The eye looks rather ragged on the satellite this afternoon. Typically for a "healthy" hurricane you look for the eye to be more on the clear side than enshrouded in clouds.
Close-up view of Major Hurricane #Maria's eye from #GOES16 1-minute meso sector scans (2 hours' worth). Max sustained winds are at 115 MPH. pic.twitter.com/7C5oiOAOxV

— NASA SPoRT (@NASA_SPoRT) September 21, 2017
Maria this afternoon is a borderline category 3 hurricane…slightly up from yesterday.
Odds are the storm should remain off the US East Coast…BUT there are ways that this could change.
Meanwhile the clean-up is just now starting. There has been soooo much rain in Puerto Rico and give the topography of the Island with all the hills and mountains and the "ruralness" of life there…I'm not encouraged by what I'm seeing so far. Here is an interview with the mayor of San Juan…heartbreaking for those who have been there visting and certainly for those who live there.
"The Puerto Rico and the San Juan that we knew yesterday is no longer there," San Juan's mayor tells @GadiNBC as she fights back tears. pic.twitter.com/M4yL7hHWe5

— NBC Nightly News with Lester Holt (@NBCNightlyNews) September 20, 2017
The power situation is dire. There is some generator provided power there but how long will that last. Last night I spent a bit of time talking about the track of Maria and how the core of the storm went through about 10 of the 14 power plants on the Island. That is not good and certainly plays a role in the devastation to the power grid in addition to the individual poles/wires etc.
Look where many of the power plants are…high wind areas h/t Shane Hubbard pic.twitter.com/sBmHkFikxX

— Marshall Shepherd (@DrShepherd2013) September 20, 2017
Of note is the fact that 3.5 million or so live there…that's a lot of people and more than many of the states in the US. For example…more than live in KS. Now imagine the ENTIRE state of KS being without power for months at a time. Now picture days like today with heat index values in the 90s…and it won't break anytime soon for any length of time since they're a tropical location. I created this graphic last night to try to put things in perspective.
[protected-iframe id="08041396bc55ce0f2db8a9a44bb41512-28016812-27967000″ info="https://www.facebook.com/plugins/video.php?href=https%3A%2F%2Fwww.facebook.com%2Fjoe.lauria.10%2Fvideos%2F1620560227976237%2F&show_text=1&width=560″ width="560″ height="515″ frameborder="0″ style="border:none;overflow:hidden" scrolling="no"]
Between the winds…and the rain…bad things have happened down there. Rivers are at historic highs…some more than 20 feet above their previous records…which is astounding.
https://twitter.com/MikeWDross/status/910901148596531202
The damage is so much worse than what we've seen so far. 3 FEET of rain in 24 hours near #Caguas #PuertoRico #HurricaneMaria pic.twitter.com/eqp7FgiSej

— Bill Karins (@BillKarins) September 21, 2017
In the end we may never be totally confident on how much rain came down. There are some gauges that show world record setting values for total rains but odds are these gauges are not working correctly…radar from San Juan has been out for over 24 hours so that data I believe may be lost as well
Hurricane #Maria's Torrential Rainfall in #PuertoRico Measured By GPM IMERG 9/17/17 – 9/21/17 https://t.co/814C281kvu pic.twitter.com/CRcnMXJ5xk

— NASA Precipitation 🛰️⛈️ (@NASARain) September 21, 2017
By the way…farther north…Jose is still churning around. It's been around now for some 16 days…currently it's brings gusty winds and some beach erosion to the New England area.
#Jose has now been a named storm for 16 days – only 7 Atlantic named storms in satellite era (>=1966) have generated more named storm days. pic.twitter.com/82ejMyK29b

— Philip Klotzbach (@philklotzbach) September 21, 2017
It's certainly been an active hurricane season.
The 2017 Atlantic season is still plugging along, but has already reached well-above average activity. October could bring more surprises. pic.twitter.com/YGAPqQQZ7z

— Brenden Moses (@Cyclonebiskit) September 21, 2017
BREAKING: Prime minister of Dominica says at least 15 people are dead, 20 missing on Caribbean island after Hurricane Maria.

— The Associated Press (@AP) September 21, 2017
Meanwhile on the flip side…how about a little winter for you…as summer ends.
The first snow of the season has arrived #Winteriscoming #mysquawalpine #alpinemeadows pic.twitter.com/5M3mM5mks0

— Squaw Valley Alpine Meadows (@squawalpine) September 21, 2017
So it feels like summer out there…fall starts on Friday afternoon and winter is showing up on the weather maps today…all we're missing are springtime severe storms…oh and the wooley worms are out now. This picture is from Sandey Farrow shows a somewhat unusual WHITE wooley worm (only 5% are like this apparently), which according to the University of Illinois means very cold and snowy winter weather ahead. YIKES!
Joe