This is an archived article and the information in the article may be outdated. Please look at the time stamp on the story to see when it was last updated.
My goodness what a miserable morning out there and while the rain is diminishing greatly this afternoon…it's going to be murky into Saturday with hopefully some nice PM clearing…to at least salvage the 1st part of the weekend. Sunday though has a whole other thing going on…and what looked to be a small chance of snow yesterday in KC…has increased just a bit more. We're trying to thread a cold air + leftover moisture needle here…so while flakes look more likely in NW MO and NE KS…still questions IF we can get any in KC proper. Heck today there were melting snowflakes above us I think…at least by looking at radar returns.
---
---
Forecast:
Tonight: Cloudy skies with pretty steady temperatures.. Lows near 40°
Saturday: Some sunshine developing and rather cool with highs in the upper 50s. There may be a few sprinkles/showers in the evening and overnight.
Sunday: Changeable. Initially not too bad and dry into the morning hours. The timing of the colder air coming southwards appears to be later in the morning so we may briefly try and warm up to about 45-50° before dropping about 10° in the afternoon as the colder air spills southwards. Wind chills will be in the 20s later in the afternoon. There should be at least some rain developing as this transition occurs. Then the potential for some snowflakes to mix in later in the afternoon. Better chances farther north of KC.
Monday: Brighter and cold in the morning with potentially our 1st light freeze. Highs only in the 40s
---
---
Discussion:
A lot of you might be feeling not so great about the lack of "fall" so far…seems as we've as we've switched from summer to whatever it is out there now. At 1PM it was 45° in KC. That's the average high for December 1st.
It will get somewhat better next week…some milder days, but still cool-ish days are likely. I don't see any sustained big warm-ups right now through next week. Maybe that 3rd week of October will be a bit better.
Today it's murky though. Temperatures are in red below.
The cloud situation isn't so great either.
The clouds tonight should hold tough…and my concern is that the clouds may linger for awhile tomorrow morning too before breaking up…so it will be a race to get warmer fast tomorrow with a still decently strong mid October sun angle helping the cause. Let's shoot for the 50s for highs.
Sunday is a whole other animal. We will initially actually be close to average in the morning with lows in the 40s. There also will be somewhat dry air in the atmosphere above us overall early in the morning…but a cold front coming into the area will help to cool down the lower parts of the atmosphere…start condensing the moisture that is there…turning that into lower and lower clouds.
The actual wind shift will come through very early in the morning BUT the colder air will be lacking 100+ miles behind the wind shift…that moves in later in the morning.
The hi-res NAM is cranking out these 7AM temperatures.
Then the colder air spreads south and temperatures drop from there…so that by 1PM we get this.
OH MY!
A reminder that the average afternoon high in mid-October is around 65-70°. We'll be about 35° below average later in the afternoon!
So we're going to have pretty darn cold air at the surface…aloft the changes happen a bit slower. So that as we go up through the lower part of the atmosphere…temperatures are still above 32°  into the mid>later afternoon. That would be around 5,000 feet. Below that…it's colder…at around 3000 feet or so it's forecast to be below 32°. So what falls through the atmosphere in the KC area during the afternoon may start as some rain…freeze to a pellet and maybe melt or hold together long enough to make it to the ground.
As the atmosphere thickens with cold near sunset though…IF there is something falling it may remain as pellets of flakes IF there is still enough out there.
Northern MO actually has a better chance of something more than a "flake or two". I doubt we can get accumulations, even up there BUT there might be OMG type snows (by mid October standards) IF we thread the needle correctly.
Here is the forecast radar for 4PM Sunday…
and 7PM Sunday evening.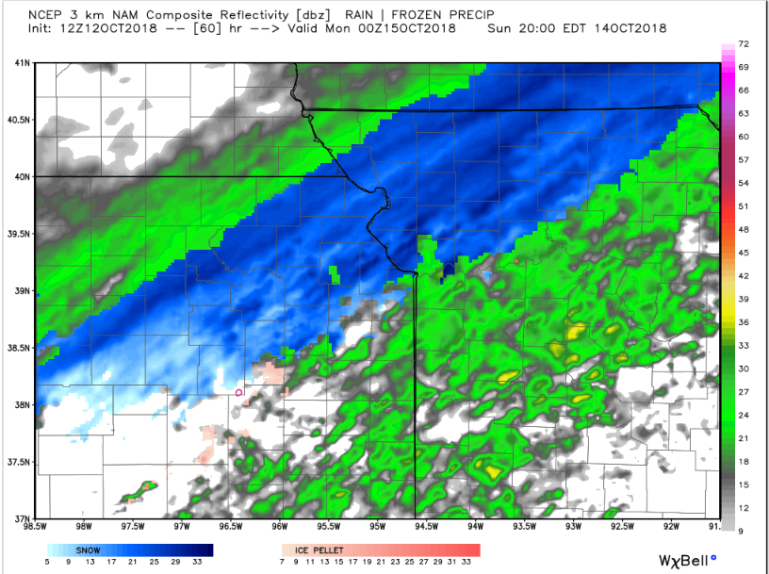 Already the snow is diminishing…so again for KC…it's going to be close.
IF the colder air above the surface is slower to arrive…that will put the kabosh on this potential…still though that's another cold/raw day coming our way to finish off the weekend.
Let's watch Monday and Tuesday AM for freeze/frost potential although there are ways to avoid this IF we have clouds Monday AM and then a wind switch towards the SW and pick up Tuesday AM
We should have milder and drier days next week…so there is some fall weather for you.
Meanwhile on an unrelated note…
The Michael videos are tragic…today I showed some of the before and after images of Mexico Beach…unbelievable.
[protected-iframe id="3eeee113a957bf3374cc8ce54fe885cd-28016812-27967000″ info="https://www.facebook.com/plugins/video.php?href=https%3A%2F%2Fwww.facebook.com%2Fjoe.lauria.10%2Fvideos%2F1170175146441034%2F&show_text=0&width=560″ width="560″ height="315″ frameborder="0″ style="border:none;overflow:hidden" scrolling="no"]
Some additional before>afters…
NEW: Devastating imagery from the Florida Coast, before & after Hurricane Michael.

Mexico Beach, FL: near total destruction. pic.twitter.com/Hb9Rl9UMKo

— Dakota Smith (@weatherdak) October 12, 2018
There are some under-reported stories happening as well…including a believed up to $2 billion in crop loses in GA…as the cotton crop took it on the chin there…peanut crop as well. Also more devastating flooding in NC and additional wind damage as well.
What if I told you North Carolina would have the most power outages from #Michael ? 👀 pic.twitter.com/N6hXw86j1k

— Brad Panovich (@wxbrad) October 12, 2018
So much wind…Michael cranked out 110 MPH gusts in GA…hours after landfall.

There will be a lot of research done on the storm…how strong the winds were and other things…but it was a massively impressive storm to watch from afar…and the destruction it caused should give many folks an idea of the risk of building so close to the coastline.
Before-and-After: A #MODIS satellite pass today showed evidence of the widespread tree damage reported over the Florida Panhandle from Hurricane #Michael. You can also see difference in the water color offshore, as lots of sediment was stirred up. Source: https://t.co/IKOtgfXxLa pic.twitter.com/fsfO8ykuhx

— NWS WPC (@NWSWPC) October 11, 2018
I thought this twitter feed was very relevant to what's happening and what lies ahead for the folks there…check out Mark's feed for the full text strong
I share @FEMA_Brock's frustration of seeing storms devastate coastal communities, storm after storm.

Why does this keep happening? One of the biggest reasons is that we have a huge inventory of older structures that are not built to modern wind codes. /1 https://t.co/DhjWcJ0wNI

— Mark C. Bove (@MarkCBove) October 12, 2018
I'm fascinated by looking at the drive-by and aerial shots of the destruction. What intrigues me is that in a "sea" of massive destruction there are actually some properties that look that they fared OK compared to homes next door. I'm guessing this has to do with the building codes..there were also some places that looked like they were built so that the full onslaught of the winds only hit the smaller sides of the buildings as opposed to the full width of the structure.
Our feature photo comes from ‎Jennifer Eberhardt‎  up in Kearney, MO
Joe