This is an archived article and the information in the article may be outdated. Please look at the time stamp on the story to see when it was last updated.
As I start this blog on a PERFECT Friday afternoon, it's amazing to think about how our weather can change so quickly in this part of the country. Here it is sheer perfection out there at 1PM with a temperature around 75° and low dew points (in AUGUST!) and then what follows over the next 18-36 hours is so potentially different…it really is amazing to write about.
---
Forecast:
Tonight: Clear skies for most of the night with lows dropping to around 60° although there should be some areas dropping again into the 50s, especially on the MO side.
Saturday: Rain on the KS side will be moving our way towards and after daybreak. There may be a brief fight with the initially dry air on top of the region but the "fight" won't last too long. Expect rain to become more widespread with some heavier downpours mixed in during the day. There may be times the rain shuts of for a bit of time. Temperatures are dicey but may easily only be close to 65° for highs (perhaps a record cold high temperature) should we have a decent stretch of rain ongoing.
Saturday night: This is my concern for heavier thunderstorms with the potential for flooding rains in the region somewhere. A Flash flood watch really kicks through Sunday morning. Lows dropping to around 60° or so. Excessive and flooding rain is possible.
Sunday: any rain should end quickly in the mid morning hours. Mostly cloudy but I think drier in the afternoon with highs 70-75° with enough sunshine.
---
Discussion:
Where to start…
We tied our record low today at KCI of 52° set back in 1974. Impressive for August. St Joseph dropped to 47° for a new record low. The previous record was 51° in 1978. I believe that 47° was the coolest in the state of MO as well…I saw some 48° reports out there too.
Also of note…and to set up the rest of this blog is the record cool high temperature for Saturday (8/5)…which is 67° in 1993 and also the record rain for 8/5 which is 2.59″ in 1977.
A FLASH FLOOD WATCH has been issued for Saturday into the 1st part of Sunday for the I-70 corridor. That is represented by the darker green color on the following map.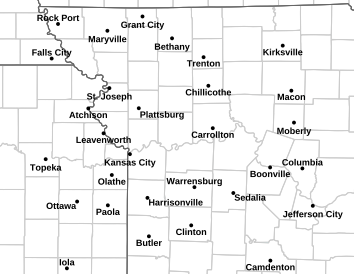 The set-up:
As I start this part of the blog, I'm somewhat humbled by the fact that the clouds that will turn into rain that will in time turn into thunderstorms DON'T EXIST right now. The strong low level jet stream that will move over a strong boundary separating 60s locally to near 100° highs DOESN'T EXIST as of this writing and won't for another 24 hours+ in some cases. This is why I constantly preach about the challenges of what my colleagues and I do. Sometimes, like today's forecast for today, it's a slam dunk…other times it's a lot trickier and in some of those cases what happens at the beginning and middle of an event dictates how the end of the event will play out. So bear with me.
Overnight today a growing area of rain and developing storms will be created towards the west of KC…out towards central KS. This area will shift eastwards over time and move towards the State Line area. As you know by "feeling the air" outside this afternoon…it's comfortably dry. The dew points are in the 50s right now which is phenomenal for KC in early August.
This area of rain moving our way Saturday morning may, at first, fight the dry air on top of the area and weaken. Over time though as the morning progresses the dry air will be overcome and we get more into the steadier rains.
Depending on how quick this process happens…temperatures may try to briefly warm up early in the AM. I debating knocking the highs down to about 65° tomorrow because IF we have off and on rain with initially dry air…there is evaporation at first…that allows temperatures to either remain steady or potentially drop. Tomorrow may only be in the 60s for highs.
The rain Saturday may be off and on at times…it may not rain continuously every single minute of the day. There may be some breaks (usually are) but overall it doesn't look to be a nice day at this point.
So what happens in the afternoon is that we have this rain cooled air mass on top of the region…and we have tremendous heat building towards the SW of the KC area. Here is a depiction of this using the hi-res NAM model…notice the contrast from the KC region towards central and SW KS from near 70° to near 100°
The concern is 1) that large temperature contrast…and where a stationary front marking that contrast sets up. Why? Because tomorrow night and early Sunday morning, above wherever that boundary sets up…a rather significant "low level" jet stream will set up. This will be roughly around 4000-7000 feet above the stationary front. This will create incredible amounts of "lift". This will then allow moisture to quickly rise…cool…condense…turn into storms…and then yield heavy rains.
I can show you this jet stream by showing you the following graphic from NEXLAB of the NAM model…and the forecast winds around 5,000 feet up…around 10PM Saturday night
The cause for alarm is that this low level jet is POKING right into the I-70 corridor…that will create intense lifting…
As this occurs there will be a "piling up" of moisture through the atmosphere. Thunderstorms will then have a VERY easy time creating even more heavy rainfall. You can see this "piling up" of moisture by looking at the "PW" chart. PW standsd for Precipitable Water and this helps us judge the amount of moisture through the lower to middle parts of the atmosphere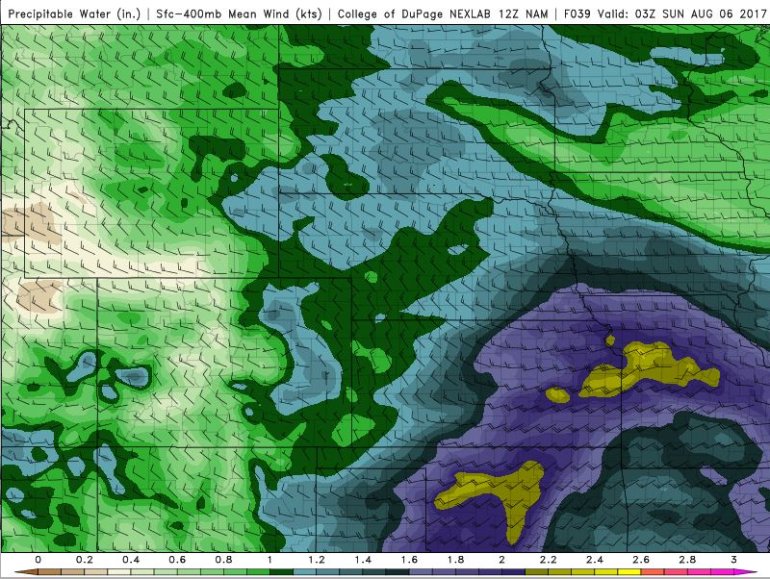 Anything above 1.5″ catches my attention…above 2″ and we're throwing gas on the fire in a sense.
So the set-up is obvious for heavy rain…
The questions are how much rain do we get during the day on Saturday. Consider this the appetizer part of the storm…under 1/2″ would be helpful but I'm concerned we'll get more that that in some areas…perhaps, worst case, over 1 1/2″. So the soils will be saturated in many areas BEFORE the worst part of the set-up occurs.
Now where does the low level jet exactly point towards and where does that surface boundary exactly set up…because BOTH work in concert to creating the axis of heavies rainfall.
Model data is somewhat in consensus that this will be VERY close to the KC Metro. Can it be farther east…absolutely…north…sure…south…possible. Some of the model output is in excess of 10″ of rain…with varying bulls-eye locations in the region of W MO and E/SE KS. When data indicated that potential…you can't take it lightly.
I won't post the model forecast maps at this point because I'm not trusting the pinpointing of the heaviest axis of rain…suffice it to say, that there is an increasing chance of 1-5+" of rain…with some parts of our viewing area seeing in excess of 6″ of rain should this all come together.
Pay attention to the heavy rain/flooding threat Saturday night especially. Will this be a repeat of the events last week…while NOT likely…2-4″ of rain coming down real fast can create all sorts of issues in an urban area. There are "shades of similarity" in what happened last week and what COULD happen Saturday night. It's really a matter of where the axis of heaviest rains set up. Areas east of KC metro also had tremendous rainfall last week…and that area especially bears watching.
I'll get a blog update out again Saturday by 2PM.
Joe