This is an archived article and the information in the article may be outdated. Please look at the time stamp on the story to see when it was last updated.
Good afternoon…we're not breaking any records today but it's still another warm one out there with temperatures approaching 90° in some spots. With all this hot weather for the month…you may be wondering what exactly is "average" around these parts in late May and early June…the average high is around 80°. So despite today being the more "comfy(?) day…it's still nicely above average. There are increasing signals of even hotter weather coming down the pike later next week as well.
---
---
Forecast:
Tonight: Fair and warm with lows near 70°
Friday: Hotter with highs closer to 90-95°
Saturday: There may be thunderstorms in the region in the morning…especially north…but rain chances will start in KC early in the morning and perhaps linger till about lunch or so. IF we miss out on the rain…and IF an outflow boundary doesn't come through…we could be hot again…but there are signs that 1) we may have rain in the area and 2) some sort of boundary will come through so let's go with highs closer to 85°. Major bust potential! Rain cooled air…no rain cooled air.
Sunday: Actually rather pleasant…warm but pleasant with lower humidity too! Highs near 85°
---
---
Discussion:
My goodness this May. It will finish as the 2nd hottest in KC weather history. Data goes back to the 1880s! The only other May that was hotter was back in 1962.
We're not alone…look at the rankings of how May stacks up. The 1s mean the hottest May in the record books…look at all the 1s on the following graphic.
Nationwide…take a look…yikes!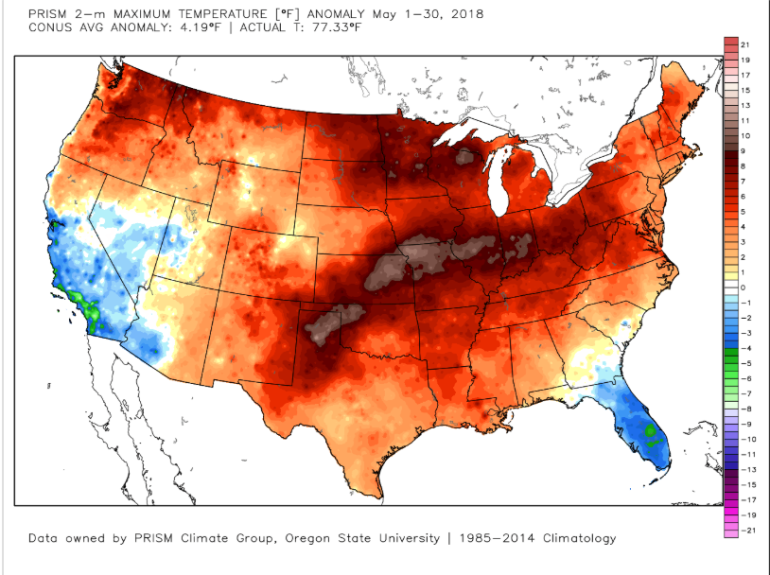 Meanwhile let's reminiscence about April…and look at the cold anomalies from then…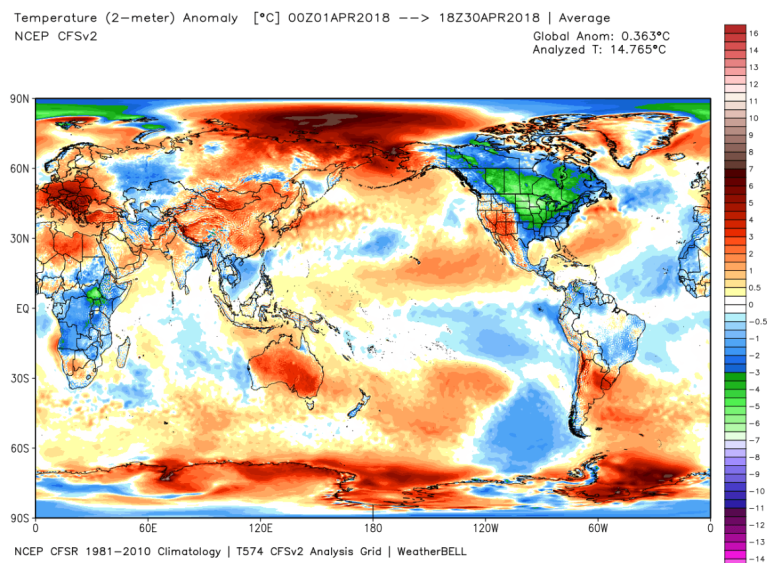 Pretty impressive switcheroo.
There continue to be increasingly strong indications that either starting next TUE or WED…we go right back into the significant heat…there may be some thunderstorm complexes though that could keep that from happening…so let's see how that plays out.
Meanwhile Friday should be another hot day in the area as a surge of heat moves into the region ahead of a cold front, of sorts. The most intense heat will be out towards the western Plains region…100-105°+ very possible out there.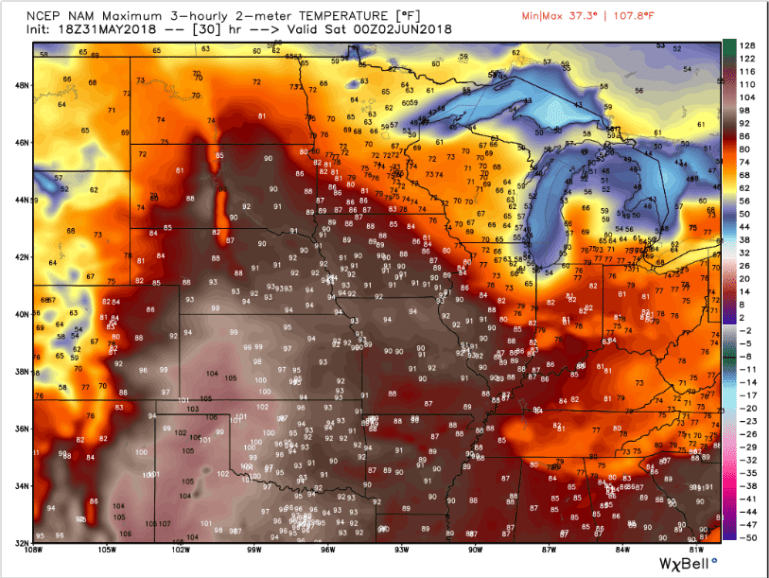 Thunderstorms will be developing later tomorrow PM in the upper Midwest…and then start moving east and southeast. These storms will be the key to the forecast for Saturday. The odds seem decent that at least parts of N MO will get some locally heavy rains from this…maybe even some severe weather early SAT AM (winds main threat). Then the issue is what happens when those storms keep moving ESEwards. Do they clip KC? Do they throw an outflow boundary through the area creating more storms farther south…lots of things in play but Saturday appears to be the iffy weather day. There will be a rather strong cap above us as well…that may hinder the farther south development of storms.
There are a LOT of variables in play for Saturday needless to say.
What does seem certain though is that Sunday should be a nice early "summer" day in KC with lower humidity levels to boot.
Next blog update coming Friday afternoon…oh and an early heads up…I'll be off next week for about 10 days or so. Blogs will be infrequent to rare during that span unless I'm really motivated about something. It'll be my first extended time off in about 8 months…so I'm more than ready to take a break.
Our feature photo comes from Kevin Lewis towards the Warrensburg area. Nice grab of a near double rainbow and a lightning strike!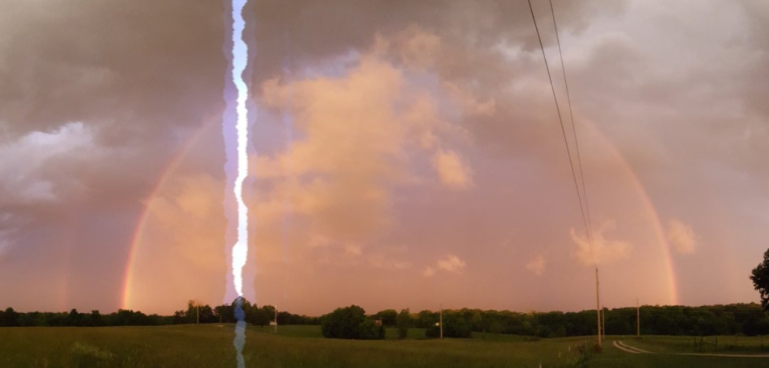 Joe