This is an archived article and the information in the article may be outdated. Please look at the time stamp on the story to see when it was last updated.
I should probably be clear as far as the title goes…it's not as if the weekend will be in the 60s or anything crazy…but it should be more comfortable with highs into the 80s and lower dew points. During this time of the year it's this high dew points that may be dragging you down…dew points about 70° are pretty muggy and above 75° are pretty miserable. We've had a few 80° dew point days too…although its not that terrible today. So when people tell you…"it sure is miserable out there" odds are it's the nasty dew points they're "feeling" the most.
Forecast:
Today: Sunny skies this AM then partly cloudy this afternoon. Highs 95-100°. Combined with dew points in the near 75° range…heat index values will be soaring to 105°+. Some areas may have values 110°+. Much like late yesterday there may be a few isolated storms out there after 3PM or so. Too random to be specific in terms of location however
Tonight: A cold front will be nudging closer to the area and with it comes storms. The front won't come through till tomorrow AM…but hopefully we'll get either rain before the front…or with it…even behind it. Lows drop into the 70s towards daybreak.
Friday: Variable clouds with showers possible…mainly through lunch..then a few out there in the afternoon as well. Highs in the mid-upper 80s. There has been a slight trend upwards in the model forecast temperatures into the weekend.
Discussion:
I don't like necessarily making these types of "predictions" BUT there may be a sliver of good news regarding the heat today. It's possible that today's extreme high temperature may NOT be replicated for the rest of the summer. I think we're going into a periiod of near average heat (perhaps below some times) for the next 10-14 days or so. That wold carry us into the end of August when it gets a bit harder to soar into the upper 90s. I think that chance right now is about 20% or so. Odds don't favor this being the last extreme hot day…but there are some decent signs of persistent disturbances coming towards us in a NW flow aloft scenario that will be bringing batches of cooler air with them. I'm NOT saying we're going to be done with the 90s…but maybe…just maybe the upper 90s (like today) will be tougher to come by.
Our cold front in question in towards the western Plains states. It's sort of tough to trace it this morning because the flow is so "meh" out there but it will become more defined as the afternoon moves along and areas heat into the 90s+ ahead of the front.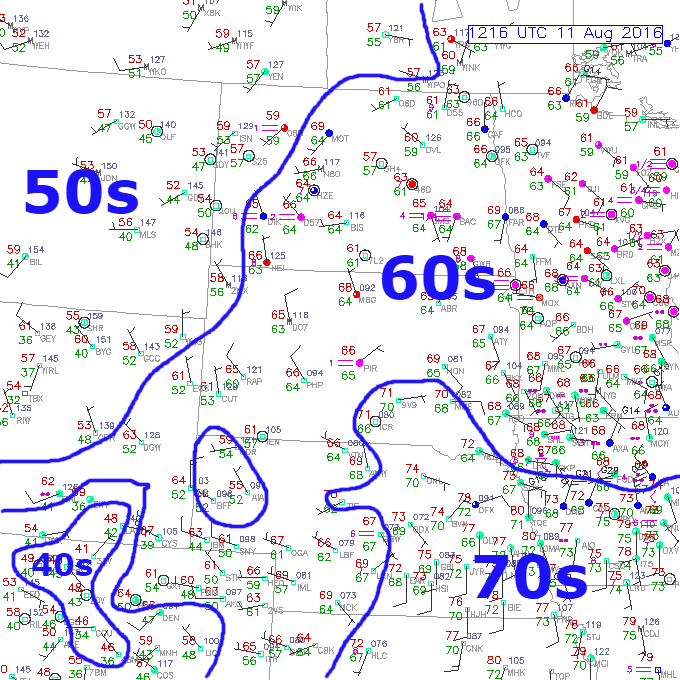 We're firmly in a south wind regime…although there are some outflow winds towards the I-80 corridor in IA. Probably from the storms in MN that rained out the Twins game there last night.
Our dew points this AM (green numbers) are near 70-75°.
Notice the 40s in CO as well…nice!
The front will slowly work through the area tomorrow AM into tomorrow afternoon. Winds will shift towards the NW/N behind the front and the hottest air mass will be pushed farther and farther southwards tomorrow. That will end the hottest temperatures of this recent "spell"
The air behind this front will gradually dry out as well…dew points will come down to more reasonable levels and while it will still be warm this weekend (84-88°) it won't be as hot temperature wise or as oppressive dew point wise.
So we should get a lot of rain with this transition right? Well maybe not :(. I'll stay hopeful but there are yellow flags about the amount of rain for us locally in KC. The biggest to me at least is the front timing. It's coming through in the AM Friday…we're going to lose our greatest instability as the atmosphere "cools off" overnight tonight. That's not helpful.
The front also doesn't have a lot of "support" with it. There is no decent upper level energy to help this storm process along. I do think we'll have more coverage of rain/storms AM Friday…and hopefully we can get a bit of magic behind the front as well AM Friday but I'm not liking this set-up at second glance.
On Friday we'll have NW winds..that will kill any good surface convergence. So aside from perhaps some afternoon stragglers out there…IF we don't get much in the AM Friday…we may be lacking again through most of next week. Another note…the hi-res NAM only gives us a few hundreths of an inch of moisture…the lower res NAM is a bit more bullish…closer to 1/4″ with 1/2-1″+ amounts in far NE KS and NW MO closer to the fronts arrival and into the better instability.
Now to be honest…that is just the model output. These things can easily out perform the model thoughts…and we should be dealing with some convection. On the plus side the atmosphere will be VERY juicy tomorrow so that means IF we can get something going the potential is there for some heavier rains…and that's what I'll be hoping for in the end. Dew points will be slightly lower tomorrow but still elevated as well. We won't start "drying" out the air till Saturday.
So in essence what I'm hopeful is that we over-perform the rain situation tomorrow with juicy air in place and perhaps even some boundaries running around. I don't like the signs of dryness for next week…so we need to "make hay" later tonight and Friday with the rain situation. Let's keep our fingers crossed.
Our feature photo comes in from Ginger Brooks out in Oak Grove,, MO….pretty sunrise. There were some great cloud pictures sent in yesterday on my twitter feed (@fox4wx). So thanks to all who sent in pictures!
Joe