This is an archived article and the information in the article may be outdated. Please look at the time stamp on the story to see when it was last updated.
Good morning…clear and crisp out there right now…and the crisp fall weather will continue for the next couple of days. Really the only issue is 1) how low will temperatures get tonight into tomorrow morning and 2) when will it rain again.
Forecast:
Rest of today: Sunny and cool with highs near 63°
Tonight: Clear early then clouds moving into towards midnight. Temperatures will fall fast this evening then potentially level off afterwards when the clouds develop and move in. Lows tonight will be in the 30s E/SE of KC to near 40° in the metro. If you want to take your potted plants inside tonight, just to be safe from frost, it might not be a terrible idea.
Saturday: Clouds with filtered sunshine and cool with highs only near 60°
Sunday: Sunnier skies and milder with highs near 70°
Discussion:
A chilly start out there this morning. I saw on our neighborhood weather network station in Buckner, MO that temperatures dropped to 31°. There were several spots with lows in the 30s this morning and maybe some patchy frost out there.
Tomorrow morning there may be more frost out there, especially to the north and east of KC. Here are the latest frost advisories in effect for the region.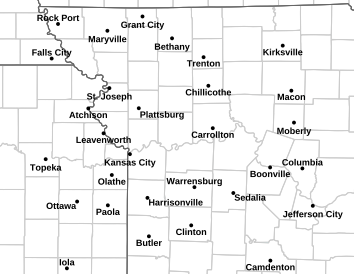 The counties in blue are the frost advisory and the counties in purple are the freeze warnings.
The forecast for KC proper is a bit tougher for tonight because of the likelihood of clouds developing overnight. IF the clouds weren't there overnight, temperatures would tank to near 30°. With that said how thick the clouds get and how fast they form overnight will determine the lows.
I'm thinking at this point that temperatures will fall fast…then level off rather quickly after 2AM or so with the developing clouds. Temperatures sometimes actually bounce around a bit with cloud cover in the area overnight.
It's possible that temperatures tomorrow AM start out in the 40s. It's possible some areas are in the 30s. Whoever has the clear weather longer overnight will droop faster and steadier than those with the clouds.
Here is a look at the RAP model forecast for early tomorrow AM…notice the development of cloud cover…
That green area from KC southwards that the model is picking out this morning for tomorrow morning…is cloud cover.
My feeling is KC will see temperatures closer to 40°
Temperatures Sunday morning will be again near 40°…and again there may be some frost out there on Sunday morning as well IF we have clear skies…the same clouds that develop tonight may sort of hang around into Sunday morning.
Next issue is the rain situation. As I mentioned a couple of days ago, we are dry. .39″ of rainfall since 9/11 and that is more than 4″ below average in that time span. So it's fair to say we need moisture although I'm sure the farmers are pretty happy with the dry harvest conditions in the fields.
The model data today is not exactly great for rain. The Tuesday chance is barely there (there may be some scattered showers) and the Wednesday chances don't look overly great at this point.
One of the issues we're having right now is taking the storm of the western US and getting it to move into the Plains. Model data has been suggesting that the storm may move more into the SW part of the country and then get cut-off and wander around a bit before lifting well towards the NW of KC towards the end of next week.
It's important to note that we're NOT talking about the circulation in central CA now. This will eventually fall apart into pieces and shift through the Rockies over the weekend. By the way, that system was responsible for all the mud/flooding across parts of northern LA county yesterday to the north of Los Angeles, CA. For the 2nd day in a row, Death Valley, CA is under a Flash Flood Warning…very odd for October.
This is what it looked like yesterday…there.
#CAwx – #Hail, #FlashFloods & major #Mudslides in California.

More: http://t.co/jCiSFBPCa2 Video: Jenessa Beatriux pic.twitter.com/uAX0A7GRdl

— WeatherNation (@WeatherNation) October 16, 2015
I-5 was/is closed even as of this writing…they're trying to get it open this afternoon. This morning the balloon report from Las Vegas showed extreme moisture content in the atmosphere so flooding rainfall is certainly possible there
All that rain out there…and it's going to be tough for us to get rain here next week. After those fleeting chances…I'm not sure when we'll get another opportunity for rain. Hopefully something during the last week of October.
Have a great weekend and enjoy all the wonderful things to do around KC between the Royals, NASCAR, Fall festivals etc!
Joe