This is an archived article and the information in the article may be outdated. Please look at the time stamp on the story to see when it was last updated.
I took the weekend off but, as usual, I was always checking in with some of the extended model forecasts for 8-15 days into the future…not so much because of the temperatures but more because of the moisture situation. I'm hearing more and more from you about the dryness that is becoming more and more of a story around these parts and unfortunately what I'm looking at right now at least, is not very encouraging heading through Christmas week. There will be a lot of temperature swings…but right now I'd say the odds are better that we have near record warmth, than accumulating snows of consequence locally in the area.
---
---
Forecast:
Today: Variable clouds and mild for mid December with highs into the 50s. Increasing winds will be noted too, with gusts to around 30-40 MPH possible as a cold front moves into the region as the day moves along. There may be a few sprinkles as well, especially north of the Metro today too. Temperatures may drop a few degrees this afternoon with the gustier winds.
Tonight: Clearing out and colder with lows closer to 20°-25°
Tuesday: Sun/clouds and chillier with highs near 40°
Wednesday: Sunny and milder again with highs well into the 50s
---
---
Discussion:
Well it was fun to watch some of the "snowbowl" football game in Buffalo yesterday. It was snowing like crazy in Orchard Park, NY thanks to lake effect snow bands that set up. Whats interesting is IF the stadium would've been about 15 miles farther north, most of the snow that fell would've been very light…and only amounting to 1-2″ or so. At the stadium at least though…different story as Orchard Park had over 14″ of snow yesterday…
Update. 😎#INDvsBUF #GoBills pic.twitter.com/YP47HENrj6

— Buffalo Bills (@BuffaloBills) December 10, 2017
Other areas in the NE part of the country got good snows as well over the weekend. It was a system that outperformed forecasts in many cases…so it can snow…heck even the SE part of the country on Friday had a near historic snowstorm. Recovery is still underway north of Atlanta, GA after more than a foot of snow fell in some areas…knocking down lots of tree limbs.
Updated storm total accumulation map via @burgwx shows areas where banding contributed to higher amounts. Lower snowfall near the coast attributed to warmer onset and lower snow ratios! #njwx #nywx #ctwx #riwx pic.twitter.com/SAR9ub2is2

— New York Metro Weather (@nymetrowx) December 11, 2017
So let's see where we stand as a nation overall with regards to snow this fall/winter so far…
Not that we have to remind anyone around here, but we haven't gotten much snow in eastern KS or MO yet this year. And currently, it looks snow free through Christmas. pic.twitter.com/4mcOxtWajT

— NWS Kansas City (@NWSKansasCity) December 10, 2017
It certainly has been an interesting start to the snow season though…
Would you believe that Houston has had more snow than Milwaukee? Many southern cities are outpacing northern and western cities in the snowfall department! More here: https://t.co/bk25aEL0sv pic.twitter.com/CG8JUqKjPG

— WeatherNation (@WeatherNation) December 11, 2017
So it can snow…it just doesn't want to snow (of significance) around our region…and while many hate the snow (I get it)…we have to remember that in years when we don't get 45-55″ of rain…snow is important as a moisture source during the winter months.
Actually we're slowly getting to the point where any moisture would be welcome…perhaps something more than a few brief rain/snow showers…which has been our characteristic since the 3rd week of October…and when we are into the 3rd week of December odds are it will be 2 full months without any meaningful moisture…and that is not the greatest of things in our region, even during a somewhat dry time of the year.
I've extended this out through the 15th of December…but you can see that from the 23rd of October through the 15th of December…this will be the driest time we've ever had in KC weather records going back to the 1880s.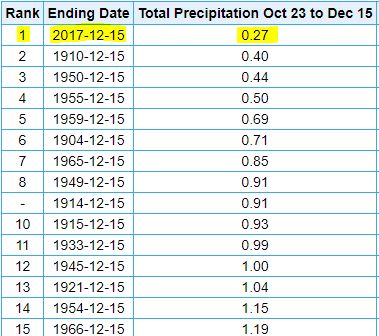 So, for fun…here is a look at the snow totals in those other dry winter seasons…
1910-11: 14.1″
1950-51: 8″
1955-56: 25.6″
1959-60: 58.5″ ***
1904-05: 31″
1965-66: 9.7″
1949-50: 26.8″
1914-15: 37.3″
So really ALL over the place including one year that was our 2nd snowiest on record…
I won't gt worried about this snow "drought" that we're in this year for another 3-4 weeks or so…but as I've written about in the past…our average 1st 1″ of snow is being pushed back (compared to historical averages) by about 8 days since 2000…now coming towards the 21st of December…and this year may not be much different…and perhaps could even be later.
The lack of ANY moisture though is something that is problematic out there. Today's model data really isn't encouraging…let's start with the GFS ovenight operation run. Again I don't like posting these accumulated maps at 16 day time frames…but as I've mentioned when there are extremes (wet or dry) I do pay a bit more attention to the information cranked out.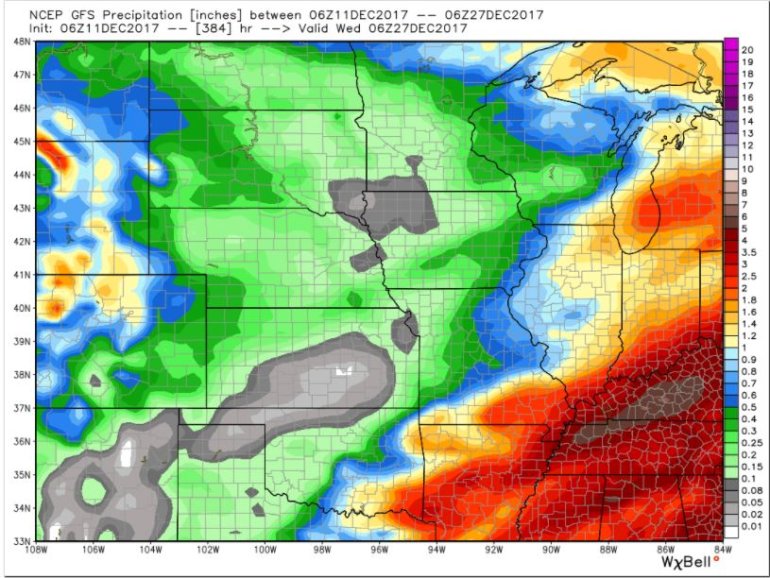 The GFS ensembles…are still very dry west of here…BUT they are showing "something" towards Christmas…potentially a snow maker…with 1/2″ of liquid equivalent. We'll see…
The EURO ensemble through Christmas…isn't as bullish BUT does have the "bulk" of about 1/5″ of liquid equivalent coming towards Christmas. Notice as well the dry areas out west…that is no good at all for soil charging. I know we have farmers and agricultural interests who read the blog from that region…and the news is still not very good west of Topeka especially.
The news is even worse there…and here when looking at another version of the EURO longer range model…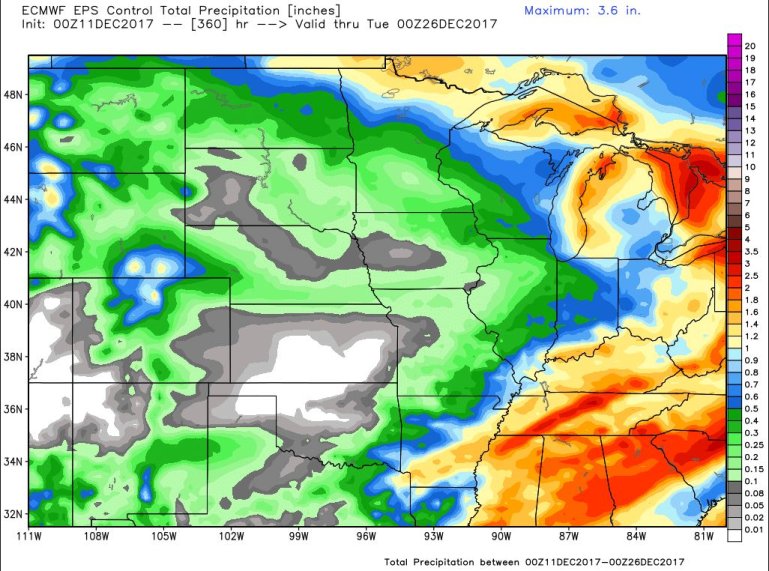 So there is quite a bit of model agreement with regards to the LACK of precipitation over the next 10-15 days or so.
There is good agreement in the 10 day forecast at least…here is the EURO model. There IS a disturbance to watch, finally, in the NW USA…but unless it tracks perfectly…I'm not too thrilled by it at this point.
What it may do though in about 12-13 days…is usher in some pretty chilly air…will that air mass be similar to what we've had so far..possible especially IF there isn't much snow on the ground in the Plains and upper Midwest to keep that sir refrigerated.
What simply could happen is whatever wave comes through brings better moisture towards the south and east of here…and once again we're left in a generally dry N/NW to WNW flow of air in the region. That wouldn't be helpful heading through the end of December.
Depending on how this plays out though…we could have some very mild days heading into the Plains…especially considering the dryness factor and the dormant vegetation out there.
Our feature photo today comes from Mary Jo Seever‎ out in Cummings, MO
Joe