This is an archived article and the information in the article may be outdated. Please look at the time stamp on the story to see when it was last updated.
This is going to be one of those typical spring fever days…we just need to get rid of the morning clouds and we will see much warmer air this afternoon as the winds stir up the atmosphere…temperatures will soar well into the 60s…what leftover snow was out there will be totally depleted, except for the piles by this afternoon…get out…do something…have fun…wash the car…whatever. It's the day you've been waiting for for a long time. As a matter of fact there is some potential for this to be the warmest day since the middle of November…
The title of the blog refers to a sea of cold…and we've certainly been paddling in that sea for a long time…and today is like coming to a desert island…knowing that you have to get right back at it after a little rest. Unfortunately the trend I see is for more cold air to be a factor in the longer term of weather around here, not only as we finish off the month, but also as we start a new month in about 10 days or so.
The model data is very bullish with delivering repeated shots of cold weather with brief interludes of some moderation. Keep in mind that as we finish off the month, our average highs really start to pop into the upper 40s and lower 50s by early March. It won't be hard to get temperatures to be well below normal again as the averages creep higher and higher.
So you can see where I think we're going in the longer term. Here is a look at the forecast issued from NOAA for late FEB and early March. This map shows the probability of temperatures in relation to average.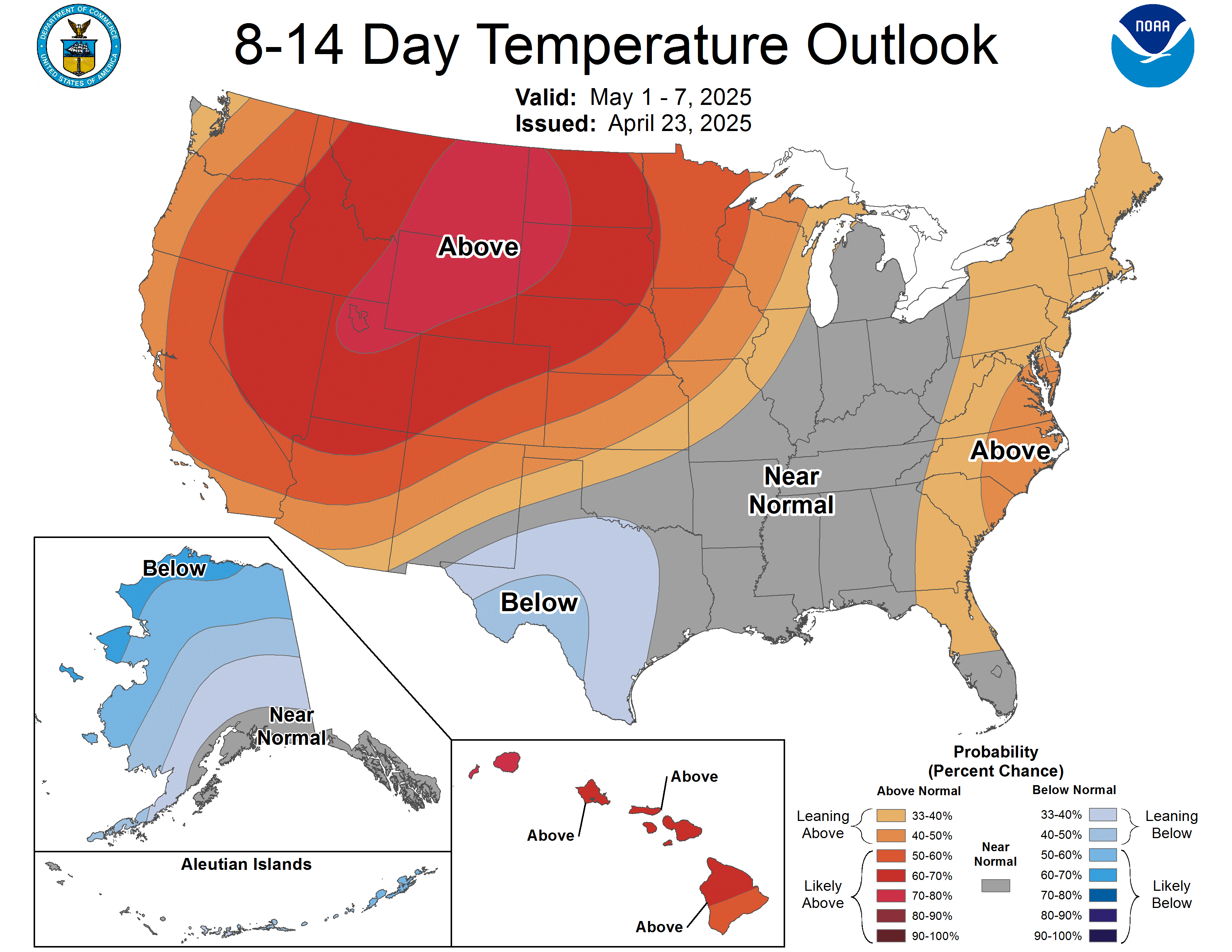 Pretty strong chances…one thing that may work in our favor would be the modification the air will get thanks to a lack of snow cover and also in the increasing March sun angle down the road.
It should be noted that the models have little systems zipping through the region that could create some sticking snow…but at this point there is nothing to really hang my hat on right now in terms of timing or strength.
This coming Thursday will be one of those typical later winter days where we may start mild, and then see falling temperatures as a storm passes by the region. This will allow some colder air, but not unseasonably cold, to move through the region during the day. Rain is likely later WED night…maybe even some rumbles of thunder somewhere…and then rain is likely for awhile THU AM. As the colder air moves in, it's not out of the question that somebody will transition over to snow…especially from KC northwestwards into NW MO and NE KS. The better chances will be the farther north you get away from KC…but something to keep an eye on.
Here is the surface map forecast off the latest NAM model…for Thursday @ 6AM…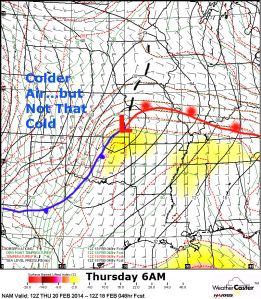 and in terms of the rainfall situation…this may turn into a decent producer for us…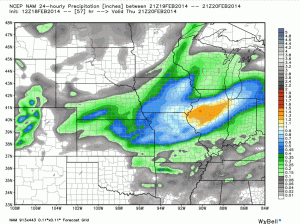 The map above shows the rain totals from about 3PM tomorrow through 3PM Thursday…indicating about 1/2″ or so of needed moisture for the region. By the way…despite the snows we've had and do to their fluffiness (and dryness)…we're still waiting to get 1/2″ of moisture in one calendar day…this goes back to early November on the 5th (.80″).
This storm will bring rain for a change to the Chicago area…maybe some flooding considering all the snow they've had this winter there…they've had 67.9″ so far this winter, most of that since 12/1. They had another 5″ yesterday at O'Hare…including some reports of thundersnows.
Their total this year is more than the last 2 years combined and has brought them into the top 5 for all time snow totals!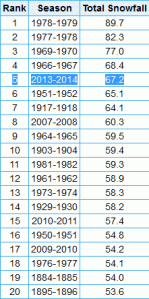 Meanwhile…in NYC…they too are getting up there as well. I touched on this a bit over the weekend…here are the numbers for snowfall in relation to their winter history.
That's about it for today…enjoy the great weather to come.
Joe