This is an archived article and the information in the article may be outdated. Please look at the time stamp on the story to see when it was last updated.
Well it will be all about the clouds through the early afternoon…we don't care much beyond 1:30 or so…although towards later Monday night we may be contending with more heavy rains in the region again lingering into early Tuesday morning. Tomorrow will be interesting on so many levels…let's just hope we get a minimum of the clouds through the eclispe.
---
Forecast:
Tonight: Clearing skies…maybe some evening storms and mild with lows near 70°
Monday: Variable clouds…mostly higher cirrus clouds that occasionally will be thick enough to block the sunshine. Will this happen during the eclipse is the question and there will be some areas that will be blocked within the viewing area…but in terms of the precise locations…that remains unknown. The clouds will be moving along at 40-70 MPH or so…there should be thin spots though at times. Hopefully things work out. Highs near 90° with a heat index near 100°
Monday night: Storm chances appear likely with the threat of locally heavy rains again later in the night. Lows in the 60s
Tuesday: Clearing skies with more pleasant conditions and highs in the lower 80s.
---
Discussion:
Well the water vapor images are showing what I've been blogging about for awhile now…and that is the feed of sub-tropical moisture coming up from Mexico…
The latest visible picture though shows the moisture in the form of cirrus clouds that will be an issue here on Monday during the eclipse.
As that upper level moisture streams in…it will think out somewhat so that is a good thing…also there will be breaks showing up as well I think in that moisture…so that too is a good thing.
Basically we'll be hoping for the best. I see no reason not to be optimistic about things at this point. I see no reason to move from any planned location at this point, although I'm a bit concerned about the clouds towards Nebraska and their thickness and whether folks heading there may make some last minute adjustments to come closer to the NW MO area.
For additional details on the Eclipse go to fox4kc.com/eclipse
For MODOT road reports this site might be useful…
I'm writing this blog while off for a couple of days…I don't want to spend a lot of time with tomorrow night…that will come tomorrow after the eclipse…but there is an increasing threat of heavy rains in the area including perhaps some severe weather towards N MO tomorrow evening.
The latest from SPC…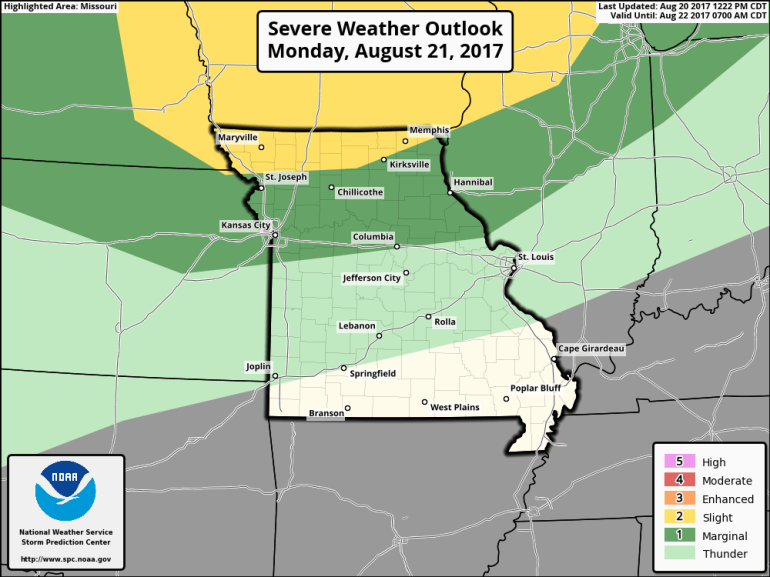 This will be because of a decently strong cold front for late August coming into the area. This front will really lower the highs and lows for TUE>THU AM…lows down into the mid 50s are very possible.
With a strong front and good moisture at the surface and above in place…heavy rains from the storms look highly likely and with the storms moving west to east…there may be some training and that's why a FLASH FLOOD WATCH is in effect for later Monday into Tuesday morning. The counties highlighted in darker green represents the WATCH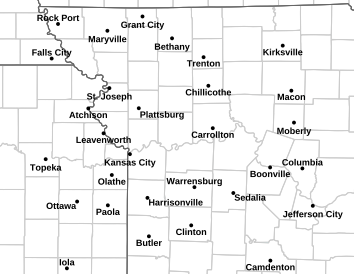 The NAM model shows some 1-3″ rain potential in the area as well. Don't focus on specific locations with the map below…it shows me the potential of the night. This is through Tuesday afternoon.
So let's keep an eye out for that as well…and pay attention to that potential with everything else going on.
OK back to some relaxation!
Our feature photo comes from Joey Marino…nice shot today of the WW1 Memorial