This is an archived article and the information in the article may be outdated. Please look at the time stamp on the story to see when it was last updated.
The well predicted snow event, going back to last week, pretty much played out as expected…snow amounts around KC were roughly in the 1″ to about 2.5″ range on average. There were a few locally higher totals…but I haven't seen anything more than 3.5″ or so. St Joseph had 3.4″. Smithville had 3.3″. Everybody else was roughly 2+" or less…
Blog readers know that this has been talked about for a bit of time…so imagine my surprise when this occurred this morning during the 9AM show…
Meteorologist vs. reporter on the first snow of 2017❄️@JohnPepitone @fox4wx pic.twitter.com/vOagfo1xho

— FOX4 News (@fox4kc) January 5, 2017
My friend Jeff Penner over at Channel 41 has a great saying about all this…"when we're wrong…we're wrong…and when we're right…we're wrong".
We chuckled in the studio as you can see…
And so it goes…
Forecast:
Tonight: This is a temperature bust in the making. It's because of the clouds. I've mentioned the potential of sub-zero cold for a few days…and this is very much on the table. The issue is the clouds though. The more clouds we have…the less the chance the temperatures will drop off. The fewer the clouds the higher risk of a tanking temperature set-up. So the potential of 10 below temperatures are on the table. With the clouds…it may only go down to about 5° above. Then the issue is some may have clouds while others see clearer skies…now the specter of a 15° spread in overnight lows occurs. Finally there is the issue of clouds and clear slots…where temperatures vacillate.  They tank…then they go back up with clouds moving through the skies. Long explanation…but I'll go with a low of -4° @ KCI.
Friday: Mostly sunny and cold with highs around 15°
Saturday: Mostly sunny and not as cold with highs 25-30°
Sunday: Variable clouds with highs near 30°
Discussion:
Well I sort of got into the forecast conundrum in the section above…again the cloud cover situation is the tricky aspect of tonight's low potential. My suggestion is IF you have pipes that tend to freeze up…you may want to either/both open those cabinets to allow some air circulation…and/or thinly stream some water from the faucets before you go to bed.
Also don't remember to bring the pets in tonight if you can…they can get frostbite too.
The ingredients for a cold bitter night are typically 3 things…
Fresh snowcover
Clear skies
Light winds
Lower dew points
We have 3 of those 4 things…
Snow cover is laid as you well know…winds will be light…and the dew points shoud be under 0°. The clouds though are the big question mark.
Our model data right now isn't all that helpful…at least the immediate short term data…because the models MAY be over aggressive in rapidly clearing the skies out this evening…for example the HRRR model has this forecast for KCI…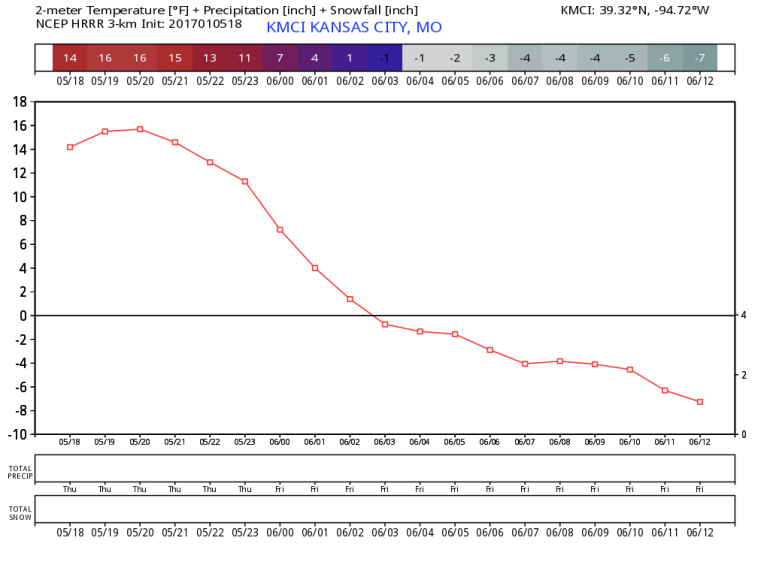 What I suggested to MT was to keep my idea…but at 10PM or so…if it's more evident one way or the other regarding the cloud situation…would I be shocked if some drop under 10 BELOW tonight…nope…not at all…could someone tank to -15°…yup…I think that chance though may be higher towards the IA border.
It will be interesting to see the final lows tomorrow AM.
Meanwhile there really isn't much else happening weather wise around these parts…temperatures will gradually moderate into next week. That moderation may get stopped though by a cold front due in sometime on Tuesday of next week.
If you remember I've mentioned a bit about the cold air source hanging around in SW Canada…well it's going to be somewhat of a thorn in our side…because a cold front can try to tap some of that nasty cold air up there…and until that source is dispersed…it will be an issue for us.
Tuesday has potential for warmth…BUT the timing of a cold front coming in could take an almost 50° day and send things down to the 30s in a heartbeat.
What I think is going to be the evolution of things is that the forecast will be rather changeable in terms of the longranger for the next 5-10 days with ups and downs…and I'm concerned about the potential of lower clouds getting trapped when the cold air comes into the area.
I think in the big picture though…towards of after next weekend…the trends are milder towards the 3rd week of JAN (after the 17th or so?). Interestingly this connects to what many call the January thaw.
I don't see any real snow-makers for us of significance for awhile.
Some other tidbits…
Before you send us your snow report, make sure you are properly measuring snow. https://t.co/p0EOS74Xus pic.twitter.com/on2wp2f6n2

— National Weather Service (@NWS) January 5, 2017
California is getting some interesting weather…
Extended wet pattern & flooding through next week. Take action now! Make an emergency plan. Visit https://t.co/kZEkxOdeMC#cawx pic.twitter.com/6NWw9jSh6Y

— NWS Sacramento (@NWSSacramento) January 5, 2017
Check out the precipitation forecast for the next 10 days off the EURO model…
The snow levels will be higher than usual…BUT check out this snow forecast.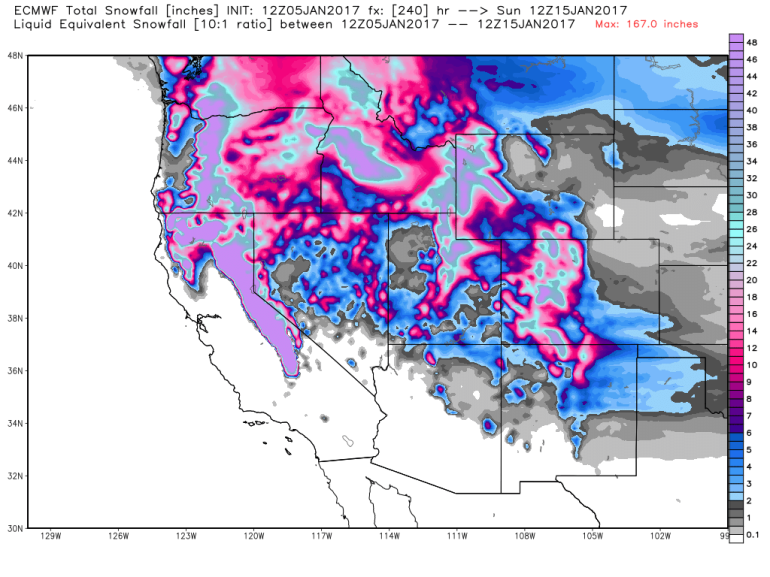 Storm totals from the Sierra this week! Wow.
Flooding is still expected this weekend so keep an eye on the forecast. pic.twitter.com/jWAyuWW49Q

— NWS Reno (@NWSReno) January 5, 2017
I'll probably blow about that more tomorrow or Saturday.
Our feature photo today is from Edward Ashley on the north side of KC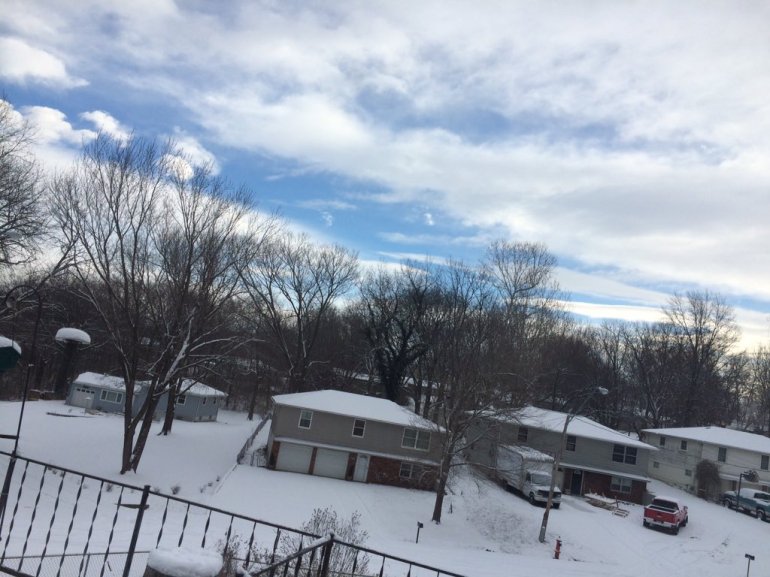 Joe