This is an archived article and the information in the article may be outdated. Please look at the time stamp on the story to see when it was last updated.
First of all thank you to all of you who have decided to "like" me on FB. For those who haven't yet…jump aboard please! Here is the link to do that…
With that said, another good day in the area temperature wise as readings are near 50°, as of the noon hour, and while we won't be quite as warm as yesterday…it should be pretty mild overall before the afternoon is done.
Forecast:
Tonight: Variable clouds and cool but still reasonable for KC. Lows in the 30s
Sunday: Not quite as warm with a mix of clouds and sunshine. Highs closer to 50°. There is an outside chance of a sprinkle or two in the region.
Monday: In and out AM clouds, although turning grayer and grayer in the afternoon with some rain showers possible with highs well into the 40s.
Discussion:
We're enjoying, from a temperature standpoint a nice mild finish to the month of January. After a very warm December, with temperatures running more than 8° above average this month saw a return to average…and in actuality may finish exactly average or at least pretty darn close. As of yesterday we were 2/10's of a degree below average…and with the mild day today…let's see what happens.
Interesting to see the changes though from month to month nationwide…
Really the coldest spots were the Appalachians into the TN Valley…and also into the inter-mountain west in January…
As far as February goes…my feeling is that at least the 1st 10 day or so will be on the colder side of things compared to average.
Meanwhile you and the kids are wondering about the snow situation on Tuesday. Yesterday while at the Royals FanFest I had more than a few teachers including a principal + kids come up to me and ask me about the snow situation and the potential of a snow day this coming week. Of course most of the parents want no part of it…and IF your job is driving all over town, you probably want no part of it either…trust me I get it.
The data today, and again this is for a storm that has NOT yet even formed and whose pieces aren't even into the western US coast yet…isn't all that encouraging for the KCmetro area to pick up significant snow (over 2″ or so) with this potential system. Again this is just the model data…I'm not going to throw in the towel quite yet…but the trends certainly aren't that good looking just going by the model data.
So what are we looking at right now…take a look the latest water vapor images…this product helps us note the higher moisture in the atmosphere…and if you look towards the backside of the clouds between HI and CA…that is one disturbance..then the other is the clump of moisture southwest of the storm in British Columbia. These images are via Rutgers University
So those are are the pieces we're dealing with…and those are going to combine and form into a more trackable feature once they move towards CA. Yo can see that by going up to about 18,000′ or so…and look for the developing "U" shape in the western part of the country…then notice how it comes together and moves into the Plains states.
Then as it moves through the Plains…it moves towards the NW of KC…this is way up in altitude.
As we move lower in the atmosphere…towards about 5000′ or so…we see the storm…on the GFS…NW of KC…which IF right…will not make a snow lover happy AT ALL. With that said the NAM model is farther SE of the GFS…but snow lovers in most of the KC metro NEED it to be even farther SE of where the NAM is showing…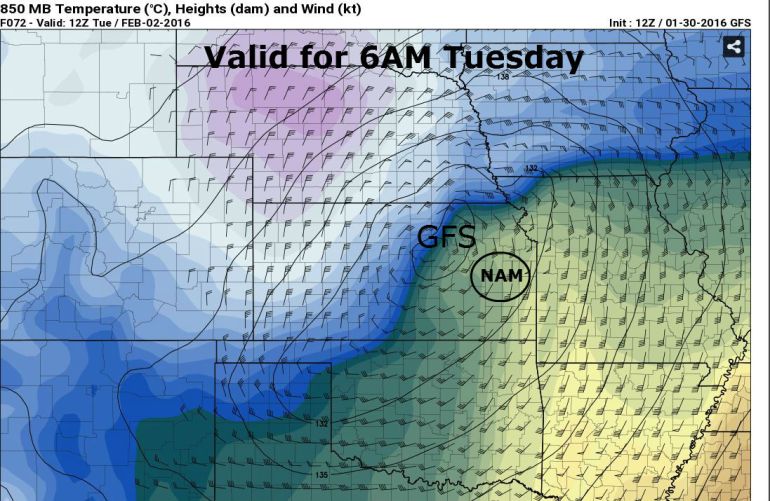 The latest EURO is more in line with the GFS model again another concern for snow lovers in KC.
What bothered me the most from last night and today's runs is that even the ensembles, which were more inclined to crank out some significant snows in the KC area…are not nearly as inclined…that starts to lead to increased confidence that the snow aspect of this for KC proper is going to be harder to come by, in terms of meaningful snows.
So when get to the average of all this…this is what the ensemble guidance suggests…in terms of confidence of snow accumulations..click through the slide show for amounts of 1″/3″/6″/12″
So at least the GFS model suggests areas from NW MO to cntral NE and along the I-80 corridor has the best potential for a serious snowstorm.
The Canadian model is VERY bullish for areas from St Joe northwards…again this is just guidance and not a human forecast.
License regulations prevent me from showing the EURO model, which I tend to trust the most…but it shows a hit for the NW tip of MO through north central NE and into NE and IA.
The reality is that most model data show very little snow for the KC area…even the wrap around snow, which I would think could create a dusting to 3″…is somewhat paltry on an accelerating storm that brings the better chances north of KC.
So those are the models…and the consensus is not great.
One thing that I try to keep in mind is the history of these types of storms…and thankfully my alma mater helps me out with this. What they process is how the model looks at a particular point…then it looks at what happened in previous cases when the model forecast resembles what actually happened. It can be helpful. So here are the top 15 cases of when the model forecast for this coming TUE AM…actually happened in the past.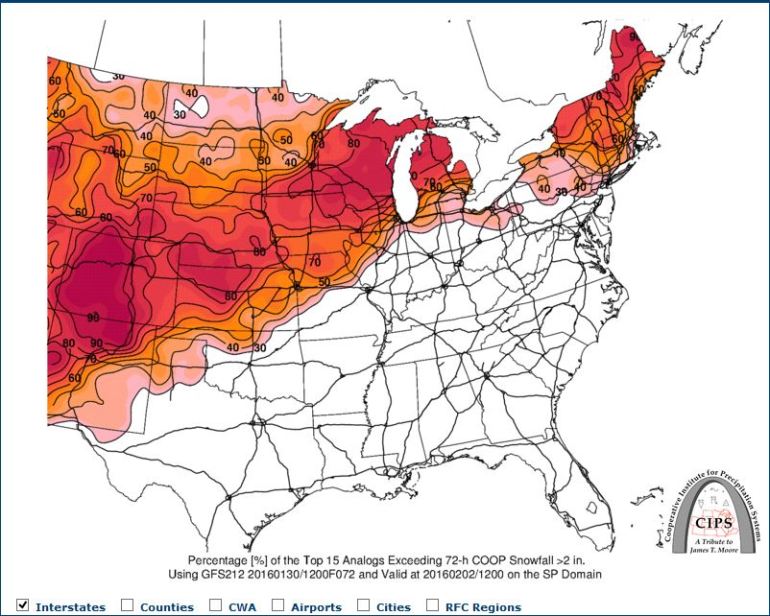 So it's not giving up the ghost on snow accums from the metro northwards in terms of % chances
Here are the chances of 6″ or more…again based on past history.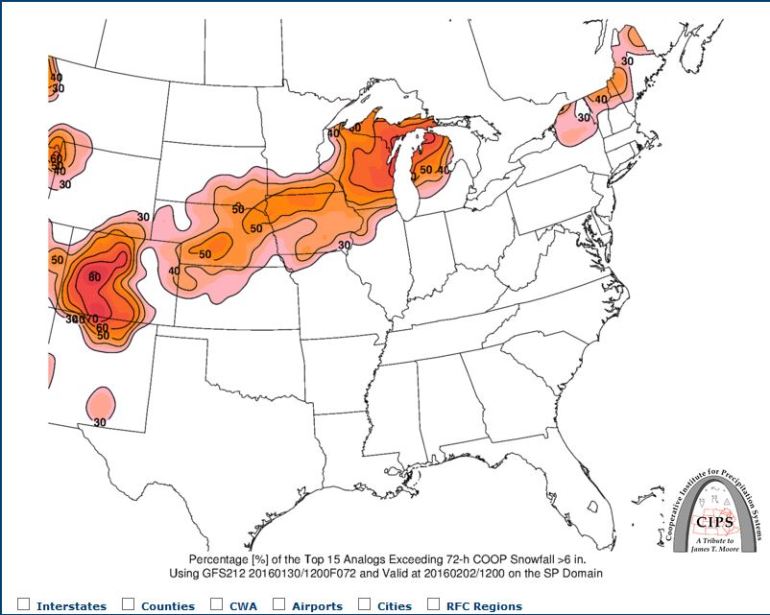 This is all based though on a computer model…
So suppose that the model is wrong…suppose that instead of placing the features where they are…tomorrow's run, when the system is actually coming together better closer to shore on inland tomorrow night) adjusts itself farther south..and places KC more in play…then we're talking something totally different.
With that said though…while I still think this is certainly POSSIBLE…I also need to be a realist and not see the world through snow goggles…here are the updated snow probabilities…
Saturday Update: (changes from yesterday)
Under 3″ snow: 75% chance
Over 3″ snow: 25% chance
To play a little more…over 6″ of snow…15% chance

To play even further into the "absurd for KC range"…over 12" of snow…5% chance
The bottom line for kids who want a school day…if you have a big test on Wednesday or a big project do…I suggest you do it and not count on Mother Nature.
Things can change, as I want to stress before I wrap this up…but my thought process about a southern adjustment to the storm track is VERY much on thin ice…I'm not throwing in the towel yet though. For those of you north of 36 highway into N MO…you folks are VERY much in the game for a more significant snow. With that said, any farther north of a track and you folks may not get much out of this either.
Joe