This is an archived article and the information in the article may be outdated. Please look at the time stamp on the story to see when it was last updated.
Good afternoon…low clouds continue to expand across the region but temperatures are now easily above 32° and whatever forms will be in the liquid variety as opposed to anything else for the rest of the afternoon.
Forecast: (Updated @ 10PM)

Tonight: Light showers may turn to light snow showers or mixed with snow/sleet showers towards 9PM or so…then eventually over to all snow after that. The length of falling snow will be short so minor, if any, accumulations are possible. Areas along 36 highway towards N MO may see a bit more snow. Temperatures will be in the 30s before dropping into the 20s by 2AM. While the amount of precip will not be that heavy in the KC area…there could be a 1-2+ hour window of decent sleet. Tough to predict road conditions due to previous and ongoing treatments but suffice it to say as we get colder after 2AM or so…whatever is wet will try and freeze so slick spots are certainly possible overnight tonight. There have been some isolate ones already later this evening.
Tomorrow: We're deeper into the cold airmass again and temperatures may drop for a few hours tomorrow even after the sun  comes up. Skies should clear off rather quickly but again north winds of 15-25 MPH will send wind chills to near or below 0°. PM temperatures should be closer to 20°
Tomorrow night into Tuesday: Cold with lows in the 0-5° range and highs around 20°.
Discussion:
For snow lovers…the news continues to be bleak. All this cold…waves of cold…moving through and always a struggle to get any real snow. We've had minor snows that really don't amount to much and that may happen again tonight (maybe) but in terms of getting something significant…it's just not in the cards again nor do I see much reason for hope for awhile. The GFS model used to be worth a fantasy snowstorm in the 8-16 day part of the run but those days have been few and far between. We actually have a better chance of seeing highs 60°+ at this point than we do have seeing a 3-6″ significant snow in the KC area.
Another blast of cold air is setting up to towards the north of the KC region. As we look towards the north into the N Plains on the 1PM surface map…you can see some of the colder air. In the map below the temperatures are RED
It's not awful cold but it's cold enough and with a strong area of high pressure building southwards and eastwards we'll be in the cold air through WED AM with moderation after that.
The forecast surface map above shows this nicely…as the blue H represents another strong high of 1040 mbs + (not as strong as the high from a week ago
Yesterday I wrote a lot about the thaw that was heading our way and this continues to be on tap. we'll moderate slowly on WED into THU and then jump into the warmer air on Friday into the weekend. We should be in the 50-55° range with some upside on Sunday into Monday of next week and perhaps a small downside on Saturday in terms of trends to the forecast. That still appears to be on track for the region.
As we look at the forecast off the hi-res GFS model for this weekend at around 18,000′ we can see a very pronounced west to east flow of air at that level. In the vast majority of the cases without snow on the ground…this means warmth in the Plains.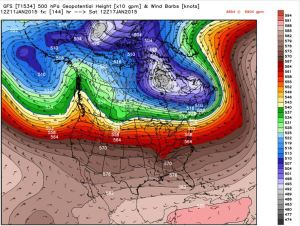 There is a potentially important storm showing up in about 10 days on this model. Fantasy at this point but something to be watched I guess.
That's about it…I think you can sense my frustration as once again we're going to waste a lot of cold air in the Plains with little to show for it. Meanwhile that 32″ prediction looks more and more terrible as each winter week goes by. One is starting to sense that we'd be lucky at this point to get 12″ this season. Many though will be happy about that I assume…for those who rely on snow removal for income…not so much.
Joe