This is an archived article and the information in the article may be outdated. Please look at the time stamp on the story to see when it was last updated.
I hope you're having a great afternoon! Weather-wise it's very pleasant out there for late January  with temperatures 50-55° as of this writing. Friday will be even warmer it appears with temperatures into the 60s! So it's a great opportunity to get your car washed… yesterday I was in line for about 45 minutes waiting to get my car cleaned up. At least it will look good for a few more days with dry weather expected.
Forecast:
Tonight: Clear skies and mild for late January. The average low is 20° and tonight we should be well above that… probably near 32°
Friday: The pick of the litter for weather days in KC this week and for the next 7-10 days perhaps. Highs 60-65° with sunshine. Winds will be gusty from the south at 15-25 MPH
Saturday: There may be a few more clouds and lighter winds. That may knock temperatures down a few degrees but overall good weather is expected.
Discussion:
The satellite picture this afternoon tells a pretty story about what's going on with the weather right now in the Plains…it will look vastly different early next week…so enjoy the warmth and the clear skies now!
As far as the temperatures go…the readings are in RED…this is the 2PM map.
Notice all the 60s to the west and SW of KC… tomorrow with the winds shifting and blowing from that direction towards the KC area… that warmer air will move our way. As usual the model forecasts are not "stirring up" the air enough. I knew this was going to happen last weekend and it's the reason why I still feel we can make a run into the 60s tomorrow. As long as the wind and the sunshine are with us… we should be off to the races.
Saturday there is going to be weak wind shift line moving through the area early in the morning. This may usher in slightly cooler air below 5,000 feet or so during the first part of the day so that the net effect is that the lower part of the atmosphere will be about 5° "less warm" than Friday. There should be a slight pullback in the temperatures on Saturday but it's still a great day!
Sunday is OK as well but just not as warm…probably more towards 50° which is still some 10° above average. So we'll finish off the month with a nice stretch of milder than average temperatures.
Onwards…
A little perspective on the storm that will effect us early next week. It's still out in the central Pacific Ocean. As I mentioned a couple of days ago there are, in a way, a couple of pieces that will be coming together near Las Vegas later Sunday PM. Let's use the GFS forecasts… as we go up to about 18,000 feet or so. Notice what happens over the weekend out towards CA. Look for the "U" shape to form… then "close off" into an upper level storm.
You can then follow that closed circulation into and through the Plains. Notice where it goes…towards the NW of KC. That is not the greatest track for us to get a big snow here. It can still be done…but it's a lot harder. The issue is IS that the right track?
In addition to this GFS model…an "ensemble" approach is looked at as well. This comprises of about 20 different runs of the same model with variations in where it thinks the upper level waves are now…different physics and formulations etc. Basically it's just different variations of roughly the same model with the idea that IF you take all that into account in the end, when you look at the average output, it should exceed the accuracy of just the main model run.
I've been posting these images for you off and on. Granted the images sometimes will not be perfect because of the way snow is calculated on the graphics but it gives you an idea. With that said…while the GFS really doesn't offer much eye candy for snow lovers in KC..the ensembles are a bit more interesting to me anyway from this far out.
OK so you look at the above graphic…and we're not getting much snow…and certainly that is possible (some would say more likely)
Now I want to dig deeper. Ensemble forecasting has proven to be a more accurate way of trying to figure out what may happen in the longer range…take a look at the ensembles…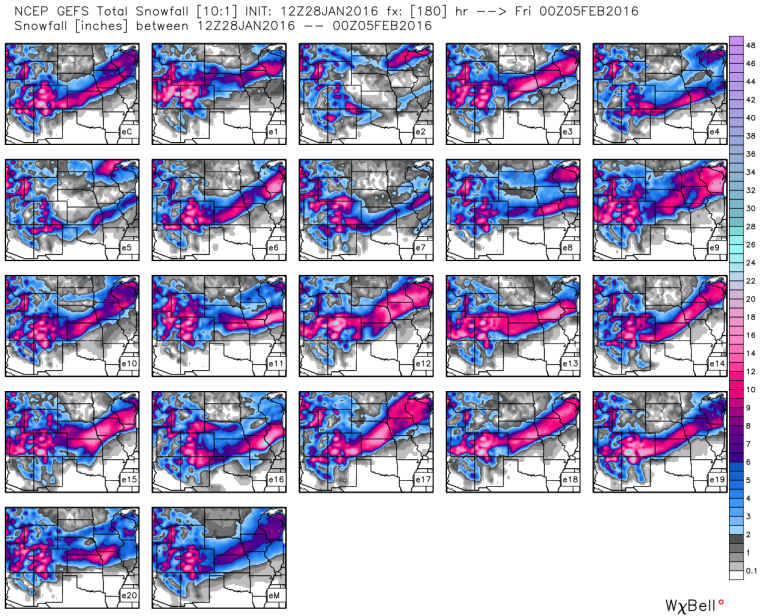 Notice that there are about 8 members of the ensemble with decent+ snow in KC for early next week. What this tells me is that we need to realize that this storm may still shift southwards as we get closer to the event itself.
With that in mind, and despite the latest EURO trending slightly farther north again (last night's run was more prolific with snow in KC) I have to keep the potential for a significant storm in play for next week. I'm just not willing to capitulate to the direct output of the model runs…
Now for this to work out in my favor…I need things to move south…and again we're fighting about a 100-200 mile southwards shift for the snow jackpot to be near the KC corridor. Keeping in mind the storm is still many thousands of miles away and technically really doesn't exist yet…I can't say for sure that it can't happen here.
My concerns are the same as yesterday…there is going to be a nasty dry slot with this thing that could even mess up a slightly more favorable track in the end. For snow lovers…you want no part of dry slots…they shut down the accumulating snow faster than you think.
On the plus side I still feel, assuming the storm doesn't race through the area, that there may be some accumulating back side or wrap around snows to be dealt with. So even IF we miss out on the front side of the storm, maybe we can manage accumulations on the back side. Those typically fall more into the nuisance type snows as opposed to the "close down the city type snows" in this situation.
So in keeping with what I started in yesterday's blog…here you go…
Thursday Update: (no changes from yesterday)

Under 3″ snow: 35% chance
Over 3″ snow: 65% chance
To play a little more…over 6″ of snow…35% chance (for 5 days out…that is a VERY significant chance)
To play even further into the "absurd for KC range"…over 12" of snow…15% chance
I still think this is going to come farther south with time…
Nothing I've seen today makes me want to make any more of a significant change to things…in reality I really won't feel comfortable with a non-south shift until Sunday perhaps. I just have too many memories of our bigger snows coming when initially we thought the storm was going to pass to far north to not be a significant player for KC…then about 2 days before the event it's OMG look what has changed.
The reality is that until this thing is sampled better, which won't be till the weekend…my confidence in what any particular model creates or doesn't create is staying low.  Things are going to have to change significantly between now and Sunday for me to alter my feelings of the last few days.
The bottom line is that I'm sticking to my guns as denoted above. There is still potential for a significant winter storm in our viewing area…
Just keep it on your radar…follow the blog through the weekend and early next week and while you do that…enjoy our nice mild weather! There is no need to run to the store and buy 5 gallons of milk and 50 loaves of bread.
Joe