This is an archived article and the information in the article may be outdated. Please look at the time stamp on the story to see when it was last updated.
If you're looking for information about spring time weather…I'll say it now…STOP reading. There is nothing to see here regarding that…not as we finish February…not as we start March…hopefully towards later March…this is going to be a long haul with accumulating snows…an increasing likelihood of sub-zero lows and all around nasty winter weather.
There will be multiple opportunities for the white stuff…and one is coming later this afternoon and tonight as colder air is pressing south. I'm looking out my window at 8AM this morning and am finally seeing sunshine..but sadly it will be fleeting as the colder air moves in today.
Opportunity #1: Mostly tonight…there is a weak wave in the mid levels of the atmosphere moving through. IF you've been looking at radar lately you've seen snow falling mostly to the west of the area…up across NE and the western Plains…even parts of N KS…that as it moved eastwards encountered dryer air beneath the snow clouds. Over the past weekend I referred to the drier air as chewing away at the snow like the game Pac Man…tonight however that drier air won't do quite as good of a job and at least some light snow is going to be possible in the region. Accumulations will be under 1/2″ for most but there will be the potential of some slick spots developing. I'll let the HRRR model help us out for tonight's forecast…it goes out to about 15 hours and will be updated several times today. You can see the time stamps on the top…keep an eye out for developing snow out to the west sliding towards and south of the KC area tonight. This is not a slam-dunk however…the situation is really rather weak overall.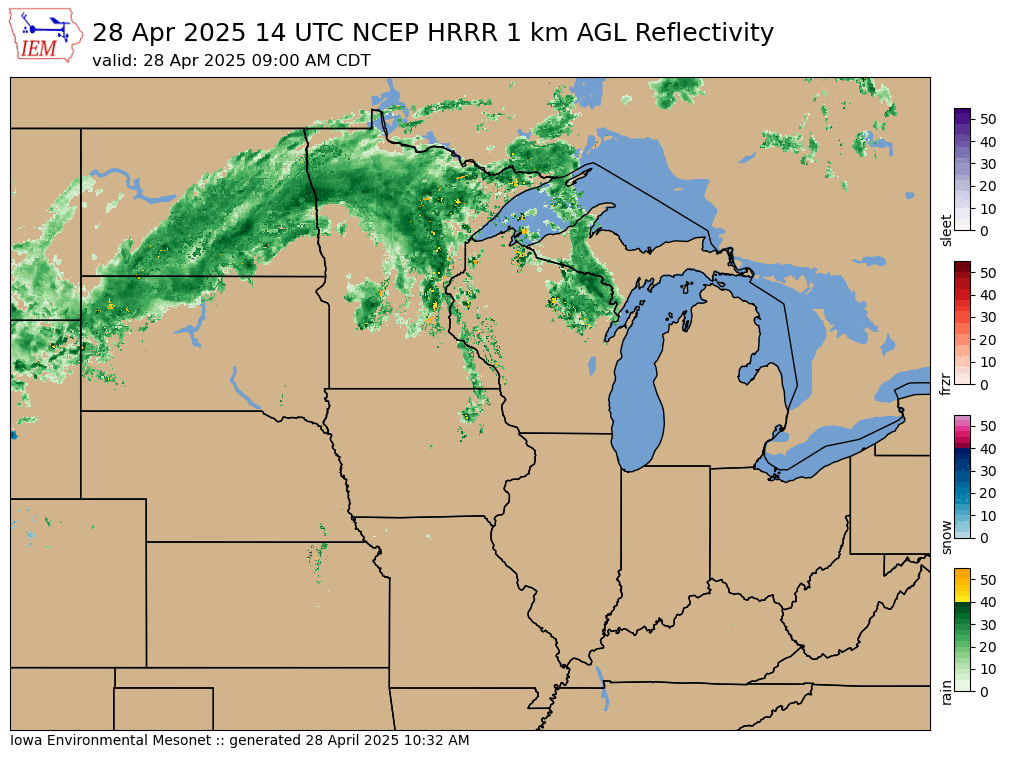 As this is occurring…as mentioned cold air is oozing southwards…look at the 8AM temperatures…they are in RED on the following map.
LOTS of single digits temps across the I-80 corridor to the north of here…that air is here tomorrow AM…lows for us, assuming we see clearing skies before daybreak should be near 5°. It's tough for us to go sub-zero during this time of the weather with no snow, or very little snow on the ground.
Snow opportunity #2: I alluded to this yesterday and the EURO model has been banging away on this for the last few days. This will come on Friday and will be more significant. While NOT a huge snowstorm…it's possible we'll need to shovel and it will create headaches on the roads I think. This is associated with a disturbance that will break off and zip eastwards through the Rockies into the Plains states during the day on Friday.
While it's impressive looking on the water vapor loop…this is NOT the storm that I've been talking about for the past few days. This one is MUCH closer to the west coast. So that there is no confusion…the whole storm that you see spinning around WILL NOT move this way…just a small piece of it…but that should be enough
As it moves towards us…south winds just above the surface will increase rather quickly later THU into FRI AM. The cold air will still be here…and now we'll have moisture running over the colder air. We call it overrunning…and it's problematic for us because the snow, while never that hard (perhaps) is more drawn out in time. there is some potential for 1-4″ of snow in the region with this opportunity. I'll let the NAM model portray what the storm looks like on Friday…you'll see it gliding south of the KC area on Friday. Confidence in how this will play out is still a bit on the low side.
For time reference…00Z is 6PM…06Z is 12AM…12Z is 6AM and 18Z is Noon (times are CST)
Opportunity #3: This is the storm that we've keyed on for the last few days…it's still there but there are obvious questions about how it's going to hold together and how much snow we'll get and for that matter will the chances of accumulating snow linger into Monday as well. It's too early to break that down at this point…but odds are favoring a "shovelable" snow once again. This will be dealt with more in the coming days. My thinking now is that this may not be bigger than the last storm a few weeks ago that left all the snow on the ground…that was a 8-12″ storm. The way though that it could be bigger is IF the storm is more of a storm (if you will) in mid-upper levels of the atmosphere and that potential is certainly on the table for something that's more than 5 days away. Some of the model data is trying to suggest that there could be some mixed precipitation with this…my feeling is for the KC area (at this point) would be all snow. IF the storm is more "functional" for lack of a better phrase…I could see us having some precip-type issues, especially the farther south you got…but by the same token a more "functional" storm would probably end up upping the snow total potential as it moved through on the backside of the storm. Confidence is the highest on this opportunity as opposed to the others.
Potential for sub-zero cold weather: This may come NEXT Tuesday AM. Assuming we have a decent snowpack from the situation on Sunday and Monday..with a very cold airmass on top of the region…light winds and clear skies…we'll be primed to tank. There have only been 9 days in March that have been 0° or below…so it's somewhat tough to do.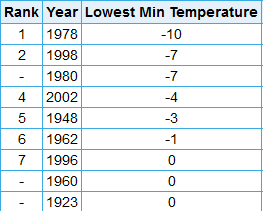 Our all time low is -10° set back in the late 1970s. Amazing how those late 70s winters keep coming up in the weather blog…isn't it?
Temperature trends: At least through the 1st 5-7 days of March…every day will be below average. Meteorological winter ends on the last day of FEB and this will go down as one of the colder ones…almost definitely in the TOP 10.
As I mentioned yesterday…don't put away the shovel…and expect to see high heating coasts for another 2-3 weeks (at least).
At least we can marvel at how this stuff actually forms though.
[vimeo 87342468 w=500 h=281]
Joe