This is an archived article and the information in the article may be outdated. Please look at the time stamp on the story to see when it was last updated.
Good afternoon…gray and mild weather out there and while there may be a bit of mist…overall the day will be OK. Temperatures are the big story for today and tomorrow as highs will be well into the 50s which is certainly better than the sub-zero cold we had earlier in the week. We've clawed our way out of the arctic air mass that was an issue here…and while we may drop back to average Monday and Tuesday,w e should warm back up again heading towards next weekend. Snow lovers though are feeling very frustrated and really the forecast doesn't have much hope for anything too significant for days to come. There will be another system next weekend…but again another big warm-up ahead of it isn't to good of a set-up in my opinion unless things change significantly.
---
---
Forecast: 
Tonight: Clouds reforming after 2AM and some drizzle possible towards daybreak with lows in the 40-45° range but starting to come up around daybreak.
Sunday: Clouds again with some showers during the day but it won't rain all day. Rain amounts will be under 1/4″ and perhaps even under 1/10″ for many. Highs well into the 50s to near 60°
Sunday night: Mild with some breaks in the clouds and lows near 50°
Monday: A cold front will swing through during the morning…temperatures will drop about 10° to the mid 30s. There should be some rain or snow showers as well in the afternoon. At this point no accumulations are expected. Afternoon temperatures in the mid 30s. We need to pay attention to any wet conditions in the evening as temperatures get closer to 30°.
---
---
Discussion:
Very frustrating to watch a rather significant storm come right towards the area…and yet we get the short end of the rain and or snow play-out from it. The snow winners will be from the Rockies through the upper Midwest…the rain winners should be central towards eastern MO with some thunder possible too.
I'm beginning to wonder what will happen next-our first chance of severe storms (not tomorrow) or if we're going to get our 1st chance of seeing 2+ inches of snow again (not Monday).
I've told many on FB that I don't start worrying about my 16″ snow prediction till mid>late FEB…so I'm not worried yet. These nickle and dime events have given us almost 5″ of snow so far. Although I'm aware that when weeks go by without any chance of seeing 2-3+" snows in the area…it gets even more frustrating. It's not so much that we haven't gotten decent snows for years…it's just that I can't even get excited looking at any potential big snow anymore. No I don't get excited when whatever model shows a big snow 9-10 days away. I get why some do…but I've just been through this for far too long. Yes I see what the GFS model is doing on today's run for around Grounhog Day.
Did you know that Denver, CO has had only 7.5″ of snow this season. That is not so good for them. They may finally get into the snow mix again as a rather stout winter storm is slated for that region and through the upper Plains states. I-80 in central and western NE may get to be a mess from this storm. Right now though all is quiet for most of the Plains states.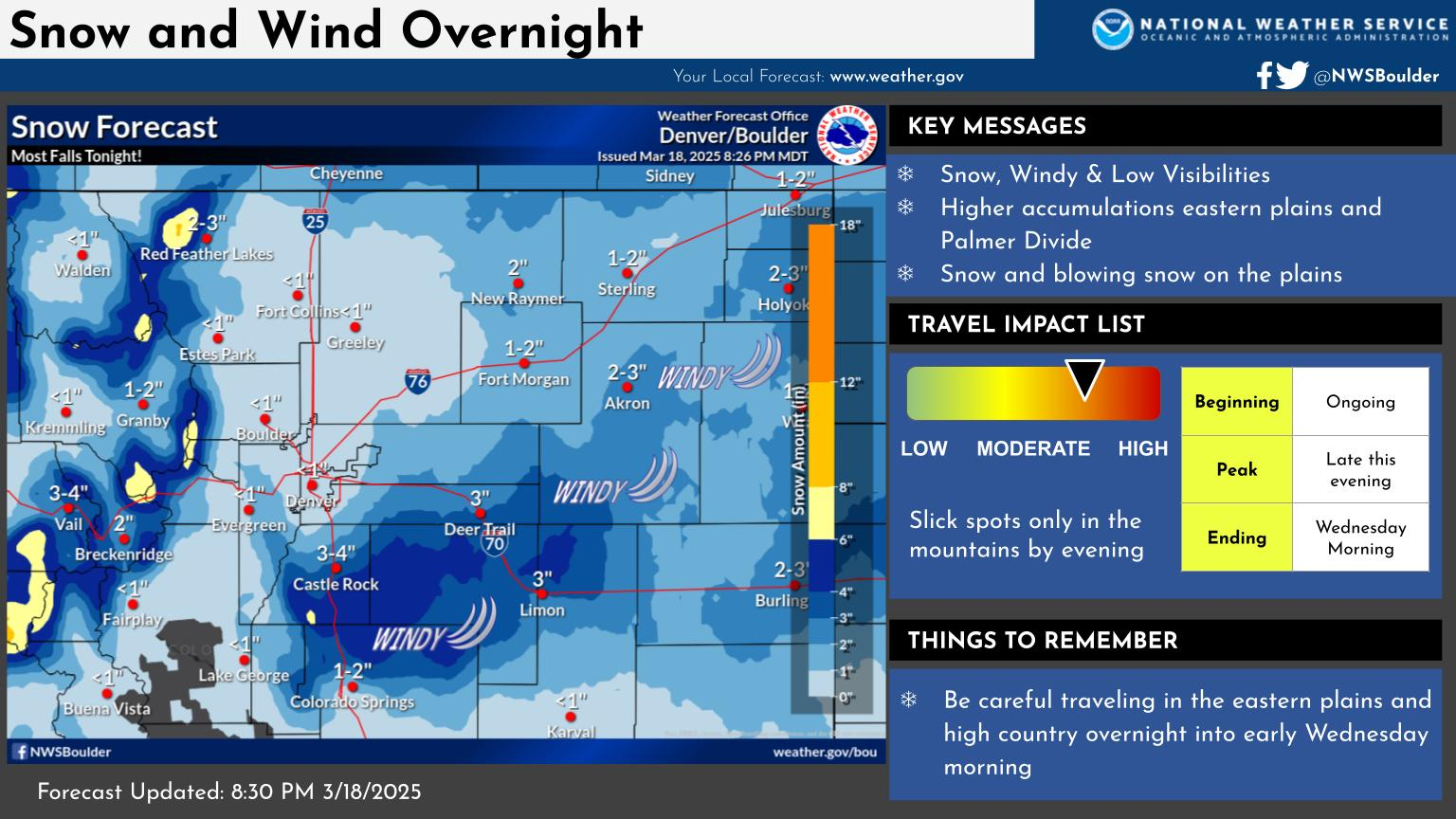 Here is the afternoon satellite picture via the University of Wisconsin.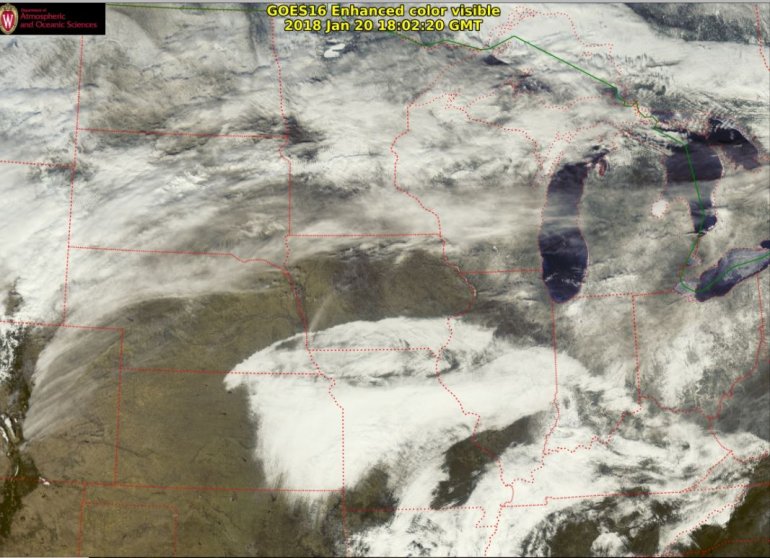 You can see the low gray clouds over our area…some thin spots in northern MO…and you can see the nice weather across the central and western part of KS and most of OK. The midday surface map, showing the temperatures in RED is a welcome sight for many out there tired of the cold.
Amarillo is already in the lower 70s this afternoon. This is the region of a developing drought that is becoming concerning now for sure in my opinion. Notice the darker reds in the following map…that's extreme drought expanding from parts of KS into the TX Panhandle.
In the last 3 months Amarillo has had their driest 10/20-1/19 in their history. Before the the last 3 months though they were VERY wet. In the last 3+ months though..they've had 0.00″ of anything!
Dodge City on the other hand has been dry for longer. This is the 2nd driest period from 7/20 to 1/19 and the 2nd driest 10/20>1/19 (a whooping 1/10″) in their history.
For us…since 12/1 this is out 8th driest winter so far…
This next system for tomorrow into Monday won't help things out too much either.
This is going to be a nice developing storm that comes out of Colorado and moves through the Plains into Monday eventually getting to northern Indiana but early Tuesday. IF the track of this upper level storm was some 200 miles farther south…snow lovers would be very excited I think As is the best snow for this is going to be displaced even farther north than usual in my opinion and that means areas from Denver through North Platte to Sioux City and Minneapolis, MN may get hammered with up to 12″ of snow (maybe more in some areas). The graphic below from Pivotal Weather shows the latest warnings/watches for that part of the country.
So for snow..this system will have it in spades.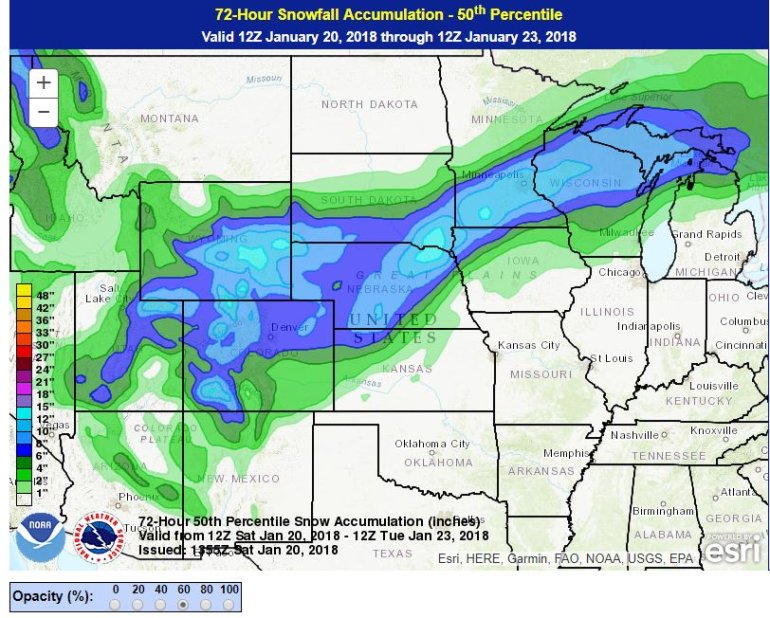 Expect an expansion of the winter storm warnings into the upper Midwest over the next 48 hours.
As far as the rain aspect goes…take a look…and see the dry slot that I wrote about yesterday morning rear it's ugly head.
Why is this happening? When a strong upper level storm comes almost right on top of you…drier mid-level air wraps into the storms circulation…and that will be right up the I-35 corridor Sunday night.
You can see that on the model data as we go up to about the 700 mb level or about 10,000 feet.
Look for the blue contours (showing moisture %) never really fill in for us. They do elsewhere…north and east…but not here…again because that darn system is coming too close to KC.
It will be eye candy though on the satellite pictures on Monday I promise you. It will look something like this in a general sense.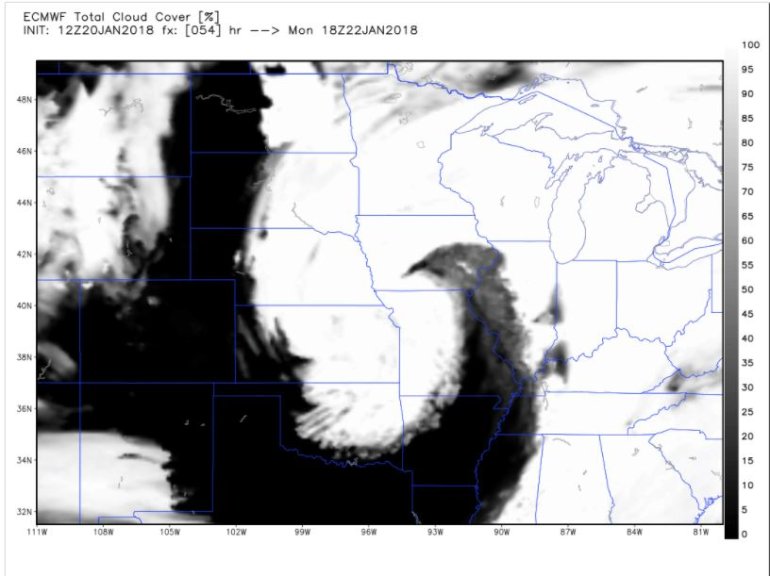 By noon Monday (the time of the above depiction) we'll be getting into the wrap-around part of the storm. This is when we should have snow in the area. The air temperatures may be closer to 32-35° however and that should mitigate much of an accumulation…perhaps a coating in some areas. Right now I'm not too concerned about the evening rush hour although if the roads are wet after sunset…we may need to pay attention to the bridges and overpasses again.
After this goes by…a couple of seasonable days followed by milder air again later in the week. Gradually we're going to be thawing out the ground heading towards next weekend.
The last time we had a significant snow (over 3″) was 1447 days ago. We're going to be adding to that quite a bit over the next 7-10 days I think.
Oh in other news…I've joined Instagram. IF you do use that social media platform do me a favor and give a follow at joelauriafox4
Our feature photo from a long time contributor…Angelita Crow. This was along K-10 towards Lawrence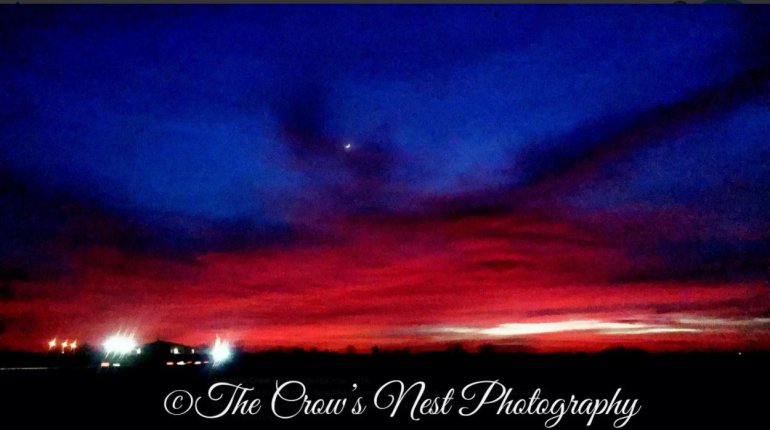 Joe