This is an archived article and the information in the article may be outdated. Please look at the time stamp on the story to see when it was last updated.
Good morning…as we start the day with abundant sunshine and pleasant temperatures the deserts of AZ are getting flooding rainfall…by the end of the week some in our viewing area may have some patchy frost. An interesting weather week is on the way to the Plains region.
Forecast:
Rest of today: Mostly sunny and nice with comfortable humidity. Some clouds will form in the PM hours. Highs in the 80-85° range.
Tonight: Mostly clear with increasing dewpoints and muggier weather moving in. Lows in the 60s.
Tomorrow: Mostly cloudy warm and humid with highs well into the 80s. Storm chances increase in the afternoon but especially tomorrow night into WED AM. This will be the cold front that will change our weather rather dramatically for WED-SAT of this week.
Discussion:
This seems to be the summer of the heavy downpour. In KC we set 2 daily rainfall records in August. Cities including Detroit, Baltimore, Islip, NY, and Portland, ME are just a few communities that have been hit hard by localized flooding. Today it's Phoenix turn. Already widespread 1-4″ of rain has fallen since midnight and already this is at least their 2nd wettest day on record (and moving up the charts).
wettest day on record…and now quickly moving up the charts of their wettest September (as a month) on record!
IT'S A RECORD!!! Phoenix Sky Harbor 2.96 in. of rain breaks the all-time calendar day record total previously 2.91/1933. #flood #azwx

— NWS Phoenix (@NWSPhoenix) September 8, 2014
Average Phoenix #Monsoon Season total rainfall = 2.71 inches. We've got almost 3 inches in just the past 7 hours!! #flood #azwx

— NWS Phoenix (@NWSPhoenix) September 8, 2014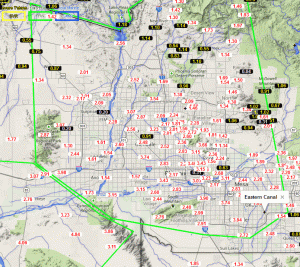 Here is a look at the top 10 all-time wettest days in Phoenix history.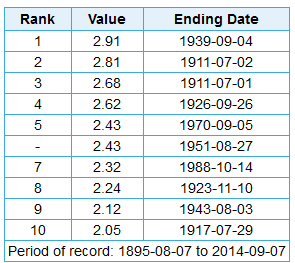 When the rain comes down that fast it creates major problems in the deserts because of poor draining soil and urbanization. Flooding and massive traffic tie-ups are already happening out there. So this morning we start things off with a rare look at the NWS radar in Phoenix.
All this coming about because of the moisture associated with what was Hurricane Norbert. If you remember last week I mentioned this likelihood for parts of the SW part of the country. Using the water vapor loop you can see what's left of Norbert off the coast of Baja, CA…and the upper level trail of moisture moving from the SW>NE (via Rutgers Univ.)
Some of this moisture may get entrained into developing storms tomorrow evening in the Plains region and move through the KC area.
The colder airmass in question is just now starting to spill into the N Plains…it will continue to move south for the next 48 hours or so and then move through the KC area tomorrow night into WED AM. It will be a dramatic weather change for us…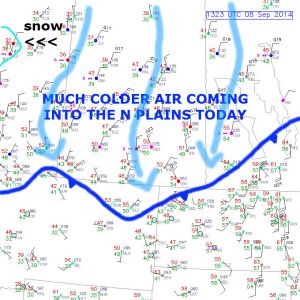 The record low for SAT AM is 39° set in 1890 (one of our oldest records on the books). It's going to be close assuming we have clear skies and light winds. As I mentioned last week and others are catching on…N MO towards the IA border run the risk of some patchy frost from this scenario.
The record lows on the 12th is 45°…that too will need to be watched because often some meteorologists will under-forecast these events from 4-5 days away and not realize the strength of these cold air intrusions. I wouldn't at all be surprised if highs on FRI struggle to get to 55-60° or so. The record cold highest temperature on Friday's date is 52° set in 1989…that is safe I think…but the 2nd coldest high on that date is 60° set in 1902…that could certainly be in play.
Here is the forecast map off the NAM for WED AM…the front is arriving around daybreak…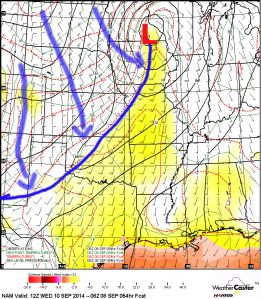 As the front moves into the hotter and more humid airmass later tomorrow storms should fire well off towards the west and north of the region…these storms would then fly through the area later TUE night into WED AM and give us at least some rainfall.. Some areas of NW MO and NE KS may be able to get 1-3″ of rain from this…areas farther south may not get as much…let's see if Norbert's moisture helps the cause or not. There is a chance of severe weather up there as well later tomorrow into tomorrow evening.
That's it for today…an impressive change in the temperatures are coming!
Joe