This is an archived article and the information in the article may be outdated. Please look at the time stamp on the story to see when it was last updated.
Another rough day yesterday in northern NE with more dramatic and violent tornadoes…more on those in the discussion part of the blog. The the region after a fight with clouds yesterday we should see more sunshine today with gusty winds and hotter temperatures.
Forecast:
Rest of today: Partly cloudy, windy and hot. Dewpoints will be near 70° if not above and that will contribute to a heat index of 95-100°. Winds today should again be gusty with 30 MPH winds not out of the question.
Tonight: Fair and warm with lows near 75°
Thursday: Increasing rain/storm chances as the day moves along. A cold front of sorts will ease into eastern KS and should be enough to spark storms. Highs will be toasty again. 85-90° depending on the clouds. Winds will be 15-25 mph.
Discussion:
Despite the warm weather over the last few days, our temperatures for the month are still running a bit below average with KCI running about 4/10's of a degree below average. We should eat away at that number today and tomorrow again especially since our low temperatures will be in the 70s. From a rainfall standpoint we're sitting at 5.32″ @ KCI…which is more than 2.5″ above average and we may add to that tomorrow. By the way, average for the month is 5.23″…so really whatever we get from here on out will be gravy.
Tomorrow's chances of rain will be on the increase in the afternoon I think and will be connected to a weak cold front that will be moving through central KS. The atmosphere will be unstable along and ahead of the front, which may not really ever make it to the KC area. That gives me some pause in terms of forecasting a lot of rain coverage through western MO and eastern KS but by the same token there may well be some sort of outflow boundary that does make it into the region from whatever thunderstorms develop and that would enhance the coverage of the storms. Right now, in my opinion, I think the chances are around 60%. The timing looks best in the PM hours Thursday. We really shouldn't be overly capped so that too should help our cause.
Here is the forecast map for 1PM Thursday showing the cold front off to the west of the area. Whatever forms out there will initially move towards the NE. In time though, should there be enough storminess out there…we should see an eastwards progression to the convection and that part of the equation will be the key to our chances in the PM/evening hours tomorrow. Should the storms be spottier or more scattered, then we may have a tougher time getting them into the KC area.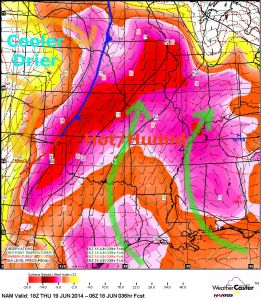 The bottom line is that the highest storm chances (80%) will be across NE KS and NW MO with solid chances in the KC area (60%) and diminishing chances the farther SE you get at this juncture ((30%). May update those chances after the AM data comes in before lunch.
Whatever boundary that pushes through will retreat northwards FRI/SAT placing us increasingly back into the warmer and more humid airmass over the weekend. Perhaps we may sneak in another storm chance on Sunday.
Meanwhile other parts of the country are dealing with less favorable weather. Let's start in Detroit where the 1st place KC Royals are playing afternoon games today and tomorrow. Being a season ticket holder this brings much joy to me and I'm getting more and more fired up about things. The ride they're on now is amazing and it's fabulous to see! I'm hoping the weather works out for them, however they are very close to getting a lot of rain…as of this writing the rain is staying to the north of them…but should there be a southwards nudge to the rain which at this point is doubtful today…there could be some real weather problems up there. I'll keep the radar from the NWS in Detroit on the blog for you so you can see the progress of the rain up there. Right now it looks like they should get the game in today.
Farther west, back into NE more nasty weather yesterday with powerful tornadoes just about 30 miles from where they were on Monday. The ratings for the Monday tornadoes are now up to EF4 criteria (166-200 MPH) and they are looking harder at the data to see if the twisters caused EF5 damage.
Yesterday there were multiple tornadoes again in NE. One of the characteristics of a tornado up there was it's virtually stationary movement. Reed Timmer and the gang from tvnweather.com were all over the storms as usual and the video is amazing to watch. You may want to mute the audio however as it 1) GET'S LOUD 2) in tense and 3) is NSFW
Here is some more video from TornadoTitans.com and their chasers Simon Brewer and Justin Drake.
I on the other hand like my colleagues approach to shooting tornadoes…from a distance. Check out this tweet from Mike Umscheid who works at the NWS in W KS. He too was up in NE yesterday near Mullen, NE. He has a real passion for photography and it shows!
Mullen, NE tornadic supercell near sunset on 17 June 2014 http://t.co/Pt5GarsKrC

— Mike Umscheid (@mikeumsc) June 18, 2014
Today's tornado risk is again in roughly the same area…with the risk of tornadoes again apparent.
In addition to the severe weather up there…there has been a bunch of rainfall as well over the last 7 days. Click on the image below to make it more readable. There are some 5-10+" rain totals up there
I bring this up because that water has to go somewhere and in some cases it's draining in to the MO River and that water is heading towards our area. The flow will move into NW MO tomorrow and you can see how the river gauge responds up in Brownville along the MO River.
That's it for today…hopefully by tomorrow afternoon when I update the blog again (around 3PM) we have some rain to talk about in the KC area. Have a great Wednesday!
Joe