This is an archived article and the information in the article may be outdated. Please look at the time stamp on the story to see when it was last updated.
The warm weather beat rolls on. Yesterday I blogged about the early arrival of spring and then noticed that my Pear tree was getting ready to bud out. Other trees are showing signs of life as well and coming out of their dormancy. Now we're seeing the effects in the allergy counts as well. Today Juniper and Elm were rated as HIGH and some are feeling the effects of an early onset allergy season. The month (through today) is running almost 11 degrees above average. The average temperature for MARCH is 44.2°. After today and tomorrow…we may be close to that in FEBRUARY. NOTE: Changes are coming.
Forecast:
Tonight: Mostly clear and cool with lows in the 40s
Tomorrow: A warm front will be south of the KC area in the morning. Clouds will be an issue tomorrow and there could be some scattered showers as well through lunch. Not widespread but some may be out there. Temperatures Thursday will be cooler north (50s) warmer south of KC (70s) with the metro straggling the line. Let's shoot for near 70° with some bust potential either way. Also of note is the likelihood of pretty steady evening temperatures Thursday as warmer air comes even farther northwards. Then the winds really get going tomorrow night.
Friday: Blustery and chillier with highs in the 40s. There may be some flakes of snow Friday night into early Saturday, especially from KC northwards.
Discussion:
Yes the trees are coming out of dormancy…and yes some of you may not be trilled with that so soon.
Are you starting to feel the seasonal allergies?

— Fox 4 Weather KC (@fox4wx) February 22, 2017
Well records are dropping all over the place in the Plains and upper Midwest today. All-time FEB high records are falling as well the farther into the upper Midwest you go. The folks from coolwx.com have a nice way of featuring these records…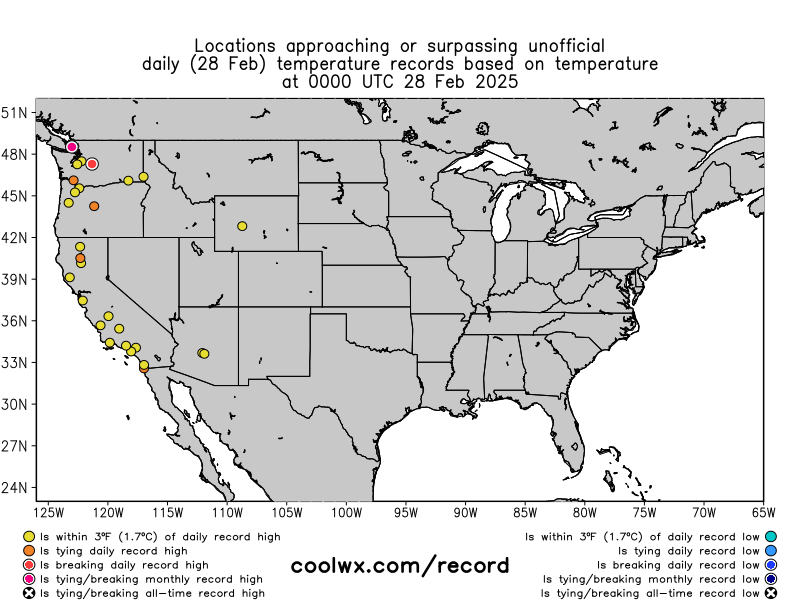 Here are some additional details…and remember this is as of 2 or 3PM (EST),…some of these values could go up a couple of more degrees! The purple boxes represent the all-time FEB records.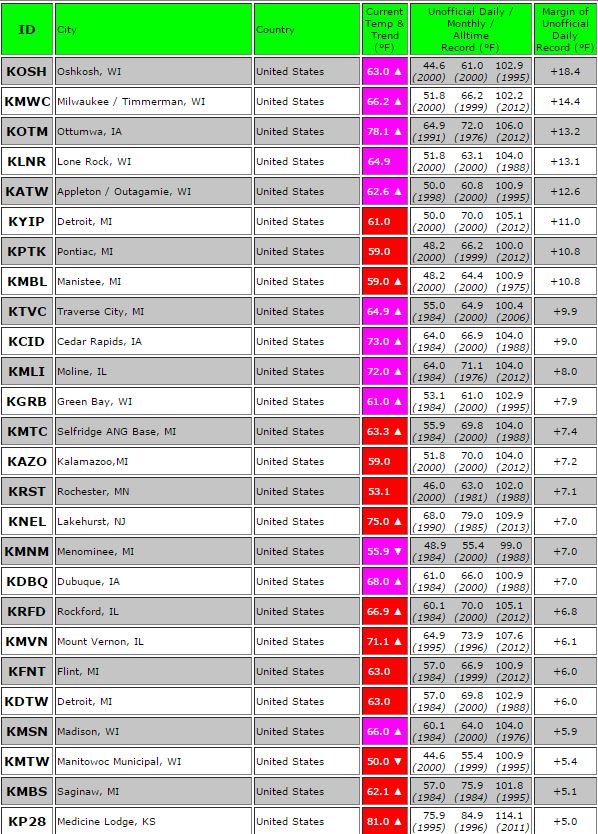 Here is KC…our former record was 73°set in 1917/1982…we've shattered that. 77° (at least).
The all-time record high for us in FEB is 83°. That record will stand (officially) for another year.
The 2PM weather map shows a wind shift…located just towards the NW of KC. I'm not sure I'd really call it a cold front since it's about as warm immediately behind it like ahead of it…so the "cooler" air is lagging by a pretty substantial ways.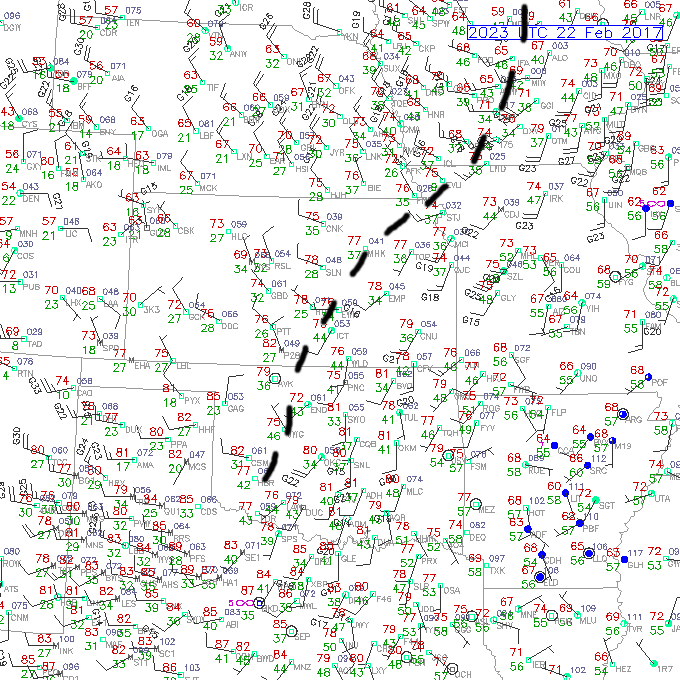 This wind shift will move across the region later today…then get towards the I-44 corridor and belly up…and eventually slowly come back northwards tomorrow in the form of a warm front. Overnight with dry air the rule…lows should again drop to 40-45°. Then tomorrow…we should see clouds to the north of the developing warm front. In these scenarios, some shower activity wouldn't be surprising. The trick is trying to figure out when and how far north the warm front gets during the day, because the air south of the warm front will be the same air as what's happening out there now…warm (70s). While farther north of the warm front, where clouds could be an longer term issue…highs may only be in the 50s with NE and ENE winds.
There is some pretty high bust potential during the afternoon especially from a temperature standpoint. We could easily pop back into the 70s in the afternoon with a northwards tick in the frontal position. Northern MO will probably be on the cooler side of the front for the day.
There will be a fast moving little wave coming across the area before lunch…that may also help trigger off some showers…then a rather decent surface low pressure area will be coming across northern KS later tomorrow. IF the warm front hasn't already moved north of KC later in the day…that should push it northwards in the evening and we'll be briefly in the warm sector tomorrow evening allowing hte dew points to increase to near or above 50°
Then the cold front will come through early Friday and take away the warm air mass that's been with us for quite some time…and instead replace it with blustery and colder conditions. We should have some downsloping to the winds and we should have at least some sunshine…so highs may still be close to average (can you believe it!?!). Then on Friday night…IF we get into any wrap around moisture associated with the storm + the colder air dumping into the back side of the storm…that could help to generate some flurries or snow showers, especially from KC northwards into early Saturday. At this point no accumulations are expected in the KC area…we'll keep an eye towards the IA border.
We'll have a 12AM high FRI morning…so Friday will still turn into a reasonably warm day statistically at least.
The system will create quite a bit of snow the farther north you get into the upper Midwest. Yes the same areas having their warmest FEB day ever may get burried by 6-12″ of wind blown snow before Saturday.
A strong winter storm will move out of the Rockies and into the Great Lakes. Snow is expected from tonight out west, through Saturday east. pic.twitter.com/aI2Pzzukhj

— NWS Central Region (@NWSCentral) February 22, 2017
I'm expecting numerous Winter Storm Warnings to be expanded over the next 24 hours.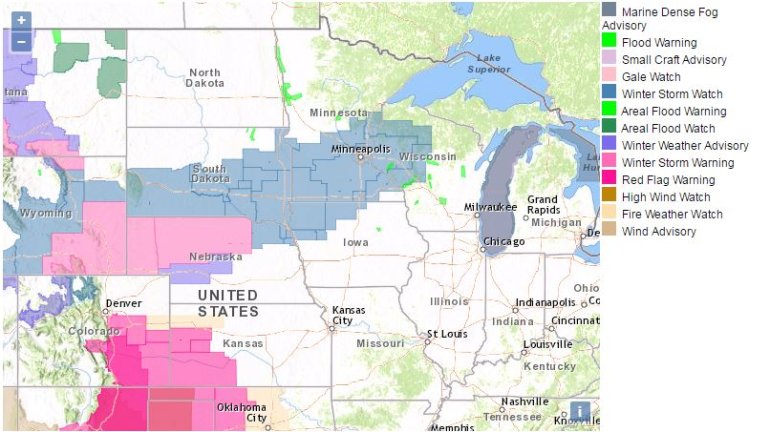 It's going to be quite the doozy of a winter storm up there. Meanwhile out west…SnoMG!
Mammoth Mountain (CA) has received 394" of snow since January 1 – nearly 100" more than any other combined Jan-Feb on record (since 1970). pic.twitter.com/pu5NpoBoQS

— Philip Klotzbach (@philklotzbach) February 21, 2017
Wow! @NatlParkService rangers in @YosemiteNPS captured these pics at their Tuolumne Meadows residence. 137" of snow on the ground this AM. pic.twitter.com/q78fdyubER

— NWS Hanford (@NWSHanford) February 22, 2017
Everywhere but here it seems this winter.
Our feature photo comes from Christopher Wagner Dinwiddie of the old Metcalf Bridge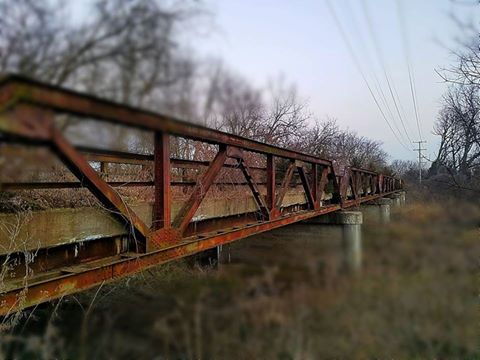 Joe