This is an archived article and the information in the article may be outdated. Please look at the time stamp on the story to see when it was last updated.
Good morning.some nice areas of rain showers out there with some brief downpours as a series of weak disturbances comes through the Plains states. Radar in the discussion part will help track the rain for you. This is going to be a rather up and down week with a 2 day shot of chilly weather followed by a nice warm-up into the weekend. There are some other bumps in the road for the weekend however. Rain chances will be in and out of the forecast as well.
Forecast:
Today: Mostly cloudy with scattered showers (see radar below). Hhighs today are tricky and may only be around 65° in areas that fight the rain longer (NE KS/NW MO) or closer to 70-75° in drier areas (SE of the metro). For KC…let's run with near 70°
Tonight: Partly cloudy and breezy. Temperatures in the 50s
Tuesday: Partly cloudy, breezy and warmer with highs near 80°
Wednesday: Whatever we are (briefly) in the morning may be the high for the day as a cold front comes through with rain. Highs may drop well down into the 50s and maybe even upper 40s during the afternoon.
Discussion:
I was not surprised by the rain today, since I've been mentioning the chance all weekend, but I am surprised that we are getting some decent rains out of these series of disturbances that are moving through the Plains. Radar shows the latest.
Let's also watch larger area of rain out to the west of the area…and track it's progress this morning…which may be more towards the NW of the metro.
So to put this in a nutshell…today will be close to seasonable…tomorrow above…Wednesday and Thursday below (maybe some patchy frost Thursday again) and then we recover into the weekend again.
The front on Wednesday will be rather stout and the air behind it chilly but not unusually cold for mid October. By Wednesday at daybreak the front will be moving into the area.
Forecasted temperatures at 7AM Wednesday show us barely still in the "warm" air…with a drop coming.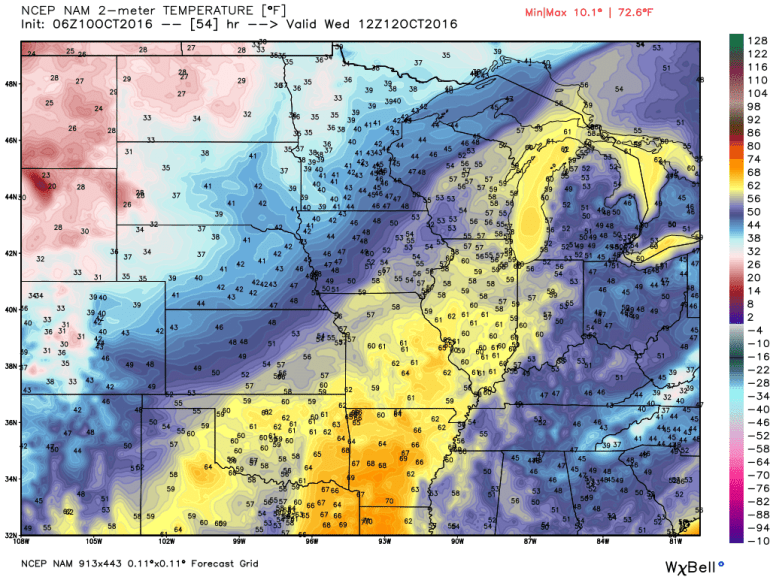 Now look at the forecasted temperatures by 4PM Wednesday…notice the drop.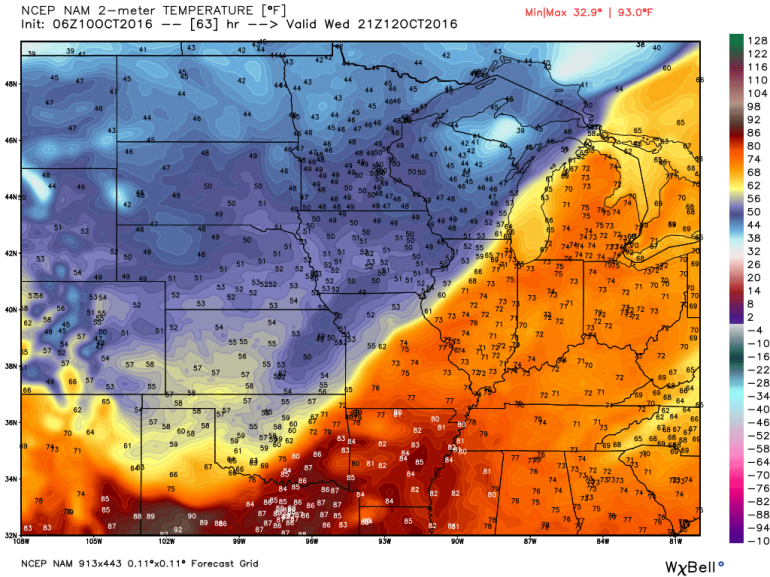 That works if there is rain or cloud cover in the region…if we break into sunshine faster Wednesday PM…we may see a bump up from those numbers. Regardless…I think you get the point.
Then we get to Thursday morning…which has the potential for frost…and even a light freeze in some of the outlying areas. So gardeners may want to take note of the situation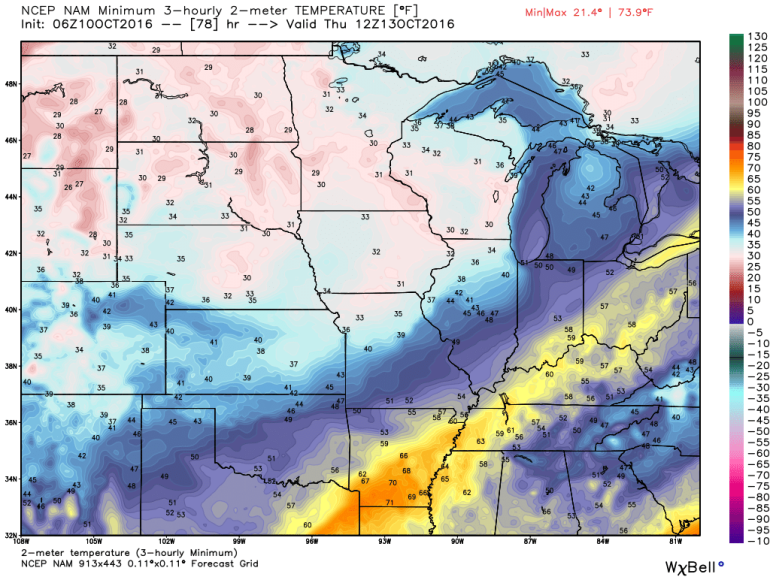 After this front moves through…we should start to moderate into Friday (maybe a few showers later Thursday into early Friday morning) then warm up into the weekend. There is some sort of front or weak wind shift that may move through over the weekend but it appears any cool air associated with the wind shift will be rather minimal as the south winds quickly return on Sunday afternoon. So much warmer weather will prevail (with wind) over the weekend which should work out for the racing out at KS Speedway. I can't promise perfectly dry weather for the weekend…especially with that wind shift in the region for at least a little while.
So buckle up…
I don't want to spend a lot of time on Matthew…but I did see this tweet this morning…showing all the sediment that the storm kicked up with the flooding and or wave action. There may also be an algae bloom happening as well.
Looking at a before & active shot of the Southeast coast post #Matthew, an algae bloom occurred off the coast comparing Sept 30 vs Oct 9 pic.twitter.com/0haDhup95c

— Peter Mullinax (@wxmvpete) October 10, 2016
Here are a couple of other tweets regarding the storm.
Listing of #HurricaneMatthew peak wind gust reports for southeast #GAwx #SCwx #NCwx and southeast #VAwx pic.twitter.com/VcKtTXqcy0

— NWS Eastern Region (@NWSEastern) October 9, 2016
The damage coming in from the coastline is pretty sad. Flooding and surge seems to be the main issues for the vast majority of the coast. It could've been so much worse IF the eye would've been 25-50 miles farther west.
https://twitter.com/MikeWDross/status/784915781494706176
Man though SC/NC took in a lot of water with near stationary bands of rainfall.
Incredible #Matthew #rainfall across #NC via intense sfc #frontogenesis & moisture flux convergence. Here's a long 200 frame loop. pic.twitter.com/qcUUNuS8IH

— Philippe Papin (@pppapin) October 8, 2016
This though I though was telling…it's not unusual when dealing with these storms with so much surge.
Before and after look at the new inlet carved along the Florida coast by #Matthew: https://t.co/qfYnreQjIu pic.twitter.com/uTcX0dCZpP

— Chris Dolce (@chrisdolcewx) October 9, 2016
One issue that you're going to be hearing more about I think…is the widespread removal of the sand/dunes along many areas of the coastline. These were the only protection to the ocean and they're gone mostly. There are a lot of houses now MUCH closer to the incoming ocean…and another storm could prove disastrous for these areas.
Here is is…2 days after the worst of the storm…and now the flooding includes dam breaks…getting reports this morning of emergency evacuations in Lumberton, NC due to a dam break.
OK that's it for today…on on vacation this week…so blogs will be rather infrequent but I may get another one out tomorrow at least.
Our feature photo comes from Sean Pinkerton from the Pomme de Terre area…very peaceful!
Joe