This is an archived article and the information in the article may be outdated. Please look at the time stamp on the story to see when it was last updated.
Good afternoon…some freezing mist/drizzle in the region with varying conditions. Around KC proper for the most part we're doing OK although it's very slick north of Smithville…areas in N MO and parts of NE KS from Lawrence westwards towards Topeka and northwards are seeing worse conditions with the slick roads. There have been some early dismissals and also some crashes associated with the glaze that has occurred in some areas. I may get a chance to update the weather blog (if needed) by 8:30 tonight…then I need to get to bed. I have a 16+ hour day Saturday.
Forecast: (8:45pm update)
Tonight: Areas of drizzle and freezing drizzle overnight. Temperatures from the northside towards 435/291 are going to remain below freezing. Slick conditions will continue. Areas from Downtown southwards will have a mixed bag with exposed surfaces icy…and roads a combo of glazed and wet in areas. PLEASE USE CAUTION driving in the region. At 8:45 the KC Scout system was displaying these issues…north of I-70. It will NOT get better overnight and may worsen as you get south of I-70 later tonight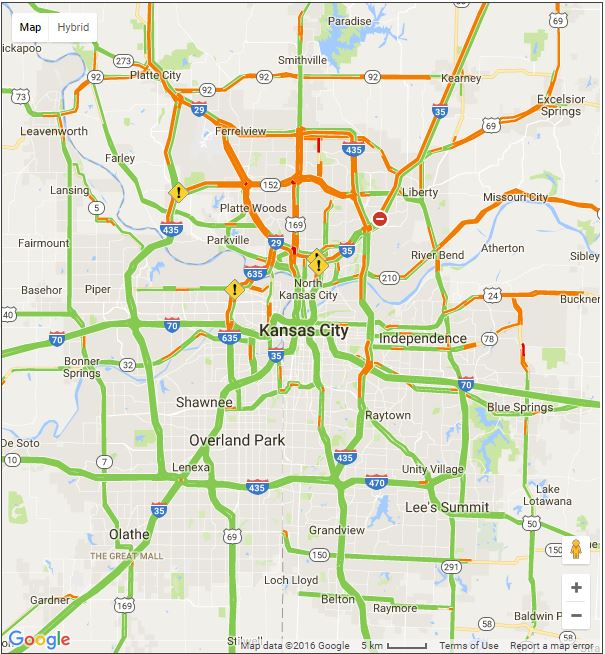 Saturday: More in the discussion part…but temperatures at daybreak will be in the mid 20s…we'll start really dropping in the afternoon and evening. Snow becomes a factor near after lunch with a period of moderate snow possible. Accumulations are being upgraded (in my opinion) to 1-4″. Somebody may see more…a small band of somewhat heavier totals is possible. Temperatures will be near 10-15° by sunset and wind chills will be well below zero thanks to 20-30 MPH winds. (the early evening data shows no changes are needed in my opinion, It appears the best chance of 2-4″ resides from KC southwards. Obviously this may change as we get the bands to develop early in the afternoon)
Sunday: AM low of 0 to -5°. Depending on snowcover…some areas could get colder IF the winds drop off. Sunny skies for the game with highs in the mid teens. Winds will drop off…but anything will make the wind chill worse, especially in the AM.
Discussion: (8:45 PM Update)
+++I don't really think I need to change anything from the afternoon writing. No curveballs from the NAM model so far this evening…still indicating about .15-.20″ liquid which translates to about 2-3 or 4″ of snow in spots. Area wide we should get at least 1-2″ and again parts of the Metro…especially from downtown and towards the south side could get into that 3-4″ range.+++
Buckle up because it's going to be a bumpy ride and we continue to get various model solutions in terms of liquid totals that I'm trying to convert to snow amounts. For model watchers…the GFS is really trying to score a coup with potential accums of over 6″ along the I-35 corridor. It's been so consistent and it's ensembles show high probabilities of 3″+ tomorrow. It's sort of on it's own island although other modelling has gotten just a pinch wetter (whiter) in the last 12 hours.
If you've read the blog long enough…I try to get an idea in my head about the rough amount of liquid QPF. QPF is a fancy acronym for Quanitative Precipitation Forecast. Basically the total water from rain and melted snow.
Then what I do is try and think about the snow ratios. We typically use a 10:1 ratio…where 1″ of rain=10″ of snow. When the atmosphere is very cold…like tomorrow…cold air doesn't hold moisture as well as warm air. So as a result the snow ratio increases. Tomorrow data shows snow ratios increasing to 15-20:1. Meaning 1″ of rain =15-20″ of snow. Ratios can go to 30-40:1 in instances (rare for us though).
To clarify…NO we will NOT see 1″ of liquid from this set-up. Odds favor the liquid equivalent of .1″-.3″. So utilizing a rough 15:1 ratio with that liquid amount…yields 1.5-4.5″ of snow. Hence my 1-4″ snow forecast. Trying to pinpoint the area with the higher end .25-.30″+ liquid equivalent is the tough part of the forecast. That area represents a band of potential heavier snows…perhaps a more solid 3-4+" total…somewhere but where.
Let me try and put this all together for you utilizing the model data with the expected 15:1 snow ratio. You can see the various models used for the trend lines on the far right hand side.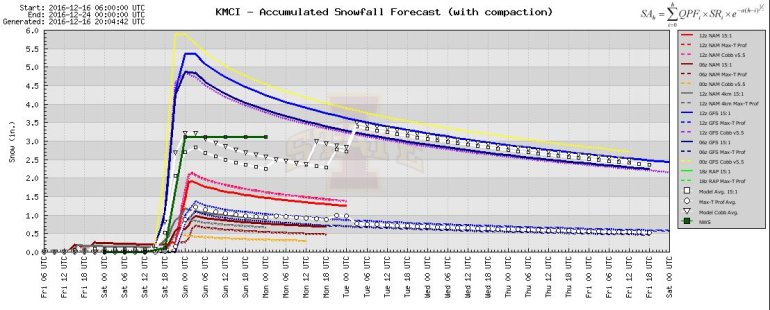 Notice the GFS is the most bullish here…in some cases by a considerable amount. Now let me show you the liquid totals…again the GFS is the most bullish as you would expect.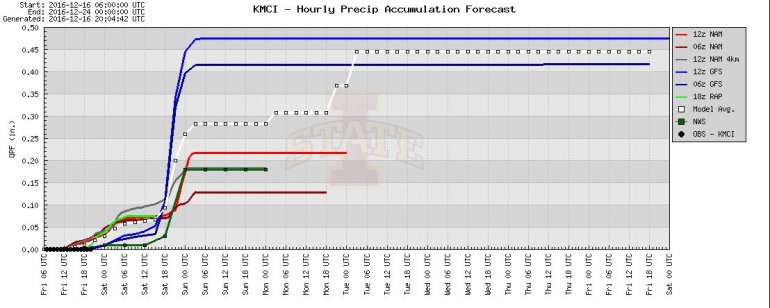 It's a fascinating set-up.
Now as far as what's going on now…again it's really a cool surface map to look at for us weather folks.
Here is a look at the 2PM surface map…i especially want you to look at the numbers in RED…those are the temperatures.
That surface low will move towards the SW part of MO overnight. This means we'll only nudge up a couple of more degrees into the early evening. Kudos to the NAM model for it's depiction on this the past 2 days (is that a hint to the future and the somewhat lower snow totals). It's the only model to get this correct today really. As a matter of fact…as we focus into KS…look at the contrast at 3PM
With the surface low passing well south of KC…we will again stay pretty much on the freezing line this evening…then later tonight the circulation around that low will turn the winds back towards the NE and N…bring down the colder air slowly at first.
Here is the HRRR model for around 12AM early Saturday.
That low will continue eastwards tomorrow.
Colder and colder air spills in during the afternoon especially. We may be around 25 through late morning…then drop 10-15° by 7PM or so. This will be the focus time for the snow.
So let's try and figure out these disturbances that will set things into motion tomorrow afternoon especially. We're looking at the 5000 mb map (via NEXLAB) showing the waves in the flow. 1st the NAM model…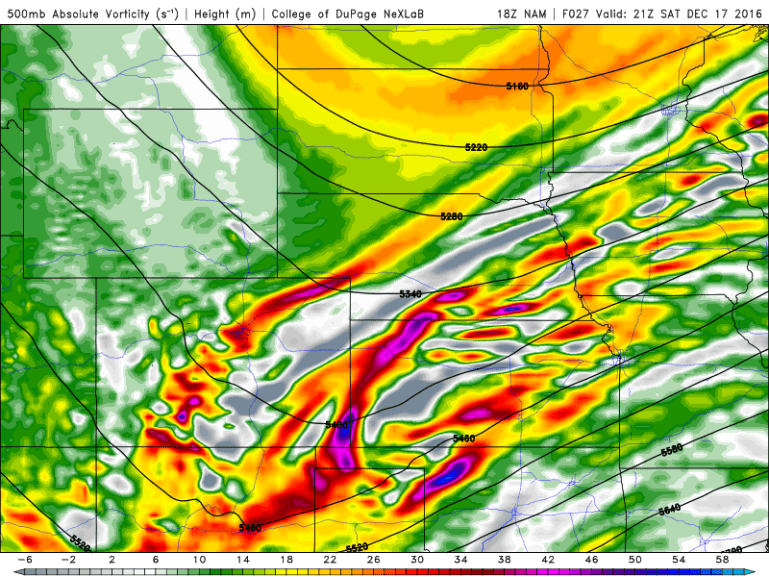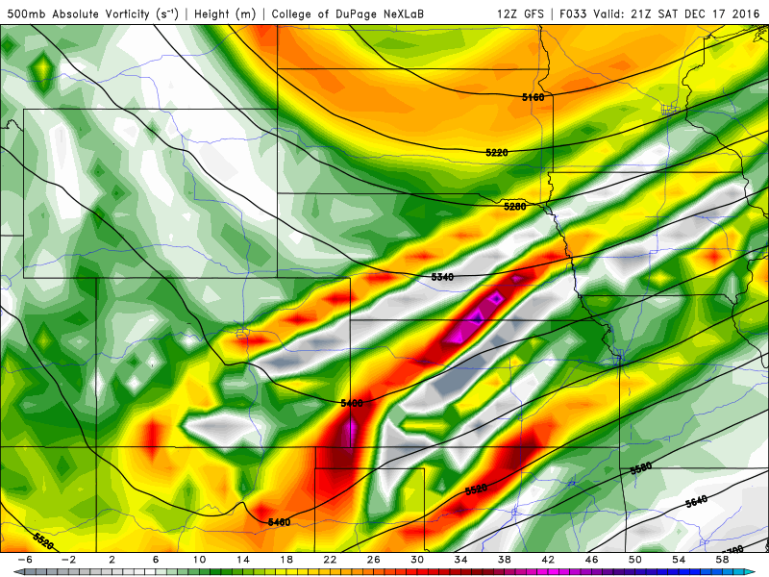 It may be because of this somewhat lower resolution that the model is more generous with the precipitation totals.
The latest mid afternoon run of the NAM just cam out…notice the "liquid" totals.
Now the snowfall forecast (again this is the mid afternoon NAM model)
Seems to confirm the 1-4″ forecast that we're carrying right now. You can see how the model is trying to portray some sort of 3″+ band on the south side of KC.
The higher res NAM model…eliminating all the totals through 9AM Saturday…and just looking after that would indicate roughly 2/10″ liquid as well…15:12 ratio gives us about 3″ using that concept…tilted more towards the 3″ mark on the southside more so than the northside. Basically it's trying to show a band of higher totals…where that band sets up though remains to be seen. It could end up on the I-35 corridor as well.
This is a good reminder to follow me on twitter for LOTS of updates from road conditions to everything else weather wise this weekend. 
The weather pic of the day comes from Sumner Holloway NE of Trenton, MO from a few weekends ago. Pretty slick up there today!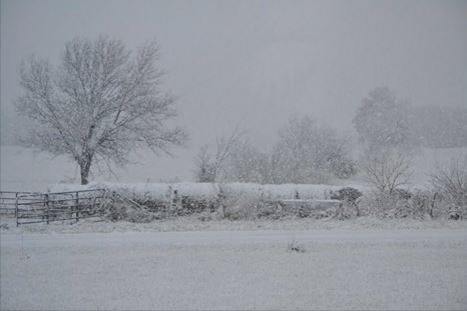 Joe