This is an archived article and the information in the article may be outdated. Please look at the time stamp on the story to see when it was last updated.
Good morning…some nice weather coming up for the next few days as Spring is really starting to settle into the area now, Next week will be more humid overall…but for the next few days the dew points will continue to be very comfortable. Saturday will be the cooler of the weekend days…but again a dry forecast is at hand.
---
---
Forecast:
Today: Mostly sunny and mild with highs into the 70s
This weekend: Mostly sunny and not as warm but still good with highs in the 60s and lows around 40°
Monday: Warmer and breezy with highs in the 70s to near 80°
---
---
Discussion:
Not really much to talk about in the short term…next week will be wetter and stormier but how we do regarding those storms and the severity of them with respects to KC remains to be seen and it's too early to really dive into that at this point. Wednesday and Thursday may be the days to watch…
Obviously Thursday is of concern for the kids for School Day at the K
For the 20th year, FOX 4 will be presenting another new and exciting science show at the K. It's no secret that attendance has been poor this year…between the Royals slow start and the miserable weather there hasn't been a lot of reason to get excited about baseball this year.
Next Thursday however, aside from Opening Day, one of the largest crowds of the season will be in attendance and the crowd will be over 15,000 screaming kids. Each year they swarm School Day and watch the Largest Weather Show In The World. They learn about weather, obviously and even some chemistry. We try to weave in some thermodynamics too! If it sounds complicated to pull off…it can be. The kids though love it and we typically do several big experiments…with lots of explosions and kids love explosions!
The idea started more than 20 years ago. We did a couple of years of shows at JOCO Community College. 3 shows scattered through 1 day. Two shows for kids and one family show. We knew we were onto something when the shows were sold out so fast. Those shows tended to be more video heavy.
Back then the Royals had some very small School Day shows…when they approached us, we wanted to make this a bigger deal and reach out to more kids. A connection was made and now we pack them in.
The gates open at 8:30 and hundreds of school buses from all over the area. some driving for hours, come to the show. The actual show starts at 10AM and features some education…quiz questions, lots of on field demonstrations and a lot of fun. This show concept is now been brought to TV stations and other baseball teams, minor and major, across the country…all because of the work of FOX 4 and especially Chief Meteorologist Mike Thompson. This has been his baby for the last 20 years or so and he pours his heart into the production of the show for months…the show is next Thursday the 3rd and on Friday the 4th, he's gathering information about making the following years show better and bigger.
Each year we do a variety of popular experiments. Some years everything is flawless…other years things sometimes don't work. Some experiments require very little wind…sometimes in KC that doesn't work out. We just roll with the changes. Dozens of volunteers help with the production. Then after the hour long show…kids go out to the parking lot where a huge Science related exhibition is held. 30-40+ other exhibitors are out there teaching kids other things about science and weather.
As you can see…it's a huge undertaking.
Now let's hope for dry weather. We've been internally concerned for about a week or so about the potential for storms and that concern continues…will it rain during the show? Way to early to say. We've had one show done in the rain and one show called because of snow! We do have a "rain show" prepared just in case however. We'll cross that bridge though later next week.
Meanwhile there are still plenty of tickets to the show available. All you need is a ticket for the game and you get FREE admission to the show.
Meanwhile another aspect of teaching weather to kids, and for me to adults as well…is trying to relieve storm anxiety. Next Friday is a rather significant Weather Anniversary in KC. It will mark the 15th year since the KC Tornadoes that happened on 5/4/2003. I've written about this is the past and I'll have a lot more about it next week but many still remember that day vividly.
Some also get anxiety from storms…and yesterday I noticed some interesting information regarding how folks can try to ease their anxiety about thunderstorms and what can happen during the storms. This information is from the NWS in Norman, OK…and area of the country where there are typically so many storms to begin with…although they've yet to be hit by a tornado so far in 2018 (a record).
This information is from that office…maybe you'll find it useful or know someone who will.
Advance preparation – thinking about where you will take shelter, making sure you have several ways to get weather warnings and information, and having a plan for you and your family – can help reduce your fear and stress levels when storms are in the area. Planning and preparation puts you in control of your situation and can make the storms a little less scary.
Think about what stresses you out the most about severe weather. For some people, it's the sound of thunder, the flashes of lightning or the roar of the winds. For others, it's the anticipation and uncertainty about what might happen to them or their family. If there is something that makes your fears worse that you can control, this might help you.
Learn about the storms. Understand how they are forecast and what the various watch, warning and advisory terms mean. Follow the National Weather Service severe weather outlooks and forecasts online and learn about the science that goes into those severe weather predictions. Attend a free NWS storm spotter training class to learn more about tornadoes and severe storms.
Many people who are afraid of storms want all the information they can get their hands on when severe weather is in the forecast. With social media, there are many sources of weather information to choose from. Some are considered official sources, like the NWS, your favorite TV station or local TV meteorologist, or your local emergency management or public safety agencies in your community, and these are generally good places to get weather information. A small percentage of social media forecasts tend toward the extreme or worst case scenario when forecasting severe weather. If you have storm anxiety, these might make things worse.
Visit your local National Weather Service office. Meet the forecasters who are working around the clock to watch for dangerous weather and who have your back during severe weather.
Make a tornado safety plan with your family. On a sunny day with no storms in the forecast, figure out where you will take shelter if a tornado is coming your way. Practice getting you, your family and your pets to that safe place. Put together a safety kit that has the supplies you would need if you had to take shelter.
Plan how you and your family will stay in contact in case you lose electricity, phone service, cable or satellite service, cell service or internet service. Develop a communication plan in case you are separated.
Make sure you have at least three different ways to get a warning. This can include local television, NOAA Weather Radio, phone apps, outdoor warning sirens, community notification systems, etc
Learn about your local warning systems in your community – sirens, mass notification systems, etc – and how they work.
Find a way to see radar data and learn to track the storms yourself. There are lots of apps that provide detailed radar data, and some of them will even plot your current location so you will always know where you are in relation to the storms. You can also access free radar data on the National Weather Service website and on your favorite local TV station's website.
Learn your local geography – nearby cities and towns, counties, interstates and highways – to make it easier to track the storms as they move through the area. Understanding where the storms are and where they're going can make severe weather much less stressful.
end text.
Feel free to share that information with anyone, especially children.
Our feature photo is from Paul Smith of the very neat halo that occurred around the sun yesterday.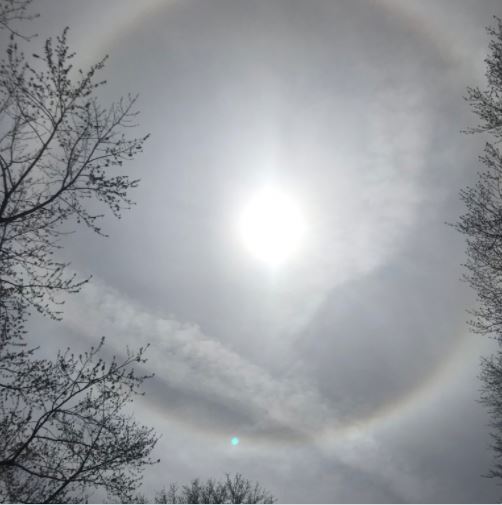 Halos are caused by the suns light passing through cirrus clouds up around 20-30,000 feet in the air. The clouds are made of ice crystals. This particular halo is called a 22° halo when it fully circles the sun. The get this moniker when the ring around the sun has a radius of about 22°.
The halos you see are caused by both refraction, or splitting of light, and also by reflection, or glints of light from these ice crystals. The crystals have to be oriented and positioned just so with respect to your eye, in order for the halo to appear.
They can occur on full moon nights as well…although something for the future…since the full moon isn't as bright as the full sun…the moons halo is mostly colorless, while the sun's halo will reveal colors. The inner part of the halo is more sharp while the outer more diffuse. The sky surrounding the halo is also somewhat darker compared to outside the halo.
The more you know.
Joe