This is an archived article and the information in the article may be outdated. Please look at the time stamp on the story to see when it was last updated.
Good morning…today is the anniversary of the last significant snow in the KC area. 4 years ago today we had an 8″ snowstorm over 2 days…but on this date in 2014 we had 7.5″ of snow…as I look out my window now…it's snowing pretty good and some areas will easily see 1″ from this…and roads will likely be slick over the next few hours. Be alert for changing road conditions with this cold, wind blown snow falling into the early afternoon, especially IF you're heading out to any Super Bowl parties.
---
---
Forecast:
This afternoon: Snow will be winding down…but again some areas may see near 1″ of light and fluffy snow accumulation. With the look of radar late this morning..some may get more than that on the KS side. A Winter Weather Advisory is in effect for the region as well into the afternoon
Tonight: Mostly clear and cold with lows near 5°
Monday: Increasing clouds and not as cold with highs around 35°. Turning windy in the afternoon as well.
Tuesday: Snow is likely with highs only around 20-25°. We may see additional accumulations as well.
---
---
Discussion:
Well today is sort of turning out into something…as a cold air mass has allowed what snow there is out there to be rather powdery and fluffy. This is allowing the snow ratios to be high (we've seen this this winter) and that means it won't take much moisture to create a fast 1″ of snow…and that's what is happening. Radar looks healthy as well late this morning.
It won't last too much longer and the snow but as I write this…the snow goes back towards the west of Manhattan and with the rate it's coming down…this may turn into a 2″ event for the KC region. There will continue to be some pretty good snow rates out there too! It sort of looks like a snow globe right now (11:15 AM)
There is some nasty cold air coming into the area as well. at 11AM our temperature is 14° and we're not going to go too far today despite some sunshine this afternoon at some point.
I just checked the KC Scout system…and accidents are starting to happen as well with the snow on the roads…
So this afternoon will be messy for awhile. The sunshine coming in a few hours will help things out tremendously after 3PM or so…but until then…be careful.
[protected-iframe id="82a700fffe0ffcb4012dfb9a163a450c-28016812-27967000″ info="https://www.facebook.com/plugins/post.php?href=https%3A%2F%2Fwww.facebook.com%2Fjoe.lauria.10%2Fposts%2F1765961520102773&width=500″ width="500″ height="709″ frameborder="0″ style="border:none;overflow:hidden" scrolling="no"]
The next area of concern is Tuesday and I still think we may see more snow there…and the potential in some areas of over 3″ or so. There haven't really been any changes to what I've been looking at…the models have been in flux, and lets remember many of the models didn't handle today well at all…the EURO was the only one to have this snow in it…and even today's GFS model isn't putting the snow on us right now…in the right spot…
There continues to be a series of disturbances that will be tracking through the southern and central Plains on Tuesday into Wednesday early morning. As more moisture in the atmosphere comes northwards the disturbances will create more snow..and perhaps there will be some heavier bands setting up somewhere in the viewing area. Where they set up will determine the better chances of 3″+ of snow. Unfortunately it's going to be near impossible to pinpoint those heavier bands right now…there would be a lean towards the heavier bands setting up near and south of KC…while farther north a lessor chance of heavier snows.
The latest GFS does show heavier "liquid" amounts of snow from about I-70 southwards…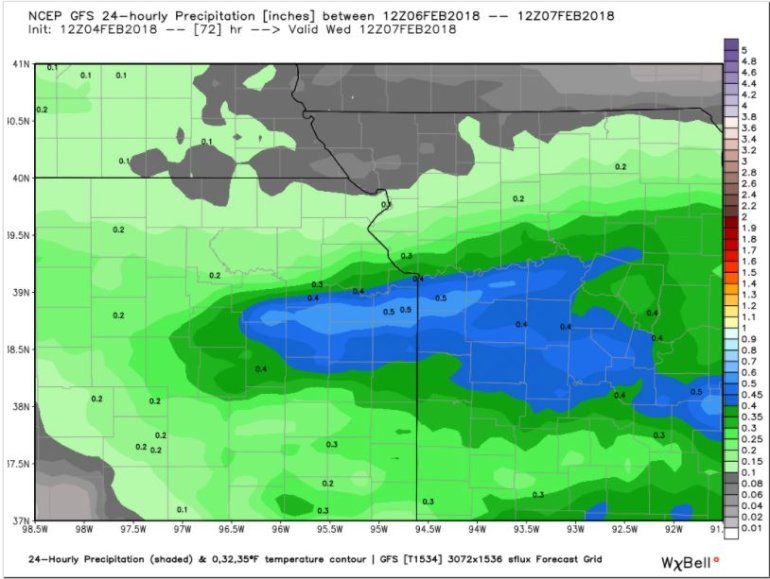 There is going to be some sort of thermal gradient above the surface…probably higher than 10,000 feet up or so…and where that sets-up…may determine how a band of heavier snow sets up. Again this may come into better focus on Monday.
The NAM model though is paltry with the liquid it's cranking out…at least for the KC area.
I still think that that model isn't handling the set-up correctly. The good news is that it actually does have some healthy waves moving though the Plains states…it even has a healthy look to the set-up as you work down through the atmosphere. It's just not cranking out the moisture for whatever reason.
This still looks to me like "something" could happen to me…and it may be significant. The timing would probably be sometime after AM rush on Tuesday…so the PM rush could be very messy.
This afternoon's EURO model actually throws yet another curve ball into things…it was the model that seemed to be a bit more bullish…the GFS caught on to that last night…but now this model splits the heaviest to the north and south of KC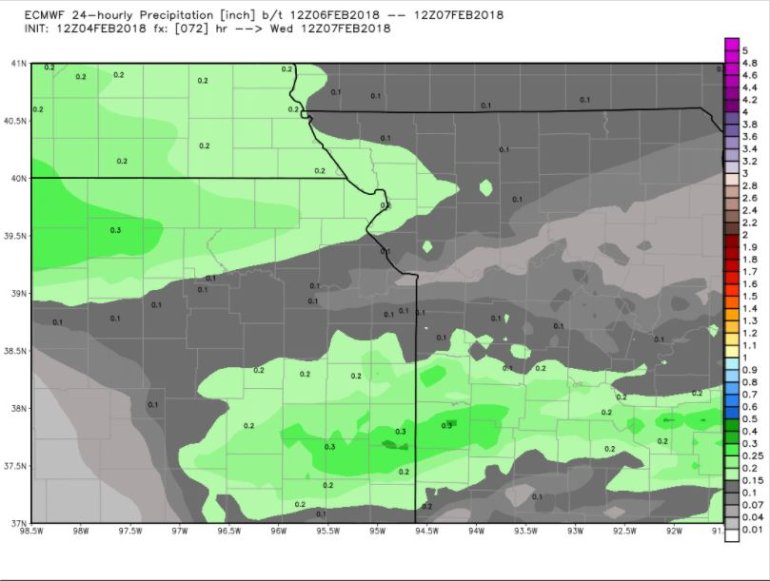 I don't think that's correct either at this point…it will really depend on the track of these little disturbances which on today's run got flattened out a bit and actually shows a stronger wave passing north of the area…this messes everything up too…again until we figure out where these small waves will go…that may determine where the heavier snows set up. That won't be determined till Monday…or even Tuesday morning.
I wish I could be more definitive for you…but tracking a large scale wave that's coming in on the west coast now…and trying to figure out how many pieces it's going to break up into and where each of those pieces will go is sort of like spilling a glass of marbles on a counter top…good luck figuring out where every marble, big and small will end up.
Our feature photo is of the snow globe that continues…from @kansaskim88
More this afternoon
Joe