This is an archived article and the information in the article may be outdated. Please look at the time stamp on the story to see when it was last updated.
We'll get to the title of the blog in a little while…crazy morning already.
I'm President of our local chapter of the AMS/NWA (American Meteorological Society/National Weather Association). We had a meeting scheduled for tonight and were bringing in a speaker from Florida. When I scheduled this meeting last month obviously realizing the weather potential I was somewhat nervous about bringing somebody in to KC with all our crazy weather here. So I've been working way too hard this morning because we had to cancel the meeting tonight…not because of the weather in KC…nope…because of the weather in FL. If you haven't heard it's a mess along the Gulf Coast. They've closed I-10 from Lafayette, LA to Lake Charles LA already and conditions will worsen for parts of the SE later tonight and tomorrow. Check out all the Winter Storm Warnings in pink!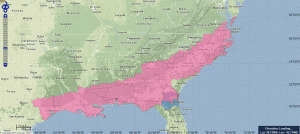 Grrrrrr. So it's been a full day already and we're trying to reschedule and dealing with flights etc.
Since I'm talking about all of this…if you're interested in joining our local AMS/NWA chapter we'd love to have you. Membership is $20/year and the meetings are open to all. Membership comprises of other meteorologists in the region as well as retirees, storm chasers, and enthusiasts who have a passion for weather. If you want more information you can follow the local chapter on Twitter @KansasCityAMS or check us out online at KC AMS  We'd love to have you come on out. Our next meeting will be in FEB…with a date to be determined. Our speaker will be Jim Edds (tentative) who was in the Philippines when the devastating typhoon hit a few months ago. He did reports for CNN as well as doing an appearance with Jay Leno on the Tonight Show talking about his experiences.
So with all that said…let's get into the weather. Temperatures this AM bottomed out near 0° and will recover into the 20s this afternoon and moderate even more tomorrow as the worst of the cold air is moving away. It really is impressive looking at the temperature anomalies this morning…noticing the cold air in the central and eastern US and all the warm air from AK through the Arctic regions and then the bitterly cold air across the poll towards Siberia…check it out.
Notice what's happening in AK. It's warm up there…and the snow is shrinking fast. Some places have seen more than 2 feet of snow disappear in the last week and the folks up there are barely recognizing the landscape for the end of JAN. Here is some data about the snowfall from the NWS up there.
and some additional information from the NWS in AK.
"After reaching a peak in mid-January, the snow pack has been diminishing across much of the state. During the last seven days nearly 2 feet of snow has melted away from some locations in Prince William Sound and on the Kenai Peninsula. Smaller decreases have occurred across the central and southern mainland, as well as across the northern and central panhandle. You would be hard pressed to locate increases in snow depth, although a few locations from the southern Brooks Range north across the North Slope have reported slight increases.
Before the meltdown began the snow pack, as a percent of normal, was ranging from near to slightly above normal over the interior, Matsu valley, and southeast, with much below normal values over the Kenai Peninsula and Prince William Sound. The chances of snow do not look favorable during the up coming week with a rain and/or snow mix across the southern coast through Tuesday evening."
Speaking of AK…look what happened yesterday…these are record highs for the month of JAN by the way which is significant!
Meanwhile in the Great Lakes region…the snow keeps coming…let's go up to N MI and check in with the NWS in Gaylord which is in the northern part of the lower peninsula…
There are a couple of systems that will need to be watched over the next 7-10 days as the pattern starts to become more active. There is a very disorganized storm stretching from the Gulf Of Alaska southwards into the eastern Pacific Ocean. Various pieces of that storm will be splitting off and moving into the US. How they hold together and how much moisture they can tap into are big questions, but at least some snow is possible sometime later Friday or early Saturday. Something to watch as this system streaks eastwards.
Then there is the matter of next week and this is where the weather eye candy comes into play.
For that we have to go way out towards the Bering Sea off the west coast of AK.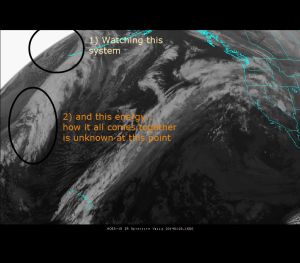 The stream of moisture off the west coast is what we'll watch for early this weekend.
Our model data has been honking about some sort of storm to take a rather nice track for us to pick up an accumulating snow here sometime early next week into Wednesday…amounts vary from a few inches to close to a foot which is not surprising.
I don't want to get into the specifics of this because are so many unknowns…but as I mentioned on a tweet last night…regardless of all these eventualities…there is a lot of cold weather we're going to contend with over the next couple of weeks and IF we get some snowcover…with these airmasses coming into the region…temperatures which have bottomed out thus far at -11° could actually get colder later next week depending on how things play out with snow (if it even snows).
Recognizing this potential is the reason why over the weekend I wanted to do a winter update video talking about how I was expecting below average temperatures in February and above average snowfall as well. Now let's see how Mother Nature wants to help or hinder that forecast.
Have a great day and thanks for reading.
Joe