This is an archived article and the information in the article may be outdated. Please look at the time stamp on the story to see when it was last updated.
Man was it coming down across NW MO and NE KS earlier this morning…and for the immediate KC area, as expected, zippo so far. although outflow from that convection is moving through the KC area as of this writing and between that and the clouds coming through for the AM hours…temperatures again today may be more in the 85-90° range for many, especially from KCI northwards.
Forecast:
Rest of today: With the outflow, which is sort of like a cold front, pushing southwards from the N MO storms…there is a chance it could spark some additional development this morning closer to KC. We'll see as we've really had a problem getting that to happen. Highs near 90° by the end of the afternoon. It should be hotter from Downtown KC southwards
Tonight: Odds are probably the same thing may occur again with the better chances of rain to the north and NW of the KC area. Lows in the 70s.
Tomorrow: Hotter again ahead of a cold front which should move in on Friday. Highs in the lower 90s.
Discussion:
Radar is and has been impressive across N MO this morning…there have been some flash flood warnings up there bu those have been dropped as of this writing. Take a look at the convection this AM up there…Rockport, MO checked in with close to 4″ of rain and Tarkio, MO has had almost 5″ of rain overnight. Wow!
As of 8:30 I'm seeing at least 1 small cell develop behind an outflow boundary that is moving south of the I-70 corridor between 152 and 435 on the north side. Perhaps we can get a few more cells to pop over the next couple of hours but that cell has already fallen apart so it looks like the outflow won't generate much more activity this morning.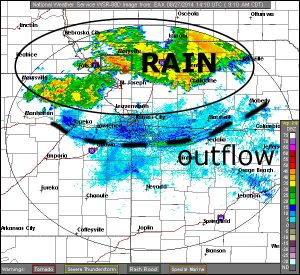 The outflow, or what is essentially a mini cold front, will push southwards and since the convection is beefier this morning to our north, the outflow is a bit stronger and between the clouds and the cooler air flowing in, temperatures today may struggle a bit compared to previous days, especially from KC northwards. When large areas of thunderstorms form and percolate for awhile, especially in a very weak surface flow environment, they have the ability of throwing out rain cooled air. This is what we call outflow. Yesterday I sent out a tweet showing about 5 different boundaries in E KS helping to create various areas of thunderstorms as the air was colliding and converging allowing storms to pop. Interesting to watch.
Anyhow. as of this writing there is an outflow boundary of sorts right along the I-70 corridor and pushing southwards. These things can mess up a forecast of no rain fast…and also bust a temperature forecast as well so it will need to be watched for the next few hours.
I still think though the best chance of something more widespread and beneficial will be on Friday into early Saturday morning. This will be associated with a more pronounced dip in the flow that is now in UT and will move eastwards over the next 3 days. I've blogged about that already and will expand more on that tomorrow afternoon.
That's it for today…I'll see you again tomorrow on the noon show!
Joe