This is an archived article and the information in the article may be outdated. Please look at the time stamp on the story to see when it was last updated.
Good afternoon…another hot a steamy day out there as temperatures should finish the afternoon well into the 80s and with dew points in the 70s…it's a muggy middle part of the holiday weekend. The rain chances are around us…but for now aren't on top of us. That may change though later today and over the next few days. Will it be widespread decent rain? Probably not but the chances for at least something on radar in the KC area will be increasing and/or hanging on almost all week long.
One of my forecasting rules is NEVER stick in rain chances every single day. It's way to much "C Y A" if you will and it really doesn't do the science part of the job I do any favors. There I was though last night sticking in chances almost every day and not being happy about it. The trouble is when looking at the maps, even though I've stressed that our viewers should not cancel any outdoor plans, there are these chances just sort of lingering in the air if you will. In a few hours we will be hot enough and the atmosphere unstable enough that something could pop up…and once one goes others could form. There isn't a real focus though locally.
NW MO and NE KS are a different story…and that is where the main emphasis has been for days and continues to be. The KC Metro area is just much more hit or miss at this point.
---
---
Forecast:
Tonight: Isolated evening storms then partly cloudy with another chance of some activity in the area VERY late tonight. Lows near 70°
Monday: IF there is some sort of boundary in the area (major if) there may be some showers/storms in the region in the morning. The forcing though is murky for this to happen so it's just a chance and if it doesn't pan out I wouldn't be surprised at all. Highs well into the 80s again and muggy. Overall it won't be a bad day and don't cancel your plans at this point.
Tuesday: Variable clouds and breezy with a few chances of rain every so often. Again nothing real solid to hang our hat on for timing at this point. Highs closer to 80-85°
---
---
Discussion:
On the air and on this blog I've talked/written about the KC area being more edge of the target of heavy rainfall. Last night it was a rather nasty night through parts of KS/NE and IA. Here is a look at some of those totals that fell.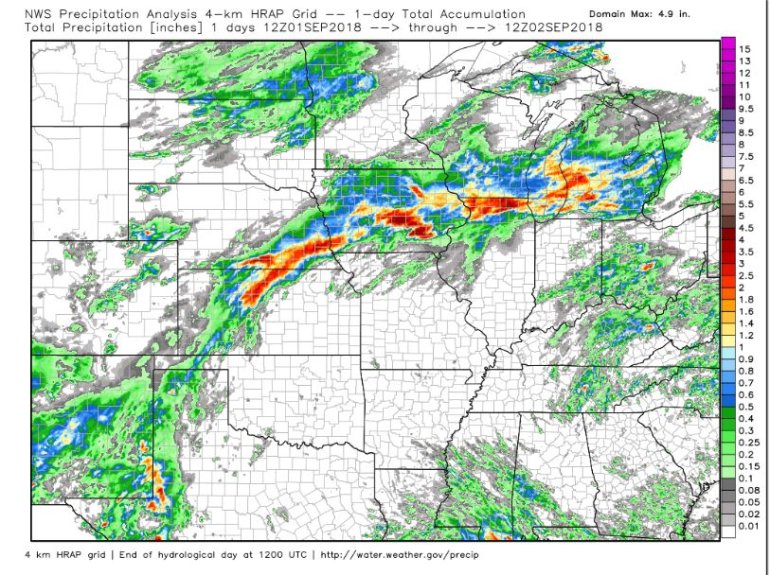 There continues to be some sort of boundary lurking towards the NW of the KC area…radar is showing ongoing storms/showers towards the NW of KC…this has been ongoing all day long so far.
There has been some heavy doppler indicated totals up there too!
So far though all of this activity has stayed mostly up there and not crept down here. Right now I have no strong signal that it's coming towards the I-35 corridor anytime soon.
As I look at the satellite pictures today there appears to be some convergence on the north side of the I-70 corridor and with the atmosphere not being overly capped to day something certainly could bubble up over the next few hours.
The clouds this afternoon are trying to tell us something…remember how clear it was yesterday afternoon…that is certainly NOT the case today…so there is more instability helping with the cloud formation. Whether or not that area of convergence is enough to pop something…we'll see.
Something that would get things stirred up though would be some sort of disturbance coming up the I-35 corridor…so far these have been more confined towards regions west of KC…where the heaviest rains have fallen.
Notice in the following animation showing the flow at about 18,000 feet (starting Monday morning>Wednesday morning) that there really isn't anything happening here till perhaps on Wednesday. Look for the colors that represent the tendency of the air above to spin cyclonically. The best action through Tuesday is still west and northwest of KC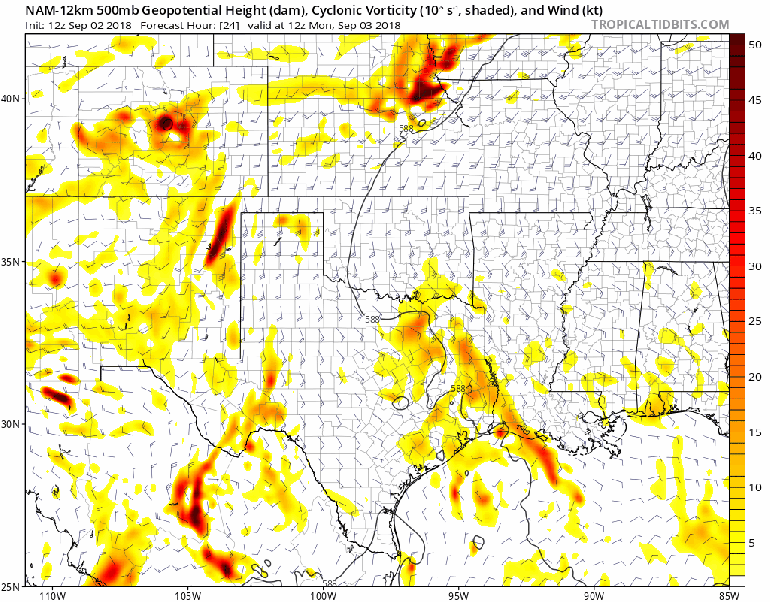 So that leaves us with this portrayal off the NAM model for total rain through Wednesday.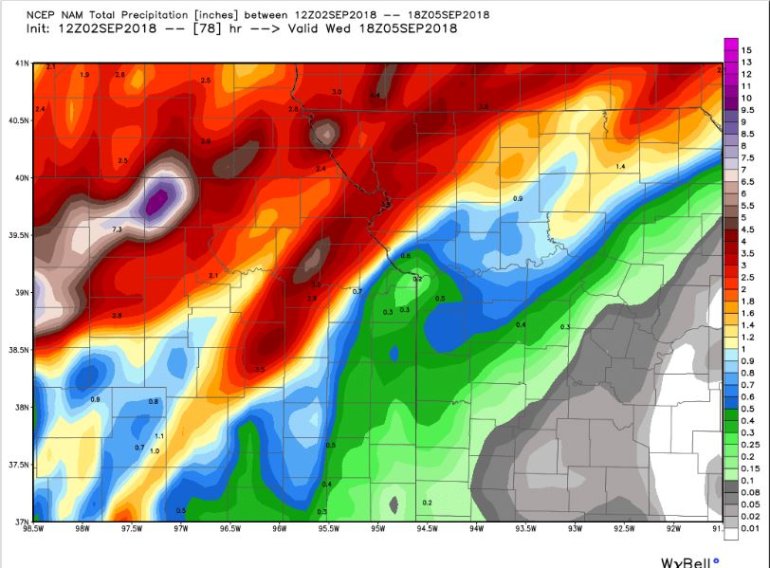 and the hi-res NAM model…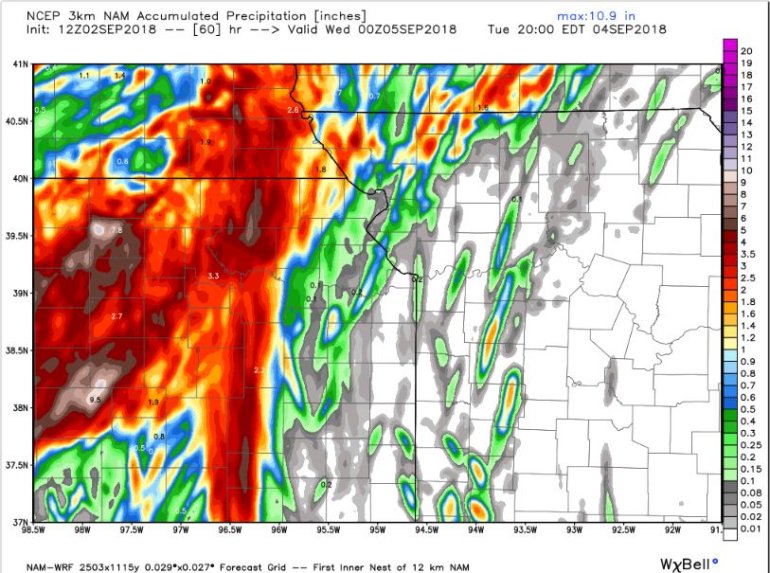 So you can see the haphazardness of things for areas south and east of the I-35 corridor which seems about right to me through Tuesday. Maybe not perfectly dry but a lot of dry time in there for the KC region.
To get you through the next few days…on a short term basis at least…here is the HRRR model. This should auto-update for you. Link here.
Will Freeman is out in the desert and this is monsoon season out there…it's been an active one too and he captured this pretty shot!
Joe