This is an archived article and the information in the article may be outdated. Please look at the time stamp on the story to see when it was last updated.
Good afternoon…hopefully you're going to get outside and do something fun today. The weather is great out there and today is our one Spring day of the week is certainly welcome. Tomorrow into the weekend though will be more like February as colder weather returns along with another opportunity for some sort of wintry weather on Sunday in the area. Of the two events…later tomorrow and Sunday…right now the latter looks a bit more impressive…but in actual impact terms…may not be that big of a deal. We'll need to watch the temperatures though for the end of the weekend.
---
---
Forecast:
Tonight: Fair skies and cool but not too bad. Lows down to near 40°
Friday: Cloudy with somewhat steady morning and afternoon temperatures in the upper 30s before slowly falling later in the day. The day overall is mostly dry with perhaps some ice pellets in the afternoon that shouldn't amount to much. Then Friday night there may be some more pellets or snowflakes. Right now it doesn't look like much of an accumulation…maybe a dusting in some areas.
Saturday: Sunny and cold with highs in the lower 40s
Sunday: Clouds with increasing rain/snow/sleet chances. As long as the air temperature in around 35° it shouldn't be a repeat of what happened last Sunday. It's worth paying attention too.
---
---
Discussion:
Let's start with some good news…I think we're going to have a few days later next week of warmth…in a row no less. I know…shocking right! IF things work out we could actually pop to near 80°…maybe!
Meanwhile that's all the good news I've got for you today. The winter weather is returning although the snow/sleet scenario for later Friday isn't looking so great in terms of impacts…which is a good thing. The wave is so darn weak…the lift is not focused…the atmosphere will be dry initially, chewing away at what falls…so right now it's tough to see how we get anything more than a dusting…if that for some. I guess IF things were to change…maybe some locations, especially west or SW of KC can do a bit better.
The next item of interest will be the cold weather to start the weekend…Saturday's record of 18° is VERY much in play. We already tied one record low on Sunday…broke a record low yesterday and may break another Saturday morning. Yesterday's low of 17° was tied for the 2nd coldest low in April weather history in KC. I'm forecasting a low of 14°. This would also be the coldest low temperature for so late in the early Spring that KC has seen before (going back to the 1880s) and we may not be done because next Tuesday's record low is vulnerable as well (22° in 1989).
Coldest April temperatures…

In between another system will be approaching on Sunday. There is a bit more "lift" it appears with the Sunday system but again it's not overly pronounced it appears to me… for all that long…so it's something to watch…something should happen but in terms of actual impacts…it may not be a big item locally. Again it's worth watching. N MO bears closer watching for perhaps something a bit more significant but even that is a bit sketchy right now. There may well be an issue with the actual type of precip that falls…some sort of rain/sleet/snow combo.
IF something bigger were to happen on Sunday…it will be worth watching the temperatures at the ground…we may be more in the 32-34° range…which in April…may still allow flakes to fall…but unless it really comes down…it may be a challenge to get more than a dusting as well in the KC area. Something to track.
Meanwhile the drought continues for parts of the region…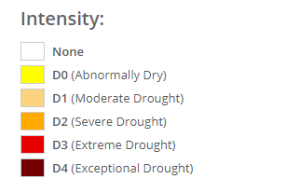 NW MO is still in a moderate drought…although the 4″-near 7″ of snow last Sunday was a help.
On the KS side of things…it's much worse…and it's clearly an issue and has been for months now.
That area from west of Emporia through Wichita into SW KS is in bad shape…and I don't see much hope for them for awhile. That darkest red color is the highest drought category…exceptional and it's creeping more and more into KS.
Nationwide…the core of the drought is in the SW Plains region…although AZ/NM/UT and parts of S CO are getting worse.
I'll keep an eye out for Friday and try and get an early blog out tomorrow morning.
Our feature photo comes from Wyatt Hamilton out towards Odessa, MO…this is hoar frost…it formed on a tree. Interestingly he said the spikes formed on a smooth surface. For more on hoar frost…go here.
Joe