This is an archived article and the information in the article may be outdated. Please look at the time stamp on the story to see when it was last updated.
A massive earthquake has occurred in Chile and tsunami warnings have been issued for parts of areas in the Pacific Basin.
The earthquake was measured at 8.0-8.2 per either the USGS or Chilean authorities in an area that is known for big earthquakes and tsunami generation in the past. The earthquake occurred near Iquique, Chile in the open waters of the eastern Pacific Ocean
To put this earthquake in perspective…the earthquake over the weekend in the LA area that did minor damage was a 5.1. Assuming the 8.2 number is valid for the Chile quake this evening…the difference in terms of the energy released from the two quakes is almost 45000 x's greater in the Chile quake compared to the LA quake!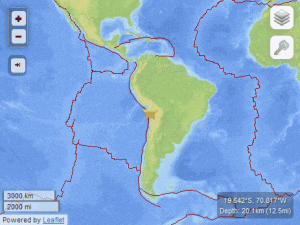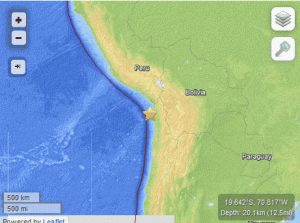 One of the biggest concerns about this location is the tsunami potential. There was an earthquake in this same area back in 1877 that did generate a destructive tsunami. Here is a look at the history of Chile earthquakes…this will not be the strongest…but it will be in the top 20 or so…and they've had a lot of strong ones in the past.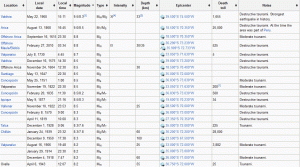 As far as the tsunami goes…there is still evaluation being done about how much of the Pacific Basin may be impacted…while tsunami warnings are in effect for parts of South America…as I type this…so far it's limited to that area. What's amazing to me is that the timing of these things can be done reliably…check out this image of a 8.0 earthquake and potential tsunami generation…
You can see the Hawaiian Islands would be impacted 14-15 hours after the quake and the "ripple" in the water would continue till it hits lad in the western Pacific. It would take almost a full day for it to reach Asia.
This is how the tsunami would spread out through the Pacific Ocean…in a weird way think of a swimming pool and dropping a big rock on one end…you watch the wave ripple out from the rock side to the other side…then as the very small wave runs towards the shallow coastline all that energy within the wave builds and as the water gets more shallow the wave builds as well. Initially the water is sucked away from the coastline and then comes slamming back in.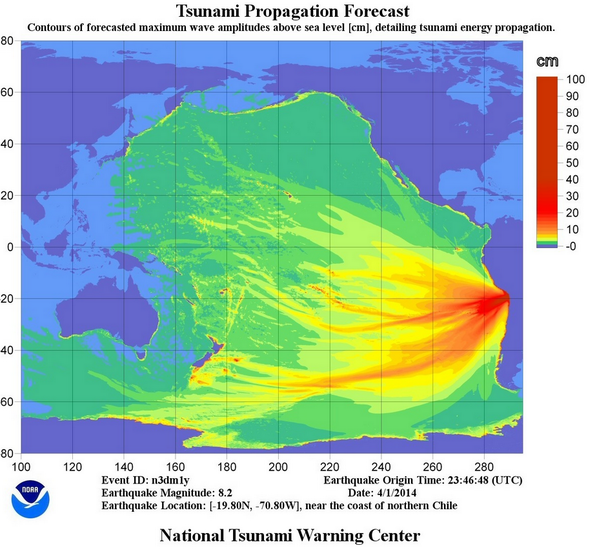 Once the Tsunami Center gets a solid handle on this they may or may not issue a Tsunami watch/Warning for the Hawaiian Islands.
Joe